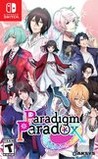 Summary:

The year 25XX. A world where mankind can only live in isolated colonies.

The protagonist, a student at the academy, was bored with the drudgery of everyday life. A day-to-day untouched by gossip about "Heroes" and "Vermin," the enemy of mankind, or the good-looking guys at the academy.The year 25XX. A world where mankind can only live in isolated colonies.

The protagonist, a student at the academy, was bored with the drudgery of everyday life.

A day-to-day untouched by gossip about "Heroes" and "Vermin," the enemy of mankind, or the good-looking guys at the academy.

One night, she slipped out of the dormitory and fell upon colony-invading Vermin, landing herself in a dangerous situation! However, four girls appeared and repelled the Vermin with miraculous abilities.

In the aftermath of the event, the protagonist decides to work as a Hero, leading a busy life as both a student and champion of justice. But why is it that she has more opportunities to talk to the good-looking guys everyone is talking about?

What is their (the girls' / guys') secret? And what is the enemy's true identity?

…

Expand
Developer:

Idea Factory

Genre(s):

Adventure

,

Visual Novel

# of players:

No Online Multiplayer

Cheats:

On GameFAQs

Rating:

T
Yes, the cast is so charming and the worldbuilding so intriguing that it's hard not to wish each route had a few extra full chapters and not just bite-sized unlockable post-game skits. But Paradigm Paradox is very much a complete package—one that knows when to be serious yet is still adorable enough that you may need to call up a dentist once you're done. As flawed as its world's systems may be, it's one location that is definitely worth a visit.

I wasn't expecting to see all of the best endings before writing the review mainly due to time, but it was worth setting aside the backlog to get through Paradigm Paradox. It's probably been my favorite of the Aksys / Otomate collaborations since they really kicked off in early 2020, and has genuinely ratcheted up my expectations for Lover Pretend next month.

While Paradigm Paradox doesn't stick the landing when it comes to setting up its premise, once you've gotten deep enough in its tale, you'll start to appreciate and create a sense of fondness for each character. Even though the individual routes sometimes had some somewhat unfavorable endings, in my opinion, not to mention the countless editing mishaps, I enjoyed and even laughed at the interactions between the love interests. All of the different points of view were amusedly worded.

There's absolutely nothing wrong with a game with dating sim elements focusing on other elements and letting the lovey-dovey stuff gradually build in the background. The thing is that Paradigm Paradox can be an interesting visual novel, but isn't the best if you're looking for a really romantic Switch otome game. The majority of the routes feel clipped and rush, "telling" you there's suddenly a meaningful relationship between the heroine and other characters without "showing" you how it happened. The game is stylish and the localization is fun, but it left me wanting more substance.

Paradigm Paradox is not terrible. It's a perfectly readable visual novel, and the twist it gives to the magical girls story – putting it in the context of an otome – was one worth exploring. However, I've got to say that I expect far better from Otomate. This is a studio that produces the most beautiful visual novels, with the most vivid characters and settings, of all. Against that studio's lofty standards this one is, unfortunately, a big misstep.