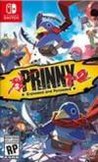 Summary:

Master Etna demands the ultimate dessert, and it is up to a legion of lowly Prinnies to make it! Jump, slash, and combo your way through different stages of the Netherworld, devastate enemies and bosses with special attacks, and encounter both new and familiar faces in this explosive action

Master Etna demands the ultimate dessert, and it is up to a legion of lowly Prinnies to make it! Jump, slash, and combo your way through different stages of the Netherworld, devastate enemies and bosses with special attacks, and encounter both new and familiar faces in this explosive action adventure from the twisted minds behind the DISGAEA series!

…

Expand
Developer:

Nippon Ichi Software

Genre(s):

Miscellaneous

,

Compilation

# of players:

No Online Multiplayer

Cheats:

On GameFAQs
These are two fantastic games that have aged very gracefully, and are today as enjoyable as they were when first released on PSP.

Prinny 1•2: Exploded and Reloaded is a lovely piece of gaming history that holds up decently well and is still a fun little platformer to this day.

Prinny 1•2: Exploded and Reloaded is as great a title for the Switch as it was for the PSP. It's challenging 2D platforming will cause many moments of frustration, but you'd be hard-pressed not to want to jump right back in and try again. The platforming physics themselves can come off a bit dated, but the excellent level design and the genuinely unique experience that these adventures offer make up for most of what lacks mechanically.

Prinny 1•2: Exploded and Reloaded is a charming, if sometimes crude, platformer that comes with the signature style and flair Disgaea fans have known and loved for years. Even if you're mostly unfamiliar with the series, the animations for the Prinny's themselves and for the enemies on every stage are still a delight and the music is jovial and easy to listen to for hours on end.

Prinny 1 & 2: Exploded and Reloaded contains a couple PSP games that are pretty fun and undeniably challenging. However, their clunky controls lead to much frustration so make sure you have plenty of patience in your pouch before you dive in.

The choice to remaster the two Prinny spinoffs was puzzling to begin with, and, unfortunately, the remasters are puzzling too themselves, leaving a lot to be desired. Definitely wait for a sale for these.

While it's possible to get into the retro groove of Prinny's perilous platforming, neither game does anything interesting enough to earn your patience. And collecting two games together only reveals how much of the same ground is covered by both. If anything, additions in the sequel water down the formula. If you simply must experience an unathletic penguin falling to its death again and again, stick with the simpler original. Or better yet, search for 'penguin falling over' on YouTube. Cheaper and a lot more entertaining.
I'm still playing through the second game, but what I've played so far is pretty fun. This review isn't really about the game though. It's

I'm still playing through the second game, but what I've played so far is pretty fun. This review isn't really about the game though. It's more about the package. The physical version is more expensive, but it comes with lots of extras, and I had to give it points for that.

…

Expand