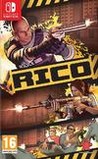 Summary:

Two cops, one case and only 24 hours to take them down... can you score the bust of a lifetime? Take the role of a loose cannon police detective and face off against criminal gangs in an exciting procedurally-generated action movie FPS. Join forces with a friend, online or locally, and take

Two cops, one case and only 24 hours to take them down... can you score the bust of a lifetime? Take the role of a loose cannon police detective and face off against criminal gangs in an exciting procedurally-generated action movie FPS. Join forces with a friend, online or locally, and take down those crooks in true buddy-cop style. As a part of the RICO task force, your mission is clear: get in, take down the criminals and get out again. Sounds easy, but it's not - procedurally-generated cases mean you'll never know who or what's waiting for you. Pick your load-out, then use the element of surprise to get a tactical edge over the enemy. Unlock new weapons, mission types and traits, or dive into Daily Play and see how high you can climb the cop rankings.

…

Expand
Developer:

Ground Shatter Ltd.

Genre(s):

Action

,

Shooter

,

First-Person

,

Arcade

# of players:

2

Cheats:

On GameFAQs

Rating:

M
If you're a fan of either the Borderlands or Payday series, this game is a must try for you.

RICO is simple, moreish fun in arcade FPS form; a literal corridor shooter that makes every gunfight a glorious exchange of bullets as you fight your way to the words 'Room cleared' over and over again. It's great fun in single-player, but when you head into each randomised set of rooms in co-op, you'll shoot your way into an interactive buddy cop movie right there in the palm of your hands. Loading times and the occasional bit of pop-in aside, this is another fine addition to the console's growing list of first-person shooters.

RICO serves up fantastic doses of frantic action, and co-op play compensates for its limited formula.

I like the graphics, what with the cel shading and the environments look nice. Unfortunately, after several hours with the game, I think I've seen every asset RICO is capable of showing me.

RICO won't blow your mind with a gripping story, complicated characters and a questionable love triangle. What does do is provide a grab 'n' go title that's fun to blast through with a friend on and offline with enough to keep you going for a decent amount of time.

A cooperative shooter with large doses of cooperative frantic action is Rico's initial proposal that, as we can see when playing the title, does not make it stand out in the eShop. More innovation would have been a positive point for the game.

Having "unlimited replay value" means nothing when it results in such a grind, and I can't help but think that Rico would have been so much better if it was over and done in a couple of hours, but that bombastic action really had a chance to fly thanks to carefully designed levels arranged to help boost that experience.
Good first person shooter. Even though the frame rate is fine, and black fog is following you everywhere, the gameplay is fun, and good for a

Good first person shooter. Even though the frame rate is fine, and black fog is following you everywhere, the gameplay is fun, and good for a fun night with friend by using local couch multiplayer.

…

Expand

Let me start by stating the biggest flaws of this game so you can decide for yourself.
First thing is the depth of this game is about as deepLet me start by stating the biggest flaws of this game so you can decide for yourself.
First thing is the depth of this game is about as deep the blowup pool you had as a kid and you really need the mind of a kid to keep playing this game after you have completed each mode.
Second is the framerate being varying, the most stable's at the beginning of the case mode and at the end it will chug which is bad when there are alot of enemies.
There's also problems with rendering in which some rooms don't render and the render distance is sometimes abysmal.
The guns are uninteresting and bland, so are the skins.
It is fun to play in splitscreen and is only available in docked mode with better results when it comes to framerate.
Artstyle is kinda bland and doesn't work better with the design of the bland rooms.
The good thing about it is the gameplay, kick open a door or slide right through it, shoot the bad guys, take the evidence and get the hell out.
But it seriously needs more content and updates to the structure.

…

Expand

The game has a critical flaw where the render fog (in this case black fog) makes seeing across rooms and corridors incredibly challenging.

The game has a critical flaw where the render fog (in this case black fog) makes seeing across rooms and corridors incredibly challenging. This combined with poor framerates makes for an experience that simply isn't fun when it should be. Additionally, the timed challenges like bomb defusing create frantic situations where you find yourself frantically trying to find the bombs in the low render distance.
I would gladly sacrifice the semi-destructible environments for increased render distance. If it weren't for these problems I would easily recommend this game.

…

Expand