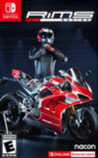 Summary:

The first motorbike simulation that combines a realistic racing challenge with engineering and mechanics! Ride the world's most powerful motorbikes and optimise their performance by swapping out parts and analysing data in real time.
We weren't expecting it, and maybe it's a big spark that lights up in the world of motorcycle simulations. Developed by the Italian studio of RaceWard and published by Nacon, RiMS Racing overshadows Ride with its simulated aspect reserved for purists, even if it tramples on content and technique.

The graphical downgrade on the Switch casts a pale shadow on what is otherwise a solid yet difficult game with occasional obtuse vehicle handling. If you are a bike-racing enthusiast and don't mind a challenge in its single race, career or online play modes, this game is for you. Casual bikers (myself included) need not apply.

RiMS Racing is not the average motorcycle game. Everything here is about going into the nitty-gritty details of what makes a motorbike go, and players will have to sharpen their skills when it comes to management and engineering in order to carry out a successful season. RiMS Racing is a blessing for hardcore fans of motorbikes, while at the same time it's not the most welcoming game for those less versed in the sport. Unfortunately its graphics on the Nintendo Switch look subpar and below what we've come to expect from Nintendo's console.

Despite being a decent racer, RiMS Racing struggles on Nintendo Switch due to the limitations of the device.

RiMS Racing is a super complex motorcycle sim that provides players with a ton of depth in terms of tinkering, tuning and customising. However, once on the track, this Switch port is let down badly by performance issues that make it a frustrating, messy experience. There's definitely a market for this type of in-depth motorbike action on Nintendo's console but, in this state, it's very hard to recommend diving into this particular offering.
"RiMS Racing" has become a successful motorcycle challenge for the Nintendo Switch as well. There are numerous setting options, content and

"RiMS Racing" has become a successful motorcycle challenge for the Nintendo Switch as well. There are numerous setting options, content and motorcycles as well as spare parts. The different motorcycles feel believable and can be driven well through the different race tracks. The settings options with the various driving aids are also successful and the motorcycle status check is also pleasing right away. The graphics and controls also look good and there are hardly any differences to be felt in terms of gameplay. If you are looking for a new racing game for the Nintendo Switch, you should take a closer look at "RiMS Racing".

…

Expand

Oh, the challenges of being a racing fan on the Switch. While there have been some pretty solid titles over the years it's definitely one of

Oh, the challenges of being a racing fan on the Switch. While there have been some pretty solid titles over the years it's definitely one of the genres with pretty thin overall representation and variety on the system. Bearing in mind some reasonably-good recent arcade-style racers RiMS Racing is a title in a completely different direction, going for a pretty hardcore simulation style that is about far more than just the action on the track… and whose overall difficulty level on it won't be for the patience challenged. You won't just be doing the normal team and equipment management, there's a really hands-on aspect to the maintenance of your ride, having you actively participate in a mini-game-like way breaking down or assembling your bike components and even jumping into the role of a member of your own pit crew. It's a big swing sort of move that I'd imagine people will either love or hate but I respect the choice that's been made to run with the simulation angle at full speed with no hesitation. If you're on board with the heavy management and participatory elements the only other warning is that the racing controls can be very fussy, in particular with the lack of analog triggers for acceleration and braking making for a challenge in feathering them both to avoid throwing yourself off your bike. If you've grown bored of arcade racers this moves as far in the other direction as you could ask. It may not be as accessible as perhaps would have been wise, smoothing out its rougher edges, but it's unapologetically committed to doing things its own way.

https://www.nindiespotlight.com/2021/10/mini-reviews-october-7th-edition.html

…

Expand