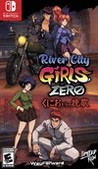 Summary:

River City Girls Zero is an updated English edition of Super Famicom title Shin Nekketsu Koha: Kunio-tachi no Banka. It is the first title in the Kunio-kun franchise to feature Kyoko and Misako in action.
Developer:

WayForward

Genre(s):

Action

,

Beat-'Em-Up

,

2D

# of players:

No Online Multiplayer

Cheats:

On GameFAQs

Rating:

E10+
River City Girls Zero is geared more toward existing Kunio-kun fans rather than those who are new to the series. Existing fans can appreciate the callbacks to older titles and like the fact that the game tries something different with the formula. Everyone else will still enjoy the game but may wonder why many series elements and genre traits are missing. It is a solid game, but be cautious going in if you aren't already a fan of the Kunio-kun series.

River City Girls Zero is an interesting look back at the origins of the characters newcomers have grown to love in River City Girls, but one with a few annoyances. The new music and art sprinkled into this release definitely help make it worth experiencing for fans.

You're being treated here, not to a replica of 16-bit graphics, but the genuine article, and that in itself carries a wonderful charm. With varied locales and great music, River City Girls Zero cleverly all takes place in pseudo real-time, the sun setting into night and eventually dawning again as you near end of your journey. It's an endearing romp across a quaintly rendered Japanese urban landscape that continually offers new places to scrap — from fairground rides and collapsing buildings to nightclubs and sun-drenched bays — all becoming especially colourful in the last hour. While it's very much a game of its era, River City Girls Zero is still rewarding for those interested in experiencing one of the saga's more creative entries.

I'm quite happy that we finally have an official port of this 16-bit beat 'em up gem. Although River City Girls Zero isn't as fun as River City Ransom or its modern sequels, it's still an exciting brawler with a rather engaging story to boot.

It's always nice to see a game that never made it out of Japan back in the day get a wider release, and even nicer when it's handled well. The actual links with River City Girls, both in terms of story and gameplay, are tenuous but River City Girls Zero makes the most of them. The mechanics do the job decently, and the story side of it certainly distinguishes the experience from most other brawlers of its era. It's no Streets of Rage or even Final Fight, but those who are invested in the characters will likely have a good time.

If you like retro-style brawlers, River City Girls Zero is the right game for you; if you can life with things like laggy controls and a rather short play time, that is.

If you do manage to suffer through the game, including its frustrating final boss, you'll be rewarded to another manga cutscene, another beautiful David Liu cutscene (which I would like as a desktop background), and another McDuffee song. And then, and this is truly the best part of RCGZ, you unlock the ability to play the Intro, Outro, and End Credit sequences from the main menu. You can also flip through scanned pages of the original game's Japanese instruction booklet if that's your bag. I haven't played too many games where the bread is the best part of the sandwich, but here we are.
It's a 7,5 game, buy hey.... 7,5, as a original 8-bit game, in 2022.... amazing, right?
RCG0 have great moments and a funny gameplay andIt's a 7,5 game, buy hey.... 7,5, as a original 8-bit game, in 2022.... amazing, right?
RCG0 have great moments and a funny gameplay and story.
I recomend to fans of the River City Girls 1 that wants to play the second, it's a historical treasure of the beat'em ups.

…

Expand

This game isn't for everyone (u will have one joke at the begining of the game about that). The most obvious answer for this statement - River

This game isn't for everyone (u will have one joke at the begining of the game about that). The most obvious answer for this statement - River City Girls ZERO is the remaster of one game from Super Famicom. The original game had that strange japanese name which I even won't write down here.

Now about the game, the story is about average japanese pupils called Riki and Kunio (u can say whetever u want, but this names dont sound like they are from Japan). Some a%%hole (or a%%holes) framed them and they come to the horny jail.

Gameplay here feels like gameplay in any other River City game of 1980s, 1990s. U must adopt to it, 'cause this gameplay is very unwonted. But inconcidering that - River City Girls ZERO plays pretty comfortable.

Graphics is good, Fin.

In conclution, if you a fan of River City games (or at least only River City Girls) - u won't waste ur time in this one. It's pretty cheap, have some fanservice (in a good sence) and plays very well. Other people could miss up this game and wont lose anything, that's it.

…

Expand

I regret getting the physical version of this game, if not for the fact I have given money to some of the people behind RCG (which is great).

I regret getting the physical version of this game, if not for the fact I have given money to some of the people behind RCG (which is great). The gameplay is antiquated and more akin to an 8-bit game, for example there is a max of 2 enemies on screen at a time. The game does not take advantage of the SNES's 16-bit processor to any extent other than more colors on the sprites. It is not a mystery why this game was not ported to western markets.

The greatest SNES games have aged well and can still be enjoyed, RCGZ not so much. It's not that the gameplay is bad per se, it's just clunky and slow for no reason. Its time has come and passed. Also I find the story ridiculous to be honest, it's like it was written by a child. The creators seemed to be wanting to make an RPG judging by the endless walls of text. Emulate this one and play RCG 1 and 2 instead.

…

Expand

Not fun. Boss battles require a level of precision not afforded by the loose controls. If the controls were actually responsive the boss

Not fun. Boss battles require a level of precision not afforded by the loose controls. If the controls were actually responsive the boss battles would be an interesting challenge. Instead they are a slog that calls back to the aspects of early beat-em-ups that were completely unenjoyable. River City Girls was great. Zero is not. Hard pass. Regret buying physical.

…

Expand