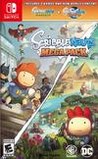 Summary:

Get the best of Scribblenauts with Scribblenauts Mega Pack: two classic games with ALL-NEW content. Use the power of your imagination to solve puzzles in endless ways.
While the lack of touchscreen support is an odd omission considering both games previously appeared on 3DS and Wii U, that doesn't stop Scribblenauts Mega Pack from bringing two of the most empowering games of the past decade. Both have been optimised for Switch so you can be sure you're getting a family-friendly experience that'll have you plumbing the depths of your imagination for the most creative and out-of-the-box solutions.

This pack has a ton of content, personality, and encourages you to experiment and explore, so I urge you to check it out, especially if you're a creative person.

Both games in Scribblenauts MegaPack are worth revisiting on the Switch. They aren't perfect, and can be a breeze if you're looking for something tough. But both games are great for casual play. If you can accept the faults of Unmasked, both games are worth giving another look.

Nintendo Force Magazine

Feb 26, 2019

If you missed out on these two games before, this is a great way to play. [Issue #37 – January/February 2019, p. 75]

Sribblenauts Megapack combines two strong games for both young and old. The game ask for your creativity and challenges you to find original solutions. Advise is to play the games on Switch instead of PlayStation 4 and Xbox One.

The Scribblenauts Mega Pack is a great reminder of just how unique and ambitious the series once was. While Scribblenauts Unlimited is arguably the better overall game, the DC inspired version is interesting if not just to see Batman duke it out with a giant purple Tyrannosaurus rex. These games might be silly, sometimes clumsy and even a little too ambitious for their own good at times, but overall it's hard to argue the fun to be had from a series that allows you to literally conjure up whatever pops up in your brain.
These two games still hold up really well. Glad to see these come out after...another game...tried to "shake up the formula."