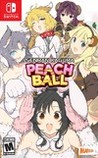 Summary:

Haruka is up to her usual experiments again, brewing up mysterious concoctions with unknown effects. Unfortunately for her fellow shinobi she's chosen the local arcade she works at as her laboratory, creating the perfect opportunity for an unplanned accident.
Developer:

Honey Parade Games

Genre(s):

Action

,

Pinball

# of players:

No Online Multiplayer

Cheats:

On GameFAQs

Rating:

M
Senran Kagura Peach Ball has earned every bit of its Mature rating, and I'm honestly surprised that it made its way to a Nintendo platform, let alone the Nintendo Switch. Fans of the series will no doubt have trouble keeping their eyes locked on their pinballs while still feverishly fondling their flippers. And to anyone else curious, you might find yourself as surprised as I was. I guess, after all, this game does have a happy ending.

Marvelous and Honey∞Parade Games' biggest mistake with Senran Kagura: Peach Ball was treating it as a budget title because it deserves so much more: more tables, more girls, more everything. Combining the cheeseball sexuality of Senran with pinball is perhaps the most brilliant idea this franchise has ever had and the execution of what is here is nearly flawless. But the lack of a diverse set of pinball tables and a curtailed cast keep Peach Ball from reaching the excellence it could have so easily achieved if the developers had more time and more ideas for what they wanted Peach Ball to be.

Senran Kagura: Peach Ball might be lacking in variety but offers an enjoyable pinball experience complete with lewdness that is sure to keep players engaged for hours.

The only reason why we would recommend this game is if you're looking for an erotic pinball. Other than that, it's a game with strange physics and not a lot of content, which makes other pinballs out there a better option.

This spin-off features a visually rich environment, fun gameplay mechanics and a myriad of unlockable content but it would have been more enjoyable if the game featured more characters and a greater variety of pinball tables.

In terms of content far less voluptuous than its main characters and with sub par pinball physics, this doesn't give you much bang for your buck.

All in all, Senran Kagura Peach Ball feels less like a game than a poorly-crafted joke about anime, porn, and video games.
BEST PINBALL GAME SINCE PINBALL FANTASIES (1992)

I've always been a big fan of both Senran Kagura games and pinball too, so this wasBEST PINBALL GAME SINCE PINBALL FANTASIES (1992)

I've always been a big fan of both Senran Kagura games and pinball too, so this was appealing to me from the get-go. Before you dismiss me as some blind-ass fanboy hear me out... This means I had large expectations for this game (which means I could have easily been disappointed if it failed to meet my large expectations). Instead however, this has turned out to not only be my favourite Kagura game this far... but also my favourite ever pinball game too!

PROS:
>Excellent mechanics, animations, sound, physics, addictive gameplay and fun "sexy challenge" modes which break up the monotony which ususally hinders the pinball genre.
>Story mode is hillarious and each character has their own series of challenges which all unlock extra content as you complete each story arc.
>Love the theme of furry balls and the theme of having to humanise your favourite characters and the way they interact with your gameplay throughout.
>Buying on the Switch gives you the uncensored version which Sony are too woke to allow on their precious SJW platform - F**K SONY!

CONS:
>There are only 2 tables and I really wish there were more. Maybe they will add more as DLC which I would happily purchase to expand on this excellent game.
>This will likely be the final game in the series thanks to Sony's censorship policy which caused the creator of the series to leave Marvellous - F**K SONY!

…

Expand

There's a lot of fun to be had with this, despite the shortcomings. The main draw to this game is the unique spin, and the presentation.

There's a lot of fun to be had with this, despite the shortcomings. The main draw to this game is the unique spin, and the presentation. You'll bounce one of many different pinball designs at a big anime girl, and try to knock her over, usually leaving her in a position where you can get easy hits on her boobs or butt. As you can imagine, bouncing a ball off of a ninja girl's butt and seeing a big 100,000 point notification pop out retains a sense of satisfaction for many sessions.

The other gadgets and events on the table are all also geared towards the same objective of making it easier to bop her, and eventually go into a minigame where the end result is damaging her outfit to make it more revealing, or getting her clothes wet.

The final minigame is probably the most fun part of the game, and puts their butt or boobs right on the board, and jiggle them with the flippers directly. If that sounds entertaining, this game is for you.

One of the only downsides to the game is that there's only two tables, but multiple versions of each (day, night, winter, fall, etc). You can also change the art of the table floor, adding more variety, in addition to the ball, and the girl's outfit and hairstyle. This helps a lot to alleviate the lack of choices of actual unique tables. It doesn't feel like the same thing each time, and you can even set the game to pick a random outfit for the girl.

The other downside of the game is the physics. Most pinball games have simulated physics, to either feel real or stylized realism. This game feels a bit dated there, though. The ball doesn't seem to take the previous trajectory or velocity into account much when it hits a flipper. If you're here strictly for pinball, its going to feel like something from the 90s. The ball is also pretty slow moving, and easy to react to, which makes it more approachable to newcomers, but may feel weird for people that are more used to faster more realistic games.

For the price, Peach Ball may seem not worthwhile, but for me personally my mind changed once I got to playing it. Its not perfect, but it's a wholly unique experience that puts a great twist on a classic game type -- one that you won't get anywhere else. Seriously, I can't overstate how fun it is to jiggle a catgirl's butt with pinball flippers and watch points rack up from it.

Positives:

+ Everything looks great, and sounds great. With all the colors, cheery UI elements, and the lively girls, its a very fun game to look at.

+ A solid assortment of options to customize the table, ball, and look of the girls.

+ The challenges and variety of visuals come together effectively to make each run feel more unique and add a lot of replayability.

Negatives:

- Rigid physics, you'll make the same exact shot and watch the ball make the exact same line repeatedly.

- Only two tables, hard to gloss over that at the game's current price tag.

- Price maybe a bit high for what it offers. If you're not the kind of person that can dump hours into pinball and strive for high scores just for the sake of high scores, you'll want to wait for a sale.

…

Expand

Il est difficile de tester et noter un jeu comme Senran Kagura Peach Ball. Les fans de la licence y trouveront largement leur compte, même

Il est difficile de tester et noter un jeu comme Senran Kagura Peach Ball. Les fans de la licence y trouveront largement leur compte, même plus, tandis que les autres joueurs regarderont d'un petit air méprisant les screenshots du jeu sur l'Eshop. La première partie du titre est un jeu de flipper plutôt sympatique, avec un mode story qui a le mérite d'exister. Le gameplay et la physique de balle est plutôt bon et respectueux et les plateaux sont sympathiques, quoique moins profond que les nombreux plateaux proposés par d'autres jeux de flipper sur Switch, comme FX Pinball par exemple. La seconde partie est une simulation d'habillage, de déshabillage, d'effeuillage et de caresse. Et c'est justement cette seconde face du jeu qui fera débat. Ma note reflétera la qualité du jeu de flipper, pour le reste c'est vous qui voyez…

…

Expand

This game which has an asking price of only $40 is a simple one - Pinball with anime girls. It actually is a lot of fun with flashy effects

This game which has an asking price of only $40 is a simple one - Pinball with anime girls. It actually is a lot of fun with flashy effects and music that really sucks you into the pinball experience, which is nice since the creator made this game because he felt pinball was a dying art both in real life and in games. I even liked the silly story of girls turning into animals and you trying to save them, along with the funny hijinks that went with that. The game itself follows most the Senran Kagura tropes though, namely that once you've played it for about 15 minutes you know you're going to play the same game on repeat until you're done. Especially when there were only 2 stages in the whole game you kept coming back to. Still, this game is a lot of fun if you want a pinball game that is ridiculous. Maybe wait for a sale though.

…

Expand