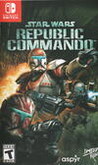 Summary:

You can be part of an elite squad of soldiers in Star Wars Republic Commando. Play as one of a team of republic troops in the time between Star Wars episodes II and III. Your squad will be assigned a variety of missions ranging from hostage rescue to assassination on many recognizable worlds

You can be part of an elite squad of soldiers in Star Wars Republic Commando. Play as one of a team of republic troops in the time between Star Wars episodes II and III. Your squad will be assigned a variety of missions ranging from hostage rescue to assassination on many recognizable worlds from the Star Wars universe. You can play multiplayer game modes such as capture the flag and deathmatch online.

…

Expand
Developer:

Aspyr

Genre(s):

Action

,

Shooter

,

First-Person

,

Arcade

# of players:

No Online Multiplayer

Cheats:

On GameFAQs

Rating:

T
Please enter your birth date to watch this video:
You are not allowed to view this material at this time.
Star Wars Republic Commando - Official Announcement Trailer
This game is built to get you into the action quickly with just a few cutscenes to explain the creation of the Delta Squad. I enjoyed the chance to mindlessly shoot droids and see how far I could get. With a variety of difficulties to help you set your pace, gamers of any skill level can play Star Wars: Republic Commando.

Republic Commando's brilliant gameplay and compelling story more than make up for the dated visuals, although the Switch version might not be the definitive experience.

Star Wars: Republic Commando is one of the single greatest Star Wars games ever made. While that largely holds true on Switch, it is unfortunate that it doesn't really provide a definitive experience. At best you get a higher resolution but with pared back visuals and rough performance, it's somewhat difficult to justify outside of handheld mode against the original version. It is a shame that simply loading the original Xbox version disc into a Xbox Series X produces a better remaster than this official remaster. This is still an excellent game, and the Switch version doesn't take that away, but issues present here significantly dull what ought to be a gleaming jewel.

The Force is still quite strong in this one... despite the lack of the "WOW Effect" of the original game.

This is a rough port of an excellent game, and while you can still enjoy it in this form, it's probably the absolute worst way to do so.

Star Wars: Republic Commando on Switch is the worst way to play an outstanding and incredibly likeable game.

Star Wars Republic Commando could be a very interesting game for the Nintendo Switch but due to glaring performance issues it will be hard for me to recommend the game in its current state. For its flaws it does have interesting gameplay and I for one would like to revisit this game once the performance patch has been released and proven to be working correctly.
I love this game it actually plays much better on the switch than other people are claiming. The performance takes some dips during explosions

I love this game it actually plays much better on the switch than other people are claiming. The performance takes some dips during explosions and when loading into a new area otherwise it is very much playable from start to finish. I have also seen others complaining that this isn't a remaster when the company Aspyr has never claimed remastering it just porting it. Visually it's better than playing it on the OG Xbox or Xbox 360 through backwards compatibility due to increased resolution, it has wide screen support and it's now portable. Sure the Xbox One and PS4 versions are better when it comes to both frame rate and visuals with additional lighting, shadows and textures . But if you prefer to play portability then this is the only version you can do that on. And it looks great on the Nintendo switches screen. If you're very easily bothered by frame drops then wait for the patch as Aspyr said they are working on a performance fix. Honestly the only complaint I have is why they didn't release it sooner and where is the online multiplayer option like they did with Star Wars Jedi Academy.

…

Expand

I only gave it a 9 out of 10 because of the AI'S the play like the have a mind of there own other than that a fantastic game to play .

I appreciate that this game is an HD re-release of this game. I didn't play this game back in the day and I heard good things about it. I beat

I appreciate that this game is an HD re-release of this game. I didn't play this game back in the day and I heard good things about it. I beat the campaign. I had some fun, memorable (& frustrating) moments. Overall I feel this game is overrated. I personally felt nostalgia of the Prequels from playing this game. This game has no upgrade system. I could've used more bombs later on in the game. Also, I was have JoyCon like problems when playing this game. I don't run into similar issues in other Switch games I play.

…

Expand

Never played this before wish I'd not bothered. Aside from performance issues it controls like a gba game.
This is garbage wish I could get myNever played this before wish I'd not bothered. Aside from performance issues it controls like a gba game.
This is garbage wish I could get my money back. There's no redeemable feature..
There's no run, no crouch toggle...
I can't say anything else without expletives

…

Expand

Awful port, not worth buying. I was so excited for the game that I pre-ordered it ... Who would've guessed that 16 years old game that ran on

Awful port, not worth buying. I was so excited for the game that I pre-ordered it ... Who would've guessed that 16 years old game that ran on original Xbox would be dropping below 15fps.... also really disappointed with Nintendos refund policy, they release broken, almost unplayable game and then don't even offer refunds. This feels like stealing from them...

…

Expand

Here's hoping this prevents someone else from making the same mistake I did.
I loved this game when it originally came out, so I picked upHere's hoping this prevents someone else from making the same mistake I did.
I loved this game when it originally came out, so I picked up the port to play it again but this port is broken. Your aiming locks up or suddenly skyrockets to the ground or sky for no reason and the frame rate drops to sub 15 fps. Nintendo won't offer your a refund for their unfished port so just don't buy it.

…

Expand