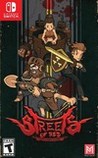 Summary:

VIDEO GAMES vs HORROR MOVIES

In Streets of Red - Devil's Dare Deluxe, the only thing scarier than being eaten alive is running out of quarters! A permadeath multiplayer horror beat'em up that bestows players with the skills of retro gaming heroes in a fight against a legion of undeadVIDEO GAMES vs HORROR MOVIES

In Streets of Red - Devil's Dare Deluxe, the only thing scarier than being eaten alive is running out of quarters! A permadeath multiplayer horror beat'em up that bestows players with the skills of retro gaming heroes in a fight against a legion of undead monstrosities.

Streets of Red was designed to be played over and over again, with each run offering up the potential for new content. Six unique playable characters and an ever-growing level selection work to keep the gameplay from getting old and rotten, while the easy to learn but hard to master combat system allows for plenty of depth.

With every kill, you earn cash that can be spent on upgrades, or to revive yourself when you die. You better learn how to make cash fast and spend it smart in Streets of Red because when you're dead, your save data dies with you. The chills, thrills, bills, and opportunity to learn new skills here won't stop until every street runs red with blood! Are you up for the challenge of an anti-lifetime?

…

Expand
Developer:

Secret Base

Genre(s):

Action

,

Beat-'Em-Up

,

2D

# of players:

No Online Multiplayer

Cheats:

On GameFAQs

Rating:

T
Whether your throughline with Streets of Red is roguelike beat-'em-up or throwback to arcade brawlers, it's a great time. While it works best in co-op, overall this is a game with easy-to-grasp controls that builds out a wealth of variety with numerous characters and upgrades. The journey might not be that long, but everything about it is polished and enjoyable.

Though the visuals and music may not be terribly exciting, the pop culture references crammed into every stage help to give the game lots of charm. Engaging gameplay, high replay value, and a great co-op experience make this one an easy recommendation for anybody looking for a little arcade game to play in short bursts either when alone or with friends. We'd recommend you give this one a look if you're into arcade beat 'em ups; for under ten bucks, this one's a steal.

Nintendo Force Magazine

Sep 5, 2018

A fun and solid if not outstanding package, and definitely worth a look. [Issue #34 – July/August 2018, p. 22]

Streets of Red is focused on the multiplayer. The duration of the single game is short and although it is graphically attractive, the sound is not up to par. However, it's a very funny video game and totally recommended for the fans of the classic beat'em up.
Do you love beat em ups? Then this is the game for you!! Had tons of fun playing this solo and up to 4 player co-op. Its really worth the money!

A very fun modern beat em up with secret, fatality, archives and extra characters.

This game is like if all your favourate 90s brawlers woke up from a very well rested sleep in today's modern ages and just picked up where

This game is like if all your favourate 90s brawlers woke up from a very well rested sleep in today's modern ages and just picked up where they left off...... With zombies..... And humour! Best Indie game I have played on the switch (or anywhere) in a long time! Worth the very fair price tag and a great 3 hour playthrough... Then another 3....then another... And another.....

…

Expand

i grew up with games just like this in the 80's so i love it.

It reminds me so much of when i used to just play final fight, renegade andi grew up with games just like this in the 80's so i love it.

It reminds me so much of when i used to just play final fight, renegade and double dragon when i would just load up and have some fun except streets of red does it better, As its got branching Paths and the levels change slightly based of your choice.. sure its not massive but it doesn't need to be

i think if they added some DLC for more levels , multiplayer online maybe even PVP arena, i would spend another £5 on it easy..

*updated my review*
i didn't realise the expert mode as another feature which you can choose to increase the power level of the BOSS/ MOBS , this game is fantastic value for money

score wise i give it a 9 just for the value of the game cost and the work they have put into how the game plays. its well balanced not to long not to short - so hats off to them well done. Thinking about it you can get this game for the price of a pint (or 2) in the pub... i think i would rather stay home and play this game..

p.s.
in case your wondering im 46 years old and been a gamer since i was 10 years old and i love this game its easy to play and great fun :)

pros.
horror theme (every beat'em fan loves horror)
its short play time - bad ending took me 1 hour 10mins
the good ending took me 1 hour 20 mins
in short bursts you can save at anytime
*updated my review*
expert mode allows Different options for increasing the difficulty of the Boss/mini mobs
For me there is just something relaxing about being a hero and kicking bad guys butts
perfect in hand held mode

cons, for a game which is like £5 i couldn't really think of anything that bad but i will give it a go

no weapon pickups (but hey you dont need any)
on the docked mode the scrolling seemed a bit rough.. but i still played it for like 3 hours lol without a issue.

…

Expand

a great throwback to games like final fights streets of red is a branching path story wise and the setting art work and sounds are very well

a great throwback to games like final fights streets of red is a branching path story wise and the setting art work and sounds are very well done
tongue in cheek and adds its own style
the game took me an hour to beat and I didn't play all the levels I had to play it 3 times to
complete the whole game on the switch it was never boring a good sign in a game like this
priced fairly to be honest worth every penny coop is great fun even the fighters are very different
not a big game but its great for streaming I loved it and so did my viewers

…

Expand

A very fun game with great replay value. The order you choose the stages changes the outcome.
Controls are engaging, graphics are fun and theA very fun game with great replay value. The order you choose the stages changes the outcome.
Controls are engaging, graphics are fun and the enemies are well thought out in particular the bosses.
Plenty of classic cameos in the game if you are a 80's/90's movie and video game fan.
A good buy for a cheap price, recommended.

…

Expand

Just finished this title last night on the Switch! I personally really like it even if it was not that long (3-4 hours maybe). The enemies are

Just finished this title last night on the Switch! I personally really like it even if it was not that long (3-4 hours maybe). The enemies are engaging and some of them are disgusting which I appreciate! The theme is very dark in general and a little bit more colour would have helped me find my character quicker when the screen was full of enemies. There is some humour to the game which I appreciate and the bosses are nice, but most of them are easy. I played with Alex and I beat the game on my third time (normal difficulty). I was pleased to see 2 more levels and a final boss (Ivan which is actually quite hard|) after the 10 nights. Great game to bring on the go and it deserves an 7.5 in my book. The game is not that long, but I think it is worth the price.

…

Expand