Publisher:

Nintendo

Release Date:

Oct 5, 2018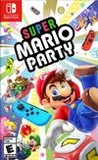 Summary:

The party comes to Nintendo Switch in this complete refresh of the Mario Party series. The Mario Party series is coming to the Nintendo Switch system with super-charged fun for everyone. The original board game style has been kicked up a notch with deeper strategic elements, like specifc

The party comes to Nintendo Switch in this complete refresh of the Mario Party series. The Mario Party series is coming to the Nintendo Switch system with super-charged fun for everyone. The original board game style has been kicked up a notch with deeper strategic elements, like specifc Dice Blocks for each character. The game also introduces all-new ways to play, including Joy-Con controller enabled minigames, and new modes to enjoy with family and friends. Board game play goes back to the four-player basics as you take turns and race across the board searching for Stars. You can also pair up two Nintendo Switch systems and delight in this dynamic play style, such as in the new Toad's Rec Room mode. With new modes and new minigames coupled with original board game play, the party starts anywhere, anytime, and with all kinds of players.

Features a variety of modes, including:
* Mario Party: Enjoy the original Mario Party board game experience with new element like character dice blocks, a party system, and new boards to explore
* Toad's Rec Room: A dynamic new play style that pairs up two Nintendo Switch systems for Table top mode
* Go head-to-head in 80 new minigames with many ways to play: Fast and fun skill-based mini-games that use the Joy-Con controllers in all sorts of different ways

…

Expand
Genre(s):

Miscellaneous

,

Party / Minigame

# of players:

Online Multiplayer

Cheats:

On GameFAQs

Rating:

E
Please enter your birth date to watch this video:
You are not allowed to view this material at this time.
New River Survival Co-op Mode - Super Mario Party Gameplay | PAX West 2018
Super Mario Party is a perfect collection of fun and addictive mini-games.

Mario Party has seen its fair share of good and bad over the years, but Super Mario Party swings the pendulum back in the right direction. The return of the classic style is a welcome one, and the plethora of different minigames hit the mark more often than not. It would have been nice to see another board or two, but the assortment of other fully-fledged modes helps to mitigate that feeling.

This isn't a cash-grab with Mario's face on the front; this is a well-constructed and beautifully realised Mario Party game which takes the series right back to its roots, but without being a straightforward rehash. There are a few interesting ideas that feel a little bit underdeveloped, but on the whole Super Mario Party is a true return to form.

Super Mario Party goes back to its roots and delivers just like it should. The vast number of different modes, really prevents any to shine the brightest, but the entire game is a small step back that greatly leaps forward. It makes us only more excited for the next entry. Something we haven't felt with the Mario Party series in ages...

Super Mario Party could be the best game in the series. It perfectly utilizes the capabilities of the Nintendo Switch, providing a fresh and innovative iteration of what a party game should be. However, with the Switch's Handheld Mode being deactivated and with a control system that rejects all other control input methods other than the Joy-con, it might not be enough to shine the way it should and win over the series' veteran players.

Terrific for getting a super party started. [Issue#206, p.80]

It still suffers from the same problems that have plagued the series for years, and the online mode is disappointing, to put it mildly.
Nice game, so many modes, and so much fun minigames. I want to see more stages to play in the party mode.

Love it! It's an amazing game!
I don't get why it's getting so much hate, it's clearly better than MP 1, 2, 4 and 7 (like duh)

Super Mario Party is fun, but it leaves me a little bit conflicted.

On one hand, the classic gameplay that hasn't really been seen sinceSuper Mario Party is fun, but it leaves me a little bit conflicted.

On one hand, the classic gameplay that hasn't really been seen since Mario Party DS is finally back. In the main "Mario Party" mode, you go around boards individually collecting Stars. I (and many others from what I can tell) prefer this style of gameplay to the 'all moving in a vehicle' from Mario Parties 9 and 10. The other modes are nice additions too, and really take advantage of the Switch's versatility.

However, on the other hand, you're forced to use a single Joy-Con controller for each player. If you want to play Super Mario Party in handheld mode, with a Pro Controller, or with two Joy-Con via the Joy-Con Grip, you're out of luck. Since I find holding single Joy-Con awkward, this was a let-down for me, despite the many ways the controller is used (it's too small to play with comfortably in my opinion).

Still, control issues/limitations aside, Super Mario Party is a welcome return to form. It seems that fewer (if any) minigames this time are luck-based, which is a plus for me (I prefer games to be more skill-oriented).

Would be a great game to play with friends, if they don't mind the arguably awkward controls.

…

Expand

I was skipping the last Mario party games, because i was not enjoying the new direction Nintendo was taking on them. Thankfully for this one,

I was skipping the last Mario party games, because i was not enjoying the new direction Nintendo was taking on them. Thankfully for this one, they opted to sticky with the old (and best) N64 board formula. Sure, there's some other party modes apart from that, but honestly, the only thing I could care, is to play a Mario Party the way it's supposed to play. Not that we all move together on a s*** car!

Like previous games, this still sucks if you're going for single play. Just forget it if you don't have anyone to play with. Don't count on it as well if you're planning online play. That sucks too! It's limited to play a few mini-games and it's very laggy. However, if you could arrange 2 or 3 more friends to play with, that's another story, but still, I feel Nintendo could have done a bit better on this.

The mini-games are very good for the most part, but there's only 4 boards and I'm not sure about this compact format they have now, but that's not even my biggest complaint. I fell that now is too easy for anyone to get stars, it only cost 10 coins (instead of 20 from previous games) and even players who didn't get the first place on mini-games receives coins. That's a bit unfair to players who strive the most to win mini-games. Also, each board match takes longer than before, damaging the match pace. Mostly because of the overdone characters animations. From simple actions like rolling the dice to Toaddete (who is now the star keeper) taking foverer to move to one place to another. Everything moves so slow! Also you cannot skip cpu actions. Why making us watch the whole sequence of the cpu talking to the shop seller? It doesn't sound like a big deal, but it really damages the match flow.

Thankfully, it's something really easy to fix on a DLC. If Nintendo does it, I will upgrade my score to an 8, maybe 9 if they add more boards to it.

In conclusion, it's still not the perfect Mario Party we were hoping for, but that's the right way. Never get rid again from the N64 formula. Never!

…

Expand

Mixed feelings. I bought this game to play with my non-gaming family and it it's NOT user friendly for them. Even with little demos for each

Mixed feelings. I bought this game to play with my non-gaming family and it it's NOT user friendly for them. Even with little demos for each minigame, which take unnecessary time, my family struggled to relearn controls for every single minigame. And then, when I"m playing myself, it feels like there's not enough content, and the games don't feel long enough. All in all, it's not bad, but it feels like it was advertised as a family game and it's just not one.

…

Expand

-Forced to use joycons? What about my pro controllers? Lame.

-Can't play in handheld. Why is this even on the Switch then? -Can't play-Forced to use joycons? What about my pro controllers? Lame.

-Can't play in handheld. Why is this even on the Switch then?

-Can't play full game online.

-Only 4 maps and they're small and boring.

Shame on you, Nintendo. Shame.

…

Expand

Contains the least amount of content of any Mario party game and has never been updated. 4 boards, 84 shallow minigames (some are locked to

Contains the least amount of content of any Mario party game and has never been updated. 4 boards, 84 shallow minigames (some are locked to side-game modes), and lack of controller support, or even decent online multiplayer makes this game dead in the water. Play the n64 or GameCube games if you are feeling that Mario party itch. This game will never be updated, and it's very likely you will play it for less than 5 hours.

The 0 is an honest score. If you look at my history, you'll find that I rarely ever give it, but this game is deserving. Makes Warcraft 3 reforged look like a masterpiece.

…

Expand