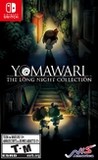 Summary:

Twice the fright. Traverse the haunting world of Yomawari: Night Alone as a young girl searches for her sister, then share in the terror facing schoolgirls Yui and Haru in Yomawari: Midnight Shadows. Uncover the mysteries plaguing a rural Japanese town, hide from the things lurking in the

Twice the fright. Traverse the haunting world of Yomawari: Night Alone as a young girl searches for her sister, then share in the terror facing schoolgirls Yui and Haru in Yomawari: Midnight Shadows. Uncover the mysteries plaguing a rural Japanese town, hide from the things lurking in the night, and maybe get home alive.

…

Expand
Developer:

Nippon Ichi Software

Genre(s):

Miscellaneous

,

Compilation

# of players:

No Online Multiplayer

Cheats:

On GameFAQs

Rating:

M
If you go into Yomawari with the right spirit (hah, I had to get one pun in there), both of these games are memorable, beautiful, elegant and often chilling. They've never looked better than they do on the Nintendo Switch's screen, which is the perfect size for a top-down, sprite-based game like this so that you can make out the details without feeling like the art is too "stretched."

Yomawari: The Long Night Collection is a collection set of two horror games that while unrelated by their plot, feature very similar mechanisms and gameplay. And this is certainly an added value, as the two games feature a very involving environment, full of details that make them ever more appealing and will put the players at the very core of this disturbing adventure that makes the Nintendo Switch catalogue ever more attractive for horror fans.

Yomawari: The Long Night Collection is a bundle of the two chapters of the series, optimized for nintendo switch.

They say never to judge a book by its cover and with Yomawari: The Long Night Collection that's certainly the case. At first glance you might expect something much more family friendly, but will instantly be welcomed by a sinister set of events. Behind the cuteness of the main protagonists are a pair of creepy games filled with grotesque and downright strange monsters. With the focal point of exploration in lieu of combat, the pace of each game is on the slower side, but it helps to build the feeling of isolation and helplessness as you wander the dark streets aiming to uncover their mysteries.

Two charming but old-fashioned survival horrors with more trial & error than suspense.

Two atmospheric and dark tales in one shot, with trial and error stealth gameplay and no extra features on the Nintendo Switch.

Despite creating a unique horror ambience thanks to an outstanding hand-drawn presentation, Yomawari: The Long Night Collection creates a 'hide-and-seek' gameplay loop in which the tension goes away due to the cheap jump scares and unfair repetition.