Publisher:

Nintendo

Release Date:

Nov 18, 2012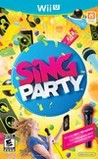 Summary:

An new singing and dancing franchise for the Wii U makes for an instant party in your house. All can join in together and contribute to the game, choosing from fifty songs from most genres. Face your friends in the room and put on your best show. While the performer uses the GamePad and mic

An new singing and dancing franchise for the Wii U makes for an instant party in your house. All can join in together and contribute to the game, choosing from fifty songs from most genres. Face your friends in the room and put on your best show. While the performer uses the GamePad and mic to sing, everybody else in the room becomes embroiled using cues from the screen.

…

Expand
Developer:

FreeStyleGames

Genre(s):

Action

,

Miscellaneous

,

Rhythm

,

Music

,

Music

# of players:

1-5

Cheats:

On GameFAQs

Rating:

E10+
Please enter your birth date to watch this video:
You are not allowed to view this material at this time.
Don't underestimate Sing Party. Featuring a great deal in terms of simplicity, options and presentation, it brings many fresh ideas to the genre, so this one could be very well your next karaoke game.

Sing Party shows off the huge potential the Wii U has for games of this genre. A few fixes could make it definitive but right now it remains simply solid.

Does a competent job of letting you sing a bunch of songs and occasionally earn points doing so.

Sing Party is a game that can only be recommended if you are thinking in a collective and persistent way of fun.

Maybe it's too late for karaoke games to succeed, or maybe it's hard to bring something new to the genre. Yes, it's better than the Wii version, but even the use of the GamePad doesn't really help it to make it stand above other similar games.

Sing Party is a boring party game with few game design issues. Developers used Wii U GamePad in a good way in a couple of modes only, and the final result is a mediocre karaoke experience.

Sing Party flounders between niches, with too little depth to make for a decent music game and too few songs to serve as a replacement for an actual karaoke machine.
As a HUGE karaoke game fan, i was genuinely impressed by SiNG Party. The HUD is simple and the melody guidelines are well done, making it easy

As a HUGE karaoke game fan, i was genuinely impressed by SiNG Party. The HUD is simple and the melody guidelines are well done, making it easy for experienced singers to sing a song they've never heard before. Although the songlist is a little unoriginal, most of the songs will get the party started in your living room.

…

Expand

because this game is pretty good but I feel it lacks more songs my rating for this game is 8.5 if tubiera more songs and more styles would

because this game is pretty good but I feel it lacks more songs my rating for this game is 8.5 if tubiera more songs and more styles would give best rate

…

Expand

A really fun game to play alone or with friends. Just wish it had more songs though.

What happened to you, FreeStyleGames? You'd better make more good games like DJ Hero series were. This game is not innovative at all, every

What happened to you, FreeStyleGames? You'd better make more good games like DJ Hero series were. This game is not innovative at all, every karaoke game is outstanding compared to "that".

…

Expand