Network:

FOX

Series Premiere Date:

Jan 3, 2018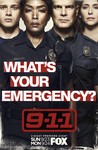 Starring:

Connie Britton

,

Oliver Stark

Summary:

LAPD officer Athena Grant (Angela Bassett), firefighter Bobby Nash (Peter Krause), and 911 operator (Connie Britton) are just some of the of the first responders in this procedural drama from Ryan Murphy and Brad Falchuk.

Genre(s):

Drama
Season 1 premiere date:

Jan 3, 2018

Episode Length:

45
Please enter your birth date to watch this video:
You are not allowed to view this material at this time.
A series about 911 responders comes with built-in advantages in the drama department. Even so, there's no missing the exceptional depth of detail, the emotional range and enterprise that undergird standard events—trying, for instance, to breathe life back into a swimmer knocked unconscious—and make them affecting.

The show's impressive, all-star cast makes all the difference here. At least in the pilot, the actors elevate the premise from a suspenseful, action show to an engrossing drama, while the influence of seasoned veterans Murphy and Falchuck lends 9-1-1 the gravitas it needs to rise above TV's cabal of conflicted police officers and harried paramedics.

A surprisingly engaging procedural drama. 9-1-1 brings to mind early "ER."

Serviceable yet unremarkable. ... 9-1-1 is a match for the overall quality of NBC's Chicago trifecta. None of race-to-the-rescue, life-and-death dramas are anywhere near Emmy caliber. But if there's room for one more -- and quite likely there is -- then Fox certainly could do worse than a comparatively blood-less but decently executed series from a producer who still hits more than he misses.

The result, 9-1-1, a drama centering around the first responders to emergencies, is as outrageous as you'd expect from a Murphy production: Babies flushed down toilets! Snakes getting beheaded! Connie Britton with bad hair! But it's also depressingly derivative and middle-of-the-road.

The cases are fine for the genre, and 9-1-1 seems like an acceptable time-passer for procedural fans. From Ryan Murphy, though, that qualifies as an anomaly.

The reason 9-1-1 seems even worse than it is, is that it has such good actors performing such awful material. How awful?: Somebody flushes a baby down a toilet!
Increíblemente asombroso!!! Solo tengo que decir "Arriesgado y Desgarrador".

Off to an engaging start. Interesting that most of these stories are actually based on real-life emergencies. Time will tell if these

Off to an engaging start. Interesting that most of these stories are actually based on real-life emergencies. Time will tell if these characters can continue to be well-developed and the call outs this intense.

…

Expand

Excellent series with excellent performances being brought to life by excellent actors. Ryan Murphy has done it yet again. The material on

Excellent series with excellent performances being brought to life by excellent actors. Ryan Murphy has done it yet again. The material on this one is so different and well-produced that it's impossible to look away.

…

Expand

I was a big fan of Emergency! back in the day, and this show is a lot like a flashback to that show, albeit with a bit more of the home life

I was a big fan of Emergency! back in the day, and this show is a lot like a flashback to that show, albeit with a bit more of the home life thrown in.

The situations are all well portrayed, I could feel the tension of the scene.

That wise-ass firefighter has to go, though. It looks like the character was placed there just to provide a foil, but it detracts from the sense of the show. Either give him a life-changing event that straightens him out, or transfer him out of the show.

Overall, it's a well-done show with actors that work well in their roles.

…

Expand

For a pilot, it was okay. Reminiscent of the old Emergency series, but more inclusive of FD, PD, and a 911 dispatcher. Some of the situations

For a pilot, it was okay. Reminiscent of the old Emergency series, but more inclusive of FD, PD, and a 911 dispatcher. Some of the situations are pulled from similar real life 911 calls, so there's no danger of running out of new material. Talk to real 911 dispatchers you will hear just how crazy and stupid some of the calls can be!

Like the action, like the rescues, but could do without the young irresponsible horn dog firefighter with the attitude and a lady cop with a gay husband coming out of the closet to their kids. The 911 dispatcher with a mom at home suffering with with Alzheimer's is more real and relevant to more of the population.

There is some potential here if they focus on the emergency situations and less on the homelives of the professionals who do the work. Yes first responders are people and they do suffer stress due to the nature of their jobs but the best ones learn how to turn off the personal when it's time to be professional. Their lives and their colleagues' lives depend on it. We don't need a bunch of flawed wannabes trying to get these jobs, due to some stupid TV drama.

Upgrading my score by a point due to a slightly better second episode. There were still too much soap opera style subplots on the personal side, but again, the actual rescues were interesting to watch. The action will carry the show, not the juvenile personal garbage.
Will watch this one with interest, as there is some potential here - if and only if this does not become a soap opera!

Hate the loss of the Abby character, as she was the glue for this cast. Don't think JLH can fill the void unless she starts talking to ghosts after her shifts... just saying....

…

Expand

It's more watchable than most of these types of shows so far. But it's ridiculous that they're portraying Connie Britton's character as having

It's more watchable than most of these types of shows so far. But it's ridiculous that they're portraying Connie Britton's character as having a romantic interest in Oliver Stark's very immature character. It's a disservice to Britton who brings such presence to the screen. It's almost as ridiculous as the 90 pt rating by the Wall Street Journal. Still, it's something to do while you wait for the great shows.

…

Expand

While trying to underscore the importance of the work of first responders, the show seems to largely committed to entertain audience rather

While trying to underscore the importance of the work of first responders, the show seems to largely committed to entertain audience rather than exhibiting any authenticity and true emotions. Characters are poorly developed and story lines remain cliche as a procedural.

…

Expand