Network:

TNT

Series Premiere Date:

Jun 14, 2016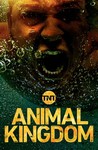 Summary:

The death of 17-year-old Joshua "J" Cody's (Finn Cole) mother causes him to move in with his relatives that includes his grandmother Janine "Smurf" Cody (Ellen Barkin), and uncles: Baz (Scott Speedman), Pope (Shawn Hatosy), Craig (Ben Robson), and Deran (Jake Weary), in this drama based on

The death of 17-year-old Joshua "J" Cody's (Finn Cole) mother causes him to move in with his relatives that includes his grandmother Janine "Smurf" Cody (Ellen Barkin), and uncles: Baz (Scott Speedman), Pope (Shawn Hatosy), Craig (Ben Robson), and Deran (Jake Weary), in this drama based on the 2010 Australian film of the same name.

…

Expand

Genre(s):

Drama
Season 1 premiere date:

Jun 14, 2016

Episode Length:

60
Please enter your birth date to watch this video:
You are not allowed to view this material at this time.
Clever, dangerous and cinematically produced, Animal Kingdom is must-see TV.

They're not a sympathetic collection of characters, but they can be compelling in their twistedness.

It's too easy to think of this family as sharks. Sharks are much kinder to their young. Animal Kingdom bites hard and doesn't let up.

It's hard to shake the feeling this is another show without a protagonist; a remnant from the previous decade where antiheroes reigned and genuine do-gooders were passé.

While the two-hour movie was a wild ride, slow the pace down for television and the boys aren't as much fun to hang with. Barkin is the best reason to watch. Always a restlessly interesting actress, Smurf gives her lots to play with, and she makes the role her own.

This crowded house becomes a power keg of divided loyalties and jealousies, often playing out in reckless games of chicken that soon grow tiresome. [20-26 Jun 2016, p.16]

The problem with Animal Kingdom is that we've seen so many dark, gritty family noirs on basic and premium cable, much of the air of menace that hovers over the new show seems like musty air rechanneled from other sources. It also doesn't help to center the show around J--the character is a blank-faced kid whose reactions are minimally interesting.
Great drama. Reminds me a lot of Sons of Anarchy. Ellen Barkin plays a strong, manipulative mother who leads her sons into a life of crime.

Great drama. Reminds me a lot of Sons of Anarchy. Ellen Barkin plays a strong, manipulative mother who leads her sons into a life of crime. You know it has to be a great show if critic Maureen Ryan doesn't like it!

…

Expand

So many dynamics to this show. I expected a cheap imitation of Sons of Anarchy, but I'm pleasantly surprised. I am eagerly awaiting season 2,

So many dynamics to this show. I expected a cheap imitation of Sons of Anarchy, but I'm pleasantly surprised. I am eagerly awaiting season 2, I want to see the already complex characters evolve.

…

Expand

The show is great! The cast, the plot, the cinematography and the soundtrack are perfectly blended.
And Ellen Barkin did a great job! LookingThe show is great! The cast, the plot, the cinematography and the soundtrack are perfectly blended.
And Ellen Barkin did a great job! Looking forward to seeing season two!

…

Expand

The movie on which this series is based is one of my all-time favorite films, so it had a lot to live up to. But it's not doing a terrible

The movie on which this series is based is one of my all-time favorite films, so it had a lot to live up to. But it's not doing a terrible job. The new "Jay" is the most compelling actor of the bunch, and I think Scott Speedman is doing a serviceable job. Where this show gets crushed vis a vis the movie is the Pope character. That actor doesn't have the chops to get within striking distance of the performance Ben Mendelhsohn delivered in the movie. Also, Jackie Weaver was brilliance - Ellen Barkin is fine, but she's simply outclassed. So I'm definitely going to finish the season, but it's not what I was hoping for. Keep up the storylines! (Esp the C. Thomas Howell stuff - fun!)

…

Expand

I like the show and the premise set in southern California. But.......no way pint size Ellen Barkin controls and rules these guys the way she

I like the show and the premise set in southern California. But.......no way pint size Ellen Barkin controls and rules these guys the way she does. Like she's some mastermind of crime, and the brothers need her. These guys are smart and are already pulling off jobs behind her back Her hold on them is absolutely ridiculous!! With a little over 1 M viewers an episode this series is summer fun, a one season stand alone at best.

…

Expand

When I saw a new show featuring the likes of Ellen Barkin and Scott Speedman, I immediately added it to my series playlist on my trusty DVR. I

When I saw a new show featuring the likes of Ellen Barkin and Scott Speedman, I immediately added it to my series playlist on my trusty DVR. I let the first few episodes tape so I could binge watch it a little. I always hoped Speedman would get a chance at another strong television show, and I have had a crush on Ellen Barkin since I saw her in "Switch" and of course, "Sea of Love". Unfortunately, the show is trying to hard to be an alternate universe of Sons of Anarchy, with a white trash, purposeless group of crooks, who come across as about as far away from Family as one can get. It's not believable that any one of these characters would possess the basic social skills to interact as a close knit group, much less have any success at crime, especially something as discipline heavy as organized armed robbery or a long con. They drive around in new cars and spend money like water, which comes across as made up. bank robbery is a federal crime, and bank robbers don't last long once you're on the Feds radar. Set all of that aside, and still, it sucks. The writing is crap. I've seen Vampire diaries episode with more believable banter than what these Actors have to say. Whoever told Ellen Barkin, AKA "Smurf" (stupid, weird moniker) to walk up to 6 foot hoodlums and get in right in their face, has never interviewed a real criminal, much less been around any. Just poor acting in general. It's not totally bad, and I don't blame the actors, because there really isn't much going on besides an opportunity to have scene after scene of good looking actors mostly naked, doing drugs, having sex and partying. Unfortunately, Ellen looks pretty terrible, and it ruined my crush watching her trying to be sexy in this. It doesn't work. She's way to skinny in this show. The other long haired dudes are basically meatheads. Hopefully they are trying to act that way, for whatever reason. I get the feeling that someone told them to behave that way, and that they are trying their best, but it's not working. Scott Speedman is astute as ever, with perhaps the only decent timing of the group, but his hair looks like he just stepped out from under a 500.00 haircut stylists chair in every scene. That's not what I picture a rogue would look like. The short haired guy was in prison at Leavenworth but has almost zero tattoos. Really? No prison tats? Okay maybe. But he is cast wrong. Every thing about this show seems contrived and comes off boring and superficial, and just not believable. The women in this show besides Barkin look like they stepped out of Victorias Secret or Fast and Furious, but from the extras department, not the main characters. They come across as sterile and too perfect. I've met real criminals, and their women, and they don't look like that. Sons of Anarchy was much closer. There is a faded beauty, and perhaps a certain charisma, in a bad guy, and very few bad guys are as all bad as these guys are, especially to their families. If they are, they wind up in prison, or dead, and fast. The best ones are usually pretty lovable, until they break your neck and take all your stuff. The only one who embodies this in the least, is Speedman, but the haircut and the poor script kills it. Get a clue, TV Land. There would have been plenty of other ways to play, and tell, this story, and it certainly has potential, but that's about it.
Too bad.

…

Expand

I just saw an add for Animal Kingdom. It is truly disturbing what is currently allowed to be televised. The ad just taught a new

I just saw an add for Animal Kingdom. It is truly disturbing what is currently allowed to be televised. The ad just taught a new bullying/name calling word to the youth of America. No wonder our country is in the moral decline it is today. A suggestion is whoever is responsible for ads shown should be cognizant that an underage viewer, or an adult with any morals, may be offended. Let the individuals that decide to actually watch a program be subjected to the content, at least it's their decision to watch it then.

…

Expand