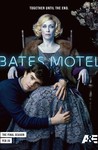 Starring:

Nestor Carbonell

,

Vera Farmiga

,

Freddie Highmore

Summary:

Norman becomes fixated with Miss Watson, while his brother Dylan get drawn further into the drug war, and Norma grows concerned about a bypass project that threatens the motel as a person from her past reappears.

Genre(s):

Drama

,

Suspense
Season 2 premiere date:

Mar 3, 2014

Episode Length:

60
Please enter your birth date to watch this video:
You are not allowed to view this material at this time.
The direction and writing are subtle but intriguing, like Highmore's innocent grin.

Checking in means checking out what's in store for the second season, and the tantalizing possibilities are gleaming like the surface of a highly-polished knife blade.

Even if you're not as crazy about Psycho as I am, Bates Motel has a delirious allure, and its name is Vera Farmiga.

There's not a lot going on in Bates Motel--a couple of murder mysteries, the slowly evolving picture of Norman's true nature--and there's no guarantee that the show will be able to keep its delicate balance of humor and spookiness, without pushing Norma and Norman into caricature. For now, though, it's inherited the "Dexter" mantle as the serial-killer show to watch.

With an everything-but-the-kitchen-sink approach to storytelling that drags the focus away from the one relationship worth watching. Indeed, much of the credit for the show's kooky appeal falls solely to Farmiga.

Bates Motel remains such a well-acted show that it discourages casual viewing more and more with each episode.

Despite the considerable craft that has gone into creating a world designed to take on a life of its own, it's difficult to see how the serialized narrative can run much longer without beginning to muck up its own Hitchcockian mythology.
Bates Motel never seems to disappoint, is an example of a great show with great writing and a great plot. Even though the story is about

Bates Motel never seems to disappoint, is an example of a great show with great writing and a great plot. Even though the story is about Norman (Freddie Highmore), the main focus of the show seems to be his mother Norma (Vera Farmiga) who delivers great performances week after week.

…

Expand

the second season is really good. you get to choose your favorite characters and to feel with them. even characters that you disliked in the

the second season is really good. you get to choose your favorite characters and to feel with them. even characters that you disliked in the beginning develop and you start to see them in another light. I loved how Norman developed. I can only recommend this show!

…

Expand

Excellent show! Such an amazing cast (Freddie, Vera, and Max) and full of surprises. The new season explores more of Norman's psychotic side

Excellent show! Such an amazing cast (Freddie, Vera, and Max) and full of surprises. The new season explores more of Norman's psychotic side and it's interesting to see what he does next. Each episode ends with a twist or a shocking discovery which makes you want more.

…

Expand

While I find Season 1 slightly better, Season 2 still has excellent performances from its recurring cast and from new-coming characters. Some

While I find Season 1 slightly better, Season 2 still has excellent performances from its recurring cast and from new-coming characters. Some of the episodes in Season 2 are sightly underwhelming, but answered questions regarding Norman's blackouts and what occurs in the midst of them as well as whether or not Norman did or didn't kill Ms. Watson makes up for any flaws.

…

Expand

This as really grown as a series. Performances are all uniformly excellent especially the sensational Vera Farmiga. The story's trajectory is

This as really grown as a series. Performances are all uniformly excellent especially the sensational Vera Farmiga. The story's trajectory is also keeping things taut but credible and there are a lot more little homages to Hitchcock in scene after scene which are subtly integrated. A series of real quality and class that, whilst having undoubted commercial appeal, does not pander to the lowest common denominator. A triumph to be applauded.

…

Expand

Spot on performances keep this psycho- drama from milking it's predecessor. While it suffers from a bit too much melodrama, the transition

Spot on performances keep this psycho- drama from milking it's predecessor. While it suffers from a bit too much melodrama, the transition into insanity portrayed by the Bates family is an insightful picture of human depravity. Season 2 seems capable of pulling we viewers back into it's complex web.

…

Expand

This season is just repeating the same ideas only this time it is getting bigger in characters, a story that I am not that interested in to be

This season is just repeating the same ideas only this time it is getting bigger in characters, a story that I am not that interested in to be the main plot "Who killed Bradley's dad?". I love the characters but it feels rushed and just not ready. My rating isn't official but it will change through the series.

…

Expand