Network:

Freeform

Series Premiere Date:

Jan 2, 2017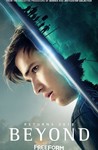 Summary:

Holden (Burkeley Duffield) wakes up from a 12 year coma with special powers and soon finds himslf in a conspiracy in this drama created by Adam Nussdorf.

Genre(s):

Drama

,

Suspense
Season 1 premiere date:

Jan 2, 2017
A little too much patience is required at times, but the first four episodes do include a brief glimpse into a pretty cool looking netherworld during Holden's chemical injections at the hands of Willa.

As it is, Beyond's characters are so bland and their dilemmas so unremarkable that it may be difficult to make it through the show's two-hour pilot.

The series, created by Adam Nussdorf and executive produced by "Heroes" creator Tim Kring, hardly feels new. We have seen this person who gets unwanted special powers thing before. But because all 10 episodes are available at once, you might find yourself meandering along before you know it.

The show is built to be mind-bending but doesn't have the requisite urgency to entice you aboard for the ride. Instead, you have to force yourself to stay with it until about the four-hour mark, when it finally gets a bit of traction.
Great twist to the beyond!!! I enjoyed it so much that I had to go to Freeform and watch the entire season! Hope it gets high ratings so we

Great twist to the beyond!!! I enjoyed it so much that I had to go to Freeform and watch the entire season! Hope it gets high ratings so we can all find out what happens next in Season 2.

…

Expand

Seems this show is getting a bad write up from some critics. I assure you, it is not a bad show.

This show tells the story of a coma victimSeems this show is getting a bad write up from some critics. I assure you, it is not a bad show.

This show tells the story of a coma victim after he has recovered, and explores the reasons he is how he is; there is an agenda in place and he has experiences that cant be accounted for.

Plot line aside, this series was done well, the acting was good, the story compelling and the effects were great.(and the blond was hot, although in reality she has dark hair). I recommend that any scy fy buff watch at least the first 2 episodes.

…

Expand

An intriguing beginning that promised mystery and discovery with engaging characters. Unfortunately he last episode fell flat like a thud as

An intriguing beginning that promised mystery and discovery with engaging characters. Unfortunately he last episode fell flat like a thud as if the writers didn't know where to take the storyline.

…

Expand

This review contains spoilers

, click expand to view

. I'm not picky when it comes to TV shows and this is right up my ally, I would even go so far as to say I was hoping for a "Kyle XY" cheese. I appreciated the early and mid season, to my surprise this is when most critics seemed displeased, but the show really lost me in the last few episodes. There is good drama and then there cheesy drama; the drama that is beyond common logic, the "instead of doing something about the problem, we admit to the inevitability of it and talk about our feelings followed by the absolute resolve to never let them go only to...let them go" drama, ya it is that bad. Furthermore, I feel like the writers couldn't make up their minds as to who they wanted the main character's love interest to be so they just went with three, that is right, he has three intimate relationships in just one season. To credit, they did get rid of the most uninteresting one early on but had already wasted enough screen time to make it frustrating yet liberating that the most uninteresting side character was removed so inconclusively. I'll get back to his second love interest. His third love interest and what was assumed to be the most relevant and yet turned out to be the most dissatisfying pretty much ended with them sleeping together only to be separated by morning, I mean who wouldn't take a gun shot to leave after a one-night stand? The second love interest was probably the most shallow relationship with a "I remember you" make out scene and plenty of "I care about you" moments but so little intimacy you would assume they were "just friends" but by the end of the season you really can't tell who he is with or if he is just with them both. In the entire season, so little of the story is actually explained that you can't help but feel the season cliffhangers are the same mysteries as the whole season feeling like nothing actually happened. I was surprised to see this show get renewed for a second season and I will probably watch season two in hopes of improvement but I won't be expecting much.
TLDR: If you are bored and have nothing to do, sure, but otherwise don't bother watching it.

…

Expand

weak main - i doubt that a person who looks into the star and says "we are all part of something greater" would behave like that when

weak main - i doubt that a person who looks into the star and says "we are all part of something greater" would behave like that when something life changing entered his life,instead hes all emo,literaly everything i dont want to see when when i watch movie!
weak visuals ,weak plot- i think Sci-fi is all about creativity,about the unknown that should make you think,even better if these thoughts can be visualized..

none of that can be found here -

…

Expand

Plot & Graphics feel like a poorly made imitation of Stranger Things.

I tried to watch the whole season but could not make it past episodePlot & Graphics feel like a poorly made imitation of Stranger Things.

I tried to watch the whole season but could not make it past episode 4 as my patience was strained, I got distracted & bored during each episode.

Finding it difficult to convince myself to keep watching and see if it improves (as per other user reviews) which is a first time for me as I always give a new show a proper chance to interest me before forming opinion/giving a review.

(Actor) v Character

(Burkely Duffield) playing Holden - Wooden/weak acting with No character development.
(Dilan Gwyn) playing Willa - Terrible/expressionless acting with No/bad character development.
(Jonathan Whitesell) playing Luke - Good acting with Adequate character development.
Yellow Man/Parents - Bad acting & Poorly developed characters.

Plot/Storyline in 4 episodes is slow paced and going in circles/repeated moments so Terrible writing/screenplay.

Yellow man/Willa/Parents are the weakest points - Without them the show would be more faster paced, engaging & watchable/likeable.

…

Expand