Network:

BET

Series Premiere Date:

Feb 12, 2019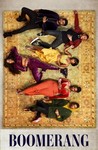 Summary:

Set 25 years after the end of the 1992 movie of the same name, Bryson (Tequan Richmond), Jacqueline Boyer's son and Simone (Tetona Jackson), Marcus and Angela Graham's daughter (Jackson) seek their forge their own paths in this comedy created by Ben Cory Jones and Lena Waithe.

Genre(s):

Comedy
Season 1 premiere date:

Feb 12, 2019

Episode Length:

60
Boomerang is at its best when Simone and Bryson are hanging out with their friends. [1/8 Feb 2019, p.81]

In its favor, the show feels less Boomerang: The Second Generation than Boomerang by way of Friends. ... Waithe has bejeweled her comical and rapid-fire dialogue with enough modern-day commentary to tell me this comedy isn't here to just play around with musty Men Are From Mars, Women Are From Venus stereotypes.

Grounded problems and observations about everyday human failings amuse through recognition and familiarity. This is in keeping with a generation conversant with a vocabulary of authenticity and self-exploration. ... What saves Boomerang from becoming too precious--despite Bryson's trips into nostalgia and romantic idealism--lies in its other lead. Jackson plays go-getter Simone with charismatic ease.

There's just enough recognizable DNA to appease fans of the original work, even as it feels distinct and modern enough (including more sexually frank scenes and conversations between the members of the group) to draw in the Simones and Brysons of the world who are sick of hearing Gen-Xers drone on about how great things were back in the day.

While it's not a home run out of the gate, there's a lot to like about the show — enough, anyway, to keep up the chase.