April Just Wants to Have Fun

Please enter your birth date to watch this video:

You are not allowed to view this material at this time.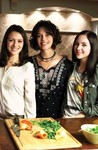 Episode Details & Credits
Summary:
April lets loose at a party at Beth's house, which leads to a fight between them. Elsewhere, a lonely Brenna gets bullied at school; Leo follows Sara's advice and gets a job; and Dominic and Natalie have an uncomfortable encounter.
Seasons & Episodes
Season 2

Season 1

Season 1 Overview

Air Date: June 10, 2014

S1:E21. One Day

Air Date: March 23, 2015

S1:E20. No News Is Bad News

Air Date: March 16, 2015

S1:E19. Love, Actually

Air Date: March 9, 2015

S1:E18. Rest in Peace

Air Date: March 2, 2015

S1:E17. Model Behavior

Air Date: February 23, 2015

S1:E16. The Big Leagues

Air Date: February 16, 2015

S1:E15. April Just Wants to Have Fun

Air Date: February 9, 2015

S1:E14. Cancer Friends With Benefits

Air Date: February 2, 2015

S1:E13. Guess Who's Coming to Donate?

Air Date: January 26, 2015

S1:E12. Next April

Air Date: January 19, 2015

S1:E11. Locks of Love

Air Date: December 9, 2014

S1:E10. Finding Chemo

Air Date: August 12, 2014

S1:E9. What to Expect When You're Expecting Chemo

Air Date: August 5, 2014

S1:E8. Death Becomes Her

Air Date: July 29, 2014

S1:E7. Unplanned Parenthood

Air Date: July 22, 2014

S1:E6. Clear Minds, Full Lives, Can't Eat

Air Date: July 15, 2014

S1:E5. The Family That Lies Together

Air Date: July 8, 2014

S1:E4. I'll Sleep When I'm Dead

Air Date: July 1, 2014

S1:E3. Blood Cancer Sex Carrots

Air Date: June 24, 2014

S1:E2. Help Wanted

Air Date: June 17, 2014

S1:E1. Pilot

Air Date: June 10, 2014