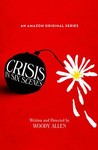 Summary:

Woody Allen's debut comedy TV series set in the 1960s features the director along with Becky Ann Baker, Joy Behar, Lewis Black, Rachel Brosnahan, Miley Cyrus, Christine Ebersole, David Harbour, Margaret Ladd, Elaine May, Michael Rapaport, and Rebecca Schull.

Genre(s):

Comedy
Season 1 premiere date:

Sep 30, 2016

Episode Length:

30
The whole thing may seem patently ludicrous but it's done with distinct artistic finesse, set to a furious, insidious visual rhythm in it's bold, decisive, and intuitive editing.

This isn't Allen at his wittiest or wildest--his career is almost by definition a thing of peaks and valleys, and he can be satisfying and frustrating within a single film. But he has a voice, and he has not yet lost it. Anyone susceptible to that sensibility will find many familiar pleasures here.

There are smiles, but also cringes. Cyrus is terrible, and even May can't do much with this. Allen is Allen.

Throughout, there are amusing character bits happening on the sidelines, particularly in the glimpses of Kay's therapy practice (Lewis Black and Becky Ann Baker shine as a disgruntled couple that can't agree on anything except guacamole), and a book club that includes Joy Behar. But none of this craftsmanship adds up to much when the material is as quarter-baked as it is here.

A lot of the qualities that still make Allen's movies worth watching--especially his gift for crowding a bunch of actors into the frame and giving all of them something interesting to do--are present in Crisis in Six Scenes' final episode. But the road to get there is so needlessly long, and so pointlessly convoluted, that many viewers will be forgiven for having abandoned it long ago.

If you thought Woody Allen would revolutionize television with his new Amazon series, Crisis in Six Scenes, prepare to be underwhelmed. ... May is the single best reason to watch Crisis in Six Scenes.

Meandering, unfocused and unfunny. ... It's terrible. Don't waste your time.
Congratulations on the premiere!!Wonderful series,wonderful sense of humor.Gorgeous cast,Miley Cyrus just Shine,we will wait for her next

Congratulations on the premiere!!Wonderful series,wonderful sense of humor.Gorgeous cast,Miley Cyrus just Shine,we will wait for her next acting job.I advise everyone to watch!

…

Expand

es una excelente serie, ademas que muestra una faceta de Miley mas madura y creciendo como actriz, Allen es un muy buen escritor-director,

es una excelente serie, ademas que muestra una faceta de Miley mas madura y creciendo como actriz, Allen es un muy buen escritor-director, lastima que la serie tenga poca duracion

…

Expand

Congratulations! It's awesome! Miley did a gret job in the series, I cannot wait to see her the next work and - I hope - it's with Woody Allen

Congratulations! It's awesome! Miley did a gret job in the series, I cannot wait to see her the next work and - I hope - it's with Woody Allen again! :D

…

Expand

Much like his movies, Woody Allen's first mini-series grapples with philosophical, social, and political issues that most TV shows are afraid

Much like his movies, Woody Allen's first mini-series grapples with philosophical, social, and political issues that most TV shows are afraid to touch with a 10-foot pole. The writing feels very genuine and honest. The show made me reexamine my life and wonder if I have made the correct choices. If you want to watch something snarky, cynical, and negative, you have hundreds of other mind-numbing shows from which to choose.

…

Expand

It wasn't the complete disaster I'd heard it was, but Allen's boredom is quite evident.

I'm still wondering why did he do it if he wasn'tIt wasn't the complete disaster I'd heard it was, but Allen's boredom is quite evident.

I'm still wondering why did he do it if he wasn't really into it.

…

Expand

This is a slow burn story with a lot of redundant gabbing and little emotion. A few laughs, and pretty to look at, but Woody is past his prime

This is a slow burn story with a lot of redundant gabbing and little emotion. A few laughs, and pretty to look at, but Woody is past his prime here as a panicky, forgetful old man guided thru life by a grumbling but much more aware wife, and quirks that appear in the plot are totally far-fetched (sleep-walking scene, I need say no more). I generally can put up with a lot of this kind of thing from Allen and still find some redemption, but this is a bridge too far. My wife and I just turned it off out of boredom. Oddly, Miley Cyrus was the BEST thing about it... she was actually acting with some enthusiasm, in spite of the limited and repetitive lines written for her. The whole thing seems partially baked, I believe Woody just took the money and supplied a script written while HE was sleep walking.

…

Expand

An incredibly frustrating mini-series that strains your ears and begs the dialogue to flow coherently. Unfortunately, the narrative suffocates

An incredibly frustrating mini-series that strains your ears and begs the dialogue to flow coherently. Unfortunately, the narrative suffocates itself in utterly stagnant and debilitatingly slow plot lines completely baffled amongst convoluted dialogue. Watching this series is like being inside the mind of a person suffering from alzheimers recalling a rapidly fleeting memory. It is a nonsensical, politically-driven, verbose attempt at a reflective and didactic series about the life we live in.
I can assure you this is a 'Woody' to avoid.

…

Expand