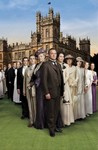 Starring:

Dan Stevens

,

Rob Collier

,

Phyllis Logan

Summary:

Masterpiece imports ITV's miniseries about the lives of those living at Lord Robert Grantham's estate, Downton Abbey, in 1912. Intrigue and romance are a constant after it is discovered that the Titanic has taken all the possible male heirs.

Genre(s):

Drama
Creator:

Julian Fellowes

Season 1 premiere date:

Sep 26, 2010

Episode Length:

60
Please enter your birth date to watch this video:
You are not allowed to view this material at this time.
There are worse sins than looking like a Jane Austen movie. In fact, with PBS' latest British hit import, the unfailingly entertaining Downton Abbey, it might even be a blessing.

Fellowes does know how to write some tasty dialogue, especially for Maggie Smith....The other performances are equally winning, but beyond that, you can't help feeling these actors are having a jolly good time with all this overblown fluff. And so will you.

Downton Abbey, which premieres Sunday, is this generation's "Upstairs, Downstairs," both in theme--the daily dramas of a titled British family and their many servants--and in stature.

As a new year begins, viewers will be hard-pressed to find a more sumptuous, engaging drama than the "Masterpiece Classic" miniseries Downton Abbey.

For every Mrs. Patmore, the cook who wants nothing more than to stay in service the remainder of her life, there is a housemaid such as Gwen (Rose Leslie), who dreams of becoming a secretary in a modern office. It's these dichotomies, and the way they exist within both the Abbey itself (half the rooms have electricity and half don't) and its multifaceted inhabitants that make Downton Abbey not only the best soap opera currently on television, but one of the most relevant as well.

If some plot elements in the third season seemed forced (and they did), then Fellowes seems to have completely regained his balance in the fourth season. And that balance means expertly bouncing between the upstairs and downstairs worlds of Downton, letting the plot turns flow naturally, carrying us along joyously for the posh ride.

Now, I wouldn't say I loved it. Parts of it I didn't even like. I became quite engaged with what was going on downstairs with the servants, while I found virtually everything having to do with the Granthams (at least the parts unrelated to how they dealt with the staff) a chore to get through.
An absolute joy to watch from start to finish. Full of class and sophistication, subtle, humorous, dramatic, enticing, sumptuous and eminently

An absolute joy to watch from start to finish. Full of class and sophistication, subtle, humorous, dramatic, enticing, sumptuous and eminently watchable. It's quite simply the best TV series to coming along in a very long time. Production values are excellent resulting in a period story that is believable and immersive. Don't miss it; it's a wonderful experience.

…

Expand

I loved this show and the characters. I'm so glad that they are showing interesting shows to watch on Masterpiece Theater this past year or

I loved this show and the characters. I'm so glad that they are showing interesting shows to watch on Masterpiece Theater this past year or two. I can't wait to see what happens to the characters in the next season, which I understand is being filmed. The dialogue was perfect and the whole season was well written.

…

Expand

This serie is great in every way. The best for me today and one of the best of all time. Don't even know what to say. Don't even know how to

This serie is great in every way. The best for me today and one of the best of all time. Don't even know what to say. Don't even know how to say. It's perfect only this.

…

Expand

I do love period pieces. That said this is such a wonderful series. Well written, amazing cast that totally delivers. Thank God there is

I do love period pieces. That said this is such a wonderful series. Well written, amazing cast that totally delivers. Thank God there is something for adults to enjoy on TV.

…

Expand

As an historian, I love the world. As a viewer, I love the characters. Because that's what this show is. It's a full set of genuine characters

As an historian, I love the world. As a viewer, I love the characters. Because that's what this show is. It's a full set of genuine characters set in the 1910-1920s. You get a great view of how things were even just 100 years ago, and you end up feeling like part of the Downton family.

…

Expand

While I do not usually follow period dramas closely, this program hooked me from the first minute as all the characters are interesting and

While I do not usually follow period dramas closely, this program hooked me from the first minute as all the characters are interesting and real, and the production values, direction and editing are all first rate. A really good look at early George V England!

…

Expand

Okay, I just finished tonight's episode and that's it for me. I can't take anymore. If I ever hear it's actually ending, I may check in to

Okay, I just finished tonight's episode and that's it for me. I can't take anymore. If I ever hear it's actually ending, I may check in to see how. I wonder if the producers/writers, whatever, thought they were making another "Upstairs/Downstairs"? If so, they weren't. That was a fantastic series.

…

Expand