Network:

Starz

Series Premiere Date:

Nov 8, 2015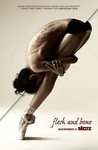 Summary:

Claire (Sarah Hay), a ballerina with a dark history must face a volatile artistic director (Ben Daniels) and her own past as she joins a prestigious New York's ballet company in the limited drama series from Moira Walley-Beckett and Lawrence Bender.

Genre(s):

Drama
Season 1 premiere date:

Nov 8, 2015

Episode Length:

45
The show is too thoughtful to be dismissed as kitschy fun.

As Flesh and Bone unfolds, though, the story gets darker and more warped, not just for self-destructive Claire but also for the rest of the troupe.... All [of] this is frequently hard to watch, but also impossibly addictive.

If German expressionism is your thing—and the sensation of emotional battering feels real here for the characters and viewers alike--the eight-episode series will be searingly satisfying. Everyone else, be warned and encouraged: This is a long walk on the dark side pierced by occasional moments of glittering, breath-stopping beauty.

For conveying such a rich sense of authenticity alone, for showing us the physical rigors facing those whose goal is to challenge gravity, Flesh and Bone deserves praise. The actors playing dancers are all professional dancers, too, so that the practice scenes are lovely and don't require much dodgy camerawork. The storytelling, alas, leaves something to be desired.

Unfortunately the end result is a cast of supporting characters that fall flat without the proper development, and a lead that never quite opens up to the audience.

The sheer number of underdeveloped or one-dimensional supporting characters after eight episodes is perhaps the biggest frustration of Flesh and Bone, because it leaves the show's whole world feeling underdeveloped and unrealized.

Flesh and Bone is, from the very start, pretty obviously a bad television show, a pretentiously somber affair punctuated by bursts of camp.
I really enjoyed this series, love the fact they used real dancers! The characters are very complex and Claire's story is sad as it unravels

I really enjoyed this series, love the fact they used real dancers! The characters are very complex and Claire's story is sad as it unravels and is revealed. I think by the end of the 8 episodes she has found her strength and I would love to see where that takes her. I'd love to see more of the other characters background stories too as you don't really get to see it. I think they could take this series far with so many interesting stories to reveal. I like that it's dark and not your usual fluff you get on TV!

…

Expand

Very intense and characters well achieved. Was very gripping from the first chapter. Was great to use a real ballet dancers. This series is

Very intense and characters well achieved. Was very gripping from the first chapter. Was great to use a real ballet dancers. This series is awesome. I'd love to see more chapters.

…

Expand

I enjoyed this series a lot. Interesting for those people who are tired of "the typical and romantic life", becomes very common in the series,

I enjoyed this series a lot. Interesting for those people who are tired of "the typical and romantic life", becomes very common in the series, and up are boring. I think I enjoyed it more because they are really ballet dancers.

…

Expand

In my opinion, this show isn't much about ballet but about mental illness. Almost every character on this show is deeply disturbed. But

In my opinion, this show isn't much about ballet but about mental illness. Almost every character on this show is deeply disturbed. But unfortunately, it's not like you could relate to them. Instead, it's almost unbearable to watch these people who behave unbelievably destructive and ruthless.

…

Expand

The problem with Flesh and Bone and The Black Swan is that they portray the ballet world in such a dark, dreary, negative light that it seems

The problem with Flesh and Bone and The Black Swan is that they portray the ballet world in such a dark, dreary, negative light that it seems no one would ever want to be a dancer. And yet thousands of kids around the world study for years to join companies, chasing that holy grail to perhaps become a lead dancer. It's because there's a lot of joy in dancing, and there's also friendship and comraderie among the dancers, as well as competition. Movies like The Turning Point, The Company, Center Stage and The Ballerina, a documentary, capture that world more realistically because they depict the beauty of ballet and the fulfillment and happiness the dancers feel practicing, rehearsing, and performing.

Flesh and Bone would be a much better series if it didn't insinuate that only the damaged participate in ballet.

…

Expand

I'm sorry but after watching the first episode of Flesh and Bone--- how do you cast this show in a feminist light? Flesh and Bone is to

I'm sorry but after watching the first episode of Flesh and Bone--- how do you cast this show in a feminist light? Flesh and Bone is to feminism what the TV show Revenge is to Macbeth. The longest screen time devoted to choreography was the pole dancing scene, which actually and with a straight face tries to convey that the ballet dancer lives in a $18-million Manhattan condo cause she's moonlighting as a stripper/lapdancer.

"Clare" comes across like a timid rabbit, on the verge of tears with trembling lips half of the time, doesn't get a single smart line of dialogue and willingly lets herself be used as a tool for seduction.Hey, did she clean that stain off the guy's tie yet?

And of course the company director is a gay monster-Caligula who lords over his female slaves like there's no tomorrow.

"This crazy thing happened that sort of felt like a lightning strike and the Muse showed up, and I knew what the whole thing was. I started writing it down longhand as fast as I could."

May be Ms. Walley- Beckett would have a better script on her hands if she had actually spend some time with a real company after leaving that motel room.

Flesh and Bone is another trashy exploitation drama dressed up as a show about female protagonists.

Watch Save The Last Dance or Centerstage for honest, superior storytelling about the world of dance and young women.

…

Expand

It is hard to believe Claire is so beautiful and such a wonderful dancer that everyone gasps when she enters. Haven't seen that at all. Think

It is hard to believe Claire is so beautiful and such a wonderful dancer that everyone gasps when she enters. Haven't seen that at all. Think some of the other girls are prettier and better actors. She hasn't changed expressions since the first episode. She just comes to the company and she's a star????

…

Expand