Network:

Netflix

Series Premiere Date:

Jul 14, 2017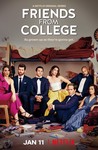 Summary:

The return of Ethan (Keegan-Michael Key) and Lisa Turner (Cobie Smulders) to their circle of college friends in New York City (Nat Faxon, Annie Parisse, Jae Suh Park and Fred Savage) shakes up everyone's lives as they approach their 40s in this comedy from Nick Stoller and Francesca Delbanco.

Genre(s):

Comedy
Season 1 premiere date:

Jul 14, 2017

Episode Length:

30
Please enter your birth date to watch this video:
You are not allowed to view this material at this time.
The script, when it's going for laughs, is absolutely riotous. The scenes taking place in the frat-boy bullpen at Lisa's new hedge fund office—favorite on-going prank: during conversations with SEC compliance officers, they mute their end of the call, then drop trou and rub their junk on the phone—are pee-your-pants hilarious.

Creators Francesco Delbanco and Nicholas Stoller rely too often on their performers' sketch-comedy and sitcom experience to craft amusing situations that seem natural even at their most ridiculous. But no amount of charisma can revitalize the season as it ambles toward its finale, bloated with so many gags that it unravels like old friendships strained to their breaking point.

Germann plays Sam's husband, who at first seems distant but then reveals touching devotion to his family. If only the main cast had such material to shine.

A promising generational sitcom that might have had something to offer its target audience of middle-aged folks raised on Friends but squanders all of our interest with mirthless, misguided strategies for holding it. The only spectacle it offers is the shocking magic trick of turning a bright, dazzling cast into a bunch of dim bulbs.

In the eight-episode Netflix series, there's plenty of action but all of it isn't that interesting.

Stoller shapes each episode to indulge the performers' idiosyncrasies as opposed to servicing the story or character development, and the result is a flimsy story somewhat flogged into shape by hammy eccentricity.

The only explosion in Friends from College is that the entire eight-episode series is a stink bomb. It's crude, predictable and stupid.
This show is absurdly funny. The first episode had a scene between Fred Savage and Keenan Michael-Key that was so funny and perfectly scripted

This show is absurdly funny. The first episode had a scene between Fred Savage and Keenan Michael-Key that was so funny and perfectly scripted and executed, I watched it several times. The group dynamics took a while to mesh, but by the second episode, I was rolling in laughter and love for this group of misguided, hilarious, flawed friends. Fred Savage is a subtle beast, his comedic timing perfected. Keegan Michael-Key is so acutely funny that I woke my sleeping baby from laughing. Watch this and you will be joyful that you did.

…

Expand

I really think the average score this show is getting is off the mark. Is it perfect? no. Is it hilarious? YES!
I'm sorry but i love theseI really think the average score this show is getting is off the mark. Is it perfect? no. Is it hilarious? YES!
I'm sorry but i love these characters and i think the show is a riot. Please give me more Fred Savage and Ike Barinholtz. I have not laughed that hard in a while.

…

Expand

I don't know why its getting such bad reviews?!?! i watched season 1 in a few days and thought it was really good!!! no, the characters aren't

I don't know why its getting such bad reviews?!?! i watched season 1 in a few days and thought it was really good!!! no, the characters aren't what i would call "great people", but since when does a good show have to have that?!?!? (seinfeld anyone?!?!)....Fred Savage was fantastic and Billy Eichner's Felix was amazing...hope they continue with a second season!! i think they might be able to find their audience doing that!!! some of us think **** people being funny is good tv!!!

…

Expand

It's a great show, but not so funny. Besides that, it's hard to not associate Cobie Smulders with Robin by How I Met Your Mother, even that's

It's a great show, but not so funny. Besides that, it's hard to not associate Cobie Smulders with Robin by How I Met Your Mother, even that's not happen at A Series of Unfortunate Events. I will be serious: i abandoned the show in the middle, not because of the plot, but it's because i though i could be spending my time seeing something that might not make difference in my life, and believe me, i started to watch again after watch Movie 49 (don't ask me why i watched it). However, i liked the last episodes, they are a kind of different and ALMOST fun, and that's because it worth watch the series.

…

Expand

A very uneven effort. Some scenes have wry, situational humor, there's a bit of slapstick, and lots of ho-hum Thirty Something storylines. As

A very uneven effort. Some scenes have wry, situational humor, there's a bit of slapstick, and lots of ho-hum Thirty Something storylines. As one reviewer said, it's OK for background when you have to clean the kitchen or do some emailing. My main complaint could go for a lot of shows -- why the heck does everyone (esp. the women) have to look & act almost exactly alike?! There's one scene towards the end with 3 women, dark, limp hair, skinny physiques, dull moonie faces ...which is which? There are no short, plump gals or freckly ones or a person with a tat or piercing that could help differentiate? Guys are not much better (except for Savage & Key). Also, kill that indie soundtrack.
And as much as I love Kate McKinnan on SNL, she is the worst actor I've ever seen -- just horrible mugging no matter what she is in. Nails on chalkboard!

…

Expand

Friends From College is a dramedy that doesn't work. Considering the characters are Harvard alumni, all of their actions and dialogue are

Friends From College is a dramedy that doesn't work. Considering the characters are Harvard alumni, all of their actions and dialogue are completely uncharacteristic. The drama, which strangely only focuses on the two most unlikeable characters, has some high points early on that deal with infertility, but otherwise the whole 'cheating' arc is stupid. The comedy is 90% awkward, 10% funny situations. In the end, you are left with only 1 question: How are these people even friends, let alone couples?

…

Expand

ugh, this was one of the worst show i have ever saw, like really bad writting, and unlikeable characters, and also a such a bad humour so bad

ugh, this was one of the worst show i have ever saw, like really bad writting, and unlikeable characters, and also a such a bad humour so bad you laugh of how stupid the jokes are, i feel bad for all the people involved in this show, because i guess some careers just will die!

…

Expand