Network:

Freeform

Series Premiere Date:

Jan 3, 2018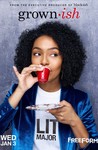 Summary:

The spin-off of ABC's Black-ish follows eldest daughter Zoey Johnson (Yara Shahidi) as she begins her freshman year at California University.

Genre(s):

Comedy
Season 1 premiere date:

Jan 3, 2018

Episode Length:

30
Please enter your birth date to watch this video:
You are not allowed to view this material at this time.
The good--Shahidi, her chemistry with Latina Republican roommate Ana (Francia Raisa, of the Selena Gomez-kidney donation), the snappy dialogue--far outweighs the bad, most of which just feels like an awkward adjustment period, baby fat to be easily outgrown.

More than a worthy inheritor to its network progenitor, Grown-ish takes full advantage of Shahidi's presence and energy to realistically explore what the undergrad experience is like in the modern age, without ginning up a cautionary tone or diluting the honesty of its plot points.

Like "A Different World," the "Cosby Show" spin-off, "grown-ish" moves to its own beat. While it, too, tries to be socially conscious, it doesn't force its message.

The show clearly possesses promise. Yet despite passing that first test, Grown-ish is going to need to do some more growing to avoid getting lost in the crowd.

The new characters can still use fleshing out. Meanwhile, Ms. Shahidi's laid-back, dry performance, a great fit with the more antic "black-ish" ensemble, takes getting used to as the focus of a series. What grown-ish does have from the get-go is a sense of itself and a lot to say.

grown-ish is less consistently funny than its parent series, but it's likable and smart, and has surrounded Shahidi with an appealing cast of new faces, plus one familiar one.

Grown-ish is a cell-by-cell clone of The Breakfast Club and its celebration of sophomoric melodrama, where cynical wisecracks inevitably give way to mock profundities, shouting matches to hyperemotive tears, and clichés to stereotypes. (Or maybe that one is the other way around.) The wholesale piracy is so blatant that Grown-ish even tries to make a joke or two about it. But the admission that you're stealing somebody else's work doesn't make it any less larcenous.
This is a really funny show that seems to be making some effort at portraying the complexities of college life, as protagonist Zoey stumbles

This is a really funny show that seems to be making some effort at portraying the complexities of college life, as protagonist Zoey stumbles around, clumsily facing moral and personal dilemmas. The stories deal with drugs and sex in a way that's not preachy although also rather cautious. Her friends are a likable bunch, particularly the very funny twins (who also sing the theme song), whose toughness occasionally pops out through their adorable cuteness.

This is not, perhaps, a normal person's college life. Zoey is prettier than most, and the series doesn't pretend she's not, and Zoey exists in that world of pretty, popular people that some of us didn't see a lot of. But the likable characters are getting fleshed out and the series does a good job of hovering between a John Hughes movie and an after-school special that doesn't moralize.

The series has a different feel from Black-ish, but it's about the equivalent in terms of funniness. I'd definitely recommend this one.

…

Expand

I'm a big fan of Black-ish and this seems like it has the same style of jokes. It may be a little more preachy to the SJW crowd than its

I'm a big fan of Black-ish and this seems like it has the same style of jokes. It may be a little more preachy to the SJW crowd than its predecessor–time will tell–but I laughed a lot the first two episodes and the new cast seems entertaining. Not the most pointless spin-off ever conceived...

…

Expand

This season of Grown-ish is a socially-aware sitcom that brings the vocality and topical issues of Black-ish to a younger generation. While

This season of Grown-ish is a socially-aware sitcom that brings the vocality and topical issues of Black-ish to a younger generation. While its first season focuses a lot on the pressures of college life outside of the classroom, one hopes that it continues to look at the full college experience and the anxieties that come with it to show the full extent of the stress that higher education puts on their students. From the college themes to the realistic situations this show does have a lot of relatability for millennials.

…

Expand

As good as blackish is that's how bad grownish is. It's sort of a Different World-lite. The show tries to take on today's issues, but I think

As good as blackish is that's how bad grownish is. It's sort of a Different World-lite. The show tries to take on today's issues, but I think the writers go around them. This week's episode about nice guy drug dealer. He was nice looking kid, but he was a drug dealer. Maybe the subject will be dealt with more seriously in the future, but from what I saw... I doubt it.

The acting is bad, especially from the supporting actors. The writing is weak and the show has a funky tone to it. It's not funny. Kadeem Harrison, where are you bro?

…

Expand

I don't like this at all. I have literallly not laughed once. Is it a comedy? A mish-mash of the writers' thoughts? I don't know who Zoey

I don't like this at all. I have literallly not laughed once. Is it a comedy? A mish-mash of the writers' thoughts? I don't know who Zoey Johnson is? Her parents don't think she is smart (references from Black-ish alluding to the fact that they didn't think she would make it). Yet, she is a sought after tutor? She only attends one class that isn't a class at midnight. So many inconsistencies. The writers should come up with a much better storyline. This is just everywhere and I think it is a complete mess

…

Expand

Complete and utter garbage, so painful to watch and keeps getting worst, think blackish but 100 times worst, terrible storyline and the cast

Complete and utter garbage, so painful to watch and keeps getting worst, think blackish but 100 times worst, terrible storyline and the cast members need some major help.

…

Expand

badly written boring racist trash. When did TV turn from entertainment to covert brainwashing of young people (answer: I dunno but it happened

badly written boring racist trash. When did TV turn from entertainment to covert brainwashing of young people (answer: I dunno but it happened a while ago now and there is no turning back!)

…

Expand