Network:

HBO

Series Premiere Date:

Feb 11, 2018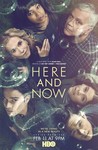 Summary:

The seemingly perfect family of philosophy professor Greg Bishop (Tim Robbins), his lawyer wife Audrey (Holly Hunter), their three adopted children (Jerrika Hinton, Raymond Lee and Daniel Zovatto) and lone biological daughter (Sosie Bacon) is tested when one of the children starts seeing

The seemingly perfect family of philosophy professor Greg Bishop (Tim Robbins), his lawyer wife Audrey (Holly Hunter), their three adopted children (Jerrika Hinton, Raymond Lee and Daniel Zovatto) and lone biological daughter (Sosie Bacon) is tested when one of the children starts seeing things in this Alan Ball drama.

…

Expand

Genre(s):

Drama
Season 1 premiere date:

Feb 11, 2018

Episode Length:

60
Here and Now is franker, more unyielding [than NBC's This is Us] and, as a result, more suited to a tough historical moment. This show's willingness to go for baroque, adding on oddity with gusto, recalls the best and--in moments--worst of Six Feet Under. That show's narrative excesses, applied without real purpose, eventually fell flat. But Here and Now sets forth more confidently.

Maddening Here and Now can also be engaging and provocative. The frustration is in never quite knowing what it wants to be.

If HBO was looking for a "This Is Us" with nudity, "Here and Now" is an aimless, unsatisfying result.

Like so many prestige dramas right now, then, Here and Now lacks a strong reason for any of its individual episodes to exist. The show is just a chronicle of stuff that happens to this family, with a vague promise that something important will happen somewhere along the line.

Four episodes in, we haven't made much process toward finding out whether Ramon is mentally ill or a harbinger of future times; what's worse, nearly halfway through the first season, we're still not invested enough to care.

It's a domestic drama with unbelievable dialogue, which just makes it as hollow as anything I've seen on television in a long time. It's a show with almost no subtlety and yet almost no plot--which is almost a feat within itself. The real tragedy is that there are beats that are likable--I enjoyed most of the growing relationship between Ramon and Henry, because it felt genuine, but so much of Here and Now does not.
This serie seems to be far too good to be successful, to earn great ratings. This story is so overwhelming, gives such a wide perspective on

This serie seems to be far too good to be successful, to earn great ratings. This story is so overwhelming, gives such a wide perspective on human existence in these confusing times. Each episode surprises the spectator in telling original and provocative stories, it's a pity the great public seems not to be prepared for this and new insights . Hopefully this serie will prove her values the coming years.

…

Expand

Great new show - packs a lot of potential arcs into first episode to get us involved. The writing is great, the acting superb and the story

Great new show - packs a lot of potential arcs into first episode to get us involved. The writing is great, the acting superb and the story lines have so many places to go. Finally a show that does not labor the point and becomes such a slow burn that you lose interest. I was immersed strangely in the first episode with elements of Donnie Darko intrigue and West Wing fast paced dialog. Congrats HBO just loved the first episode and am hooked!!!

…

Expand

4 episodes in, this show is for the type of person who can handle uncertainty. Characters are complex and will take time to fully flesh out.

4 episodes in, this show is for the type of person who can handle uncertainty. Characters are complex and will take time to fully flesh out. When the episode ends, you wish you had another to watch.

…

Expand

Impossible to sit though, the political commentary is so in your face and obvious. I'd like to enjoy TV without an agenda.

Close your eyes and picture a television show that tries too hard and wants to be too many things. Keep them closed... for an hour and you'll

Close your eyes and picture a television show that tries too hard and wants to be too many things. Keep them closed... for an hour and you'll save yourself from having to endure the first episode of this dialogue-heavy pseudo-emotional Emmy-bait.

…

Expand

It tries to be a socially relevant series that uses every hot topic issue available just for the sake of using them. It's a typical one-sided

It tries to be a socially relevant series that uses every hot topic issue available just for the sake of using them. It's a typical one-sided argument in scene after scene that feels more like being lectured than entertained. Add that to a plot is filled with holes and story lines that are all over the place and confusing. Add it all up and you get a mess of a show, whether or not you agree with the social content.

…

Expand

Complex characters and family drama. I enjoy the show because it is so different dealing with many aspects of family from a racial,

Complex characters and family drama. I enjoy the show because it is so different dealing with many aspects of family from a racial, philosophical and supernatural phenomenon. But intelligent and educated individuals should have a higher level of vocabulary to describe their emotions and not use the F____ word in every conversation. Every character uses this F____word in every episode. Consider what impact this has on the rest of society! When this show uses this offensive word in daily communication - the show is giving permission to the rest of society to do so also. Not Good!
I will not resume watching "Here And Now" next season for this reason.

…

Expand