Network:

HBO

Series Premiere Date:

Oct 9, 2016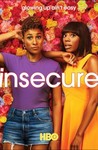 Summary:

The second season of the comedy about the lives of best friends Issa (Issa Rae) and Molly (Yvonne Orji) in Los Angeles.

Genre(s):

Comedy
Season 2 premiere date:

Jul 23, 2017

Episode Length:

30
Please enter your birth date to watch this video:
You are not allowed to view this material at this time.
Issa Rae's very funny, great-looking HBO sitcom Insecure is back for a second season on Sunday night, and it's even better--more assured and finely detailed--than its excellent first season.

[Issa Rae's] show is even more assured in the second season. ... As an actress, Rae is a marvel. [21/28 Jul 2017, p.106]

Smart, engaging second season (so far). The ensemble cast gets better and better.

The risk in this kind of show is that viewers will complain that "nothing happens," but that never feels like the case here because Rae and her co-stars shape every scene into a perfectly formed bit of social interaction, built around a core of conflict, but with fascinating bits of business happening in the margins.

In season two, Insecure picks up its ongoing story of life and seems almost immediately stronger in its ability to tell those stories--no doubt because the ensemble has more resonance.

Without ever being too on-the-nose, Insecure has something to tell its audience about the lived experience of seeking life and career successes while black.

Insecure is alive and engaged in the time after Tinder was new and fun, when you realize that bad luck in love and dreaded dry spells are often caused from within and politics are unbearably personal. It also happens to be a show that most fans of Living Single or Laverne & Shirley would probably love.
los colores, los filtros, el montaje y el rap es lo que brillan en esta serie, es perfecta, real, fuerte con toques ironicos y graciosos. no

los colores, los filtros, el montaje y el rap es lo que brillan en esta serie, es perfecta, real, fuerte con toques ironicos y graciosos. no esperes una carcajada

…

Expand

'Insecure' continues to be unique and fresh by breaking boundaries between its clichéd drama and original comedy. Issa Rae is a great artist

'Insecure' continues to be unique and fresh by breaking boundaries between its clichéd drama and original comedy. Issa Rae is a great artist and should be protected at all costs.

…

Expand

Epitomizing life makes good tv. What's wrong with insecurity? I have it abundantly. Watching lots and lots of movies helps distract me from

Epitomizing life makes good tv. What's wrong with insecurity? I have it abundantly. Watching lots and lots of movies helps distract me from this. Anything is better than being angry at the world.

…

Expand

its awsome a salways and as expected. I love it.. Keep it up and make us enetertain

Insecure is one of the best shows on TV i have seen in a long time. its funny, its black young life and humor at its best. Issa and her best

Insecure is one of the best shows on TV i have seen in a long time. its funny, its black young life and humor at its best. Issa and her best friend keep me cracking up.

…

Expand