Network:

AMC

Series Premiere Date:

Nov 15, 2015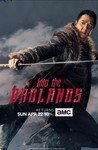 Starring:

Emily Beecham

,

Marton Csokas

,

Orla Brady

Summary:

Loosely based on Journey To The West, warrior Sunny (Daniel Wu) and a young boy named M.K. (Aramis Knight) must travel across the Badlands controlled by seven barons in a post-apocalyptic America in this martial arts drama from Alfred Gough and Miles Millar.

Genre(s):

Drama

,

Action & Adventure
Season 1 premiere date:

Nov 15, 2015

Episode Length:

60
Please enter your birth date to watch this video:
You are not allowed to view this material at this time.
Into The Badlands thrills in its nimble genre fusion a la "Kill Bill" and "Firefly" (though, it must be said, without the humor). Even more striking is its impressionistic world-building, skillfully painting a feudal society a few centuries beyond our own, outfitted with Studebakers and Saarinen chairs and dressed in bowler hats and bustles.

The show is almost entirely unoriginal, from the plot to the fight scenes, but it wears its unoriginality with a certain panache.

Yes, it's riddled with comic-book clichés. True, the dialogue is out of a Cracker Jack box, and most of its characters have less dimension than cardboard cutouts. But I'm a sucker for well-choreographed kung fu films. And Badlands--a Mad Max-ian postapocalyptic kung fu western that costars Emily Beecham as a killer beauty--has some wonderfully wigged-out fight scenes.

Beneath the veneer is nothing but cliches loosely stitched together. Actor Daniel Wu, however, does what he can. [13 Nov 2015, p.57]

Into the Badlands should be nonstop, melodramatic entertainment. But the first two episodes are listless and dull whenever Wu isn't battling villains. The writing lacks flavor, and the performances are stiff, with the florid exception of Csokas' Quinn.

It's a little "Mad Max," a little "Mortal Kombat," a little "Gone with the Wind," a lot head-scratchingly dumb.

Nothing could equal Kurosawa, of course, but the Americanization of the story was at least credible as seven hired gunfighters protect a Mexican town from an outlaw gang. With Badlands, though, credibility is all but completely lost in translation, replaced by unintended silliness.
Into The Badlands is one of the most entertaining shows on television! Maybe some elements of this show are basic, but, honestly, who cares?

Into The Badlands is one of the most entertaining shows on television! Maybe some elements of this show are basic, but, honestly, who cares? What's matter here is appreciate those amazing fights scenes, the great characters (specially the Widow, Tilda and Zypher) and follow a surrounding story with so much potential.

…

Expand

the fight choreography in this show is AMAZING! if you thought Daredevil was good, this beats it. Nothing on TV or netflix or amazon has a

the fight choreography in this show is AMAZING! if you thought Daredevil was good, this beats it. Nothing on TV or netflix or amazon has a better fight choreography than this show. They better renew it for another season or I'm going to go nuts.

…

Expand

nothing to complain about, it's hard to make a series about post-apocalyptic world. fight scene is very good, history it's too soon, actors

nothing to complain about, it's hard to make a series about post-apocalyptic world. fight scene is very good, history it's too soon, actors are standard (not much to act) main actor its a hard to kill character no much room to improve... kind just look bad ass. The serie tried give a post-apocalyptic world history in few parts to say what is to come. let's see next episodes for a better judgment

…

Expand

This is such an awesome show and seems to be very much underrated on this and many sites. Is it the best story ever - not by a long shot.

This is such an awesome show and seems to be very much underrated on this and many sites. Is it the best story ever - not by a long shot. But is it better than so much of the retread mindless drivel that seems to find its way onto our screens every year - yes!

The first thing I thought of while I was watching this was Quentin Tarantino doing a TV show, because it just reminded me of his kind of over the top action from Kill Bill. By no means is this a bad thing the fight scenes are by far some of the best I've seen outside action movies. Which is saying a lot cause I thought Daredevil really set the bar high for a TV series.

For the people who are saying that storytelling was lacking - I find that most shows lack real story in their first show or two. It does take some time to build the background of the world, which they have started to do. I understand there are a very limited amount of shows in the season, but I have a simple rule for most new shows that I start - I call it the three episode rule. If a show does not get good in three episodes then I drop it. For a show like Into the Badlands it has to hit faster since there are a limited number of shows, I knew after the pilot I would like the series.

…

Expand

This is the kind of show that would have been on the Sci-Fi channel of yore. It has a decent enough budget to depict events with a satisfying

This is the kind of show that would have been on the Sci-Fi channel of yore. It has a decent enough budget to depict events with a satisfying luster. It displays the swordplay elements of Kill Bill, style of Firefly, and mystique of Crouching Tiger, Hidden Dragon. While it doesn't rise to the heights of any of those aforementioned masterpieces in each category, it combines their strengths to present a compelling and thoroughly engrossing experience. Love, love, love this show.

…

Expand

Love these reviewers. Overall a great show, action, a story line, better than 90% of the junk on tv. The same reviewers who don't like it are

Love these reviewers. Overall a great show, action, a story line, better than 90% of the junk on tv. The same reviewers who don't like it are the same ones who would pan most of the popular action movies as not being artsy enough and wouldn't sully themselves with anything the masses would like. Still in its infancy but if you generally like action it is worth a look. I'm not claiming it is world class acting or story telling but intriguing enough to keep me watching to see where it all goes.

…

Expand

Oh my God! A dystopian future where bowler-hat-wearing, double-breasted-vest-wearing, steampunk-motorcycle-riding hipsters are badass

Oh my God! A dystopian future where bowler-hat-wearing, double-breasted-vest-wearing, steampunk-motorcycle-riding hipsters are badass assassins? If these poseurs are the new hardcore soldiers of the future, who's going to get me my coffee; or show me what t-shirts they have in stock? Neat fighting choreography, just wish it was executed by actors with more fighting experience that '3 years Jazz, 5 Tap'. LOL

…

Expand