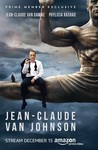 Summary:

Jean-Claude Van Damme unretires and works as a private contract killer under the name Jean-Claude Van Johnson after he runs into his ex (Kat Foster) in this comedy written by David Callaham.

Genre(s):

Comedy
Season 1 premiere date:

Dec 15, 2017

Episode Length:

30
In celebrating who Van Damme was at the peak of his career and who he is after his long fall from grace, about which the actor has been brutally honest, Callaham and Van Damme grant this series a balance of absurdity and gentle earnestness, even allowing it to end on a warm existential note.

The series has something of a "True Lies" feel, with its plot winking at itself. There is plenty of action and suspense and even a "Timecop" twist. J-C, though, is a different sort of action-figure, filled with more self-doubt and regret then you usually see in the movies. But even with that, the series smartly never takes itself too seriously.

While the emu farm itself is funny (because emus), the story takes something of a deeper turn towards the end of the season, as an emotionally beleaguered JCVD learns to love and accept himself first. It's what makes Jean-Claude Van Johnson something beyond one long SNL spoof; but having said that, the joy of Jean-Claude Van Johnson is how breezy and silly it can be.

The whole international-spy thing gets repetitive fast. Kat Foster is awfully appealing as her own sort of intelligence agent whose cover is that she's Van Damme's hairdresser--it's easy to see why the action hero still pines for her. That on-again, off-again romance isn't very sustaining, however. The show is likable--no more, no less.

The full series, run by Dave Callaham and directed by Peter Atencio, is a weird ride, living in an uneasy space of parody, satire, homage, and straight-ahead drama.

Jean-Claude Van Johnson is just okay most of the time, occasionally verging on a mess. ... Still, Van Damme's alternately bemused and haunting visage makes it worth a look.

Though clearly inspired, the overlapping cartoonish approach to this promising "return" proves to come from creativity that is clearly limited, instead of liberated.
Jean Claude Van Johnson is a hyper-parody rom/com/dram that is perfect for binging, especially at only 6 1/2-hr eps. Comedy veteran Peter

Jean Claude Van Johnson is a hyper-parody rom/com/dram that is perfect for binging, especially at only 6 1/2-hr eps. Comedy veteran Peter Attencio awesomely directs. This series is so fun. JC, as he's referred to throughout, is self-deprecating with plenty of knowing references to JCVD classics such as "Timecop" which is a subplot in itself. "Cosby" mom P-Rashad plays the villain so that's interesting. Ashley Tisdale look-alike Kat Foster and Bar Paly are the series' eye-candy. It's a fun little romp, hope it gets the second season the final scene previews.

…

Expand

Jean-Claude Van Johnson is a fantastic comedy/action series available with Amazon Prime TV. The series obviously stars the acclaimed action

Jean-Claude Van Johnson is a fantastic comedy/action series available with Amazon Prime TV. The series obviously stars the acclaimed action movie star of the 80's and 90's, Jean-Claude Van Damme, who provides most of the humor. The series depicts him as a self aggrandizing secret agent who uses his film career as a cover for his missions. He makes a terrible agent as he blows his cover regularly. And of course, can't help but reference some of his best movies titles like, "Blood Sport" and "Kick Boxer." Every mission reminding him of a former role. He is still a master of the splits and martial arts. With each mission ending in a fantastic hard to believe 80's action movie fashion. Watch this show if you're a fan of Jean-Claude Van Damme.

…

Expand

There are various elements that make this show appealing but the best two are its absurdity and humor. I remained entertained the whole way

There are various elements that make this show appealing but the best two are its absurdity and humor. I remained entertained the whole way through because of how ridiculous the whole thing was. The Show doesn't takes itself seriously and does a good job being both a parody of itself and Van Damme movies of old. There were several places that made me laugh harder than I have with a show in some time and I look forward to seeing it again at some point. It's not going to be for everyone but if you are someone who find humor in hyperbole, then definitely give this one a go.

…

Expand

+Jean Claude Van Damme
+When at plays the parody card, it plays it well
+Impressive cinematography -Pacing varies -Suffers when taking+Jean Claude Van Damme
+When at plays the parody card, it plays it well
+Impressive cinematography
-Pacing varies
-Suffers when taking itself seriously

Jean Claude Van Johnson's opening 3 episodes present us with an impressive and highly entertaining parody of the martial arts action genre that walks the line on becoming a full genre spoof.

Sadly the show later adopts a semi-serious tonal shift, becoming the bad action film it was originally a parody of. If your'e a JCVD fan it's a must, but to me it really felt like a missed opportunity after the half way mark.

…

Expand