Network:

The CW

Series Premiere Date:

Sep 9, 2010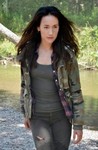 Starring:

Melinda Clarke

,

Xander Berkeley

,

Lyndsy Fonseca

Summary:

Based partly on the French film that spawned an American remake and the USA cable series La Femme Nikita, CW's version begins with the ex-assassin having escaped from the secret government agency known only as The Division a few years ago. She returns from hiding to seek revenge and help

Based partly on the French film that spawned an American remake and the USA cable series La Femme Nikita, CW's version begins with the ex-assassin having escaped from the secret government agency known only as The Division a few years ago. She returns from hiding to seek revenge and help those still within the agency.

…

Expand

Genre(s):

Drama

,

Action & Adventure

,

Suspense
The show promises to be sexy fun. [6 Sep 2010, p.47]

Pretty much all a fan (or critic) could ask of a cult series remake is this: Does the newbie measure up? Based on all available evidence--the 42-minute premiere--the answer is yes.

"Fun" hasn't been a big part of her job description, but she may have found some of it here.

The pilot comes across top-heavy with exposition and flashbacks that lay out a dense backstory. While a rich mythology typically is mandatory for an espionage series to attract a cult following, it could prove a barrier to entry when piled too high at the beginning.

The CW remake isn't awful, by any means. The pilot rushes ahead nicely, with a twist at the end that gestures toward many possible future plotlines. But we've seen the whole thing many times before.

Nikita is just another bland spy drama, an excuse to put women in skimpy outfits--Alias without a heart, Chuck without the sense of humor, and Covert Affairs without the good casting.
It's a great show. The plot is always interesting, the chemistry between the cast is great, and the characters are all likable. This would

It's a great show. The plot is always interesting, the chemistry between the cast is great, and the characters are all likable. This would have to be one of my favorite TV shows.

…

Expand

es una serie que promete al publico mucha acción y drama, es muy buena y entretiene a las personas que buscan algo diferente.

es una serie que promete al publico mucha acción y drama, es muy buena y entretiene a las personas que buscan algo diferente.
ademas es una de las mas entretenidas del publico y genera mucha emoción y entretenimiento para distraer al publico en general y disfrutar de sus capítulos día a día puede mejorar en algunas escenas

…

Expand

Nikita series, was the first that made me fully entertained and willing to meet new series, the unfolding of the plot brings a naturalness and

Nikita series, was the first that made me fully entertained and willing to meet new series, the unfolding of the plot brings a naturalness and emotion out of the ordinary.
The story does not stop, there is a lot of action and quality.
A perfect beginning and a perfect end.
Especially Maggie q actress, performing his role very well, doing something that is hard to happen, I hope for the good side of the story.
Nikita is a series that even not having much hearing, has great quality
Nikita series, was the first that made me fully entertained and willing to meet new series, the unfolding of the plot brings a naturalness and emotion out of the ordinary.
The story does not stop, there is a lot of action and quality.
A perfect beginning and a perfect end.
Especially Maggie q actress, performing his role very well, doing something that is hard to happen, I hope for the good side of the story.
Nikita is a series that even not having much hearing, has great quality

…

Expand

Not bad so far, glad to see that we do not have to sit through how Nikita was created again. New angle is nice. It seems the women are the

Not bad so far, glad to see that we do not have to sit through how Nikita was created again. New angle is nice. It seems the women are the stronger characters these days and that is nice, but at the same time gets old and repetitive. The story has to get stronger as to why I should care about Nikita and Amanda. As of right now, I think the underground organization is pretty cool, and I want it to stick around even though they are not exactly working in the best interest of anyone but themselves.

…

Expand

The pilot episode left me thinking as to whether this show can really keep up or has the potential to stay or go . Judging by the

The pilot episode left me thinking as to whether this show can really keep up or has the potential to stay or go . Judging by the performances, I say it's a long shot . I seemed more interested at staring at young Lyndsey Fonseca & the ever-stunning drop-dead-gorgeous Maggie Q who looks perfect for the " Nikita " role . The writing could be better & not to mention character development as well as both are essential for this show to get better received & improve on ratings .

…

Expand

Show has been amazingly average, compared to the Showtime original. Michael lacks any depth, and Nikita is only slightly better. Birchoff

Show has been amazingly average, compared to the Showtime original. Michael lacks any depth, and Nikita is only slightly better. Birchoff lacks the humor of the original series. La Femme Nikita originally was great escapism and had palpable (and a foretelling, in hindsight) storyline. Nikita unfortunately lacks either at the moment.

…

Expand

i mean COME ON! this is formulaic drivel of the highest order and im sick of people saying "it's an easy watch and i just need to relax when i

i mean COME ON! this is formulaic drivel of the highest order and im sick of people saying "it's an easy watch and i just need to relax when i get home blah blah blah" this is absolute crap! This follows the same old play, purpose built off the production line to fog our brains and turn us all into happy apathetic drones. They roll 'em out year on year for our amusement - GIVE US SOMETHING NEW EXITING AND THOUGHT PROVOKING!! Rubicon sits on the face of Nikita!

…

Expand