Network:

SundanceTV

Series Premiere Date:

Apr 22, 2013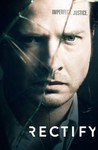 Season 2 premiere date:

Jun 19, 2014

Episode Length:

60
Please enter your birth date to watch this video:
You are not allowed to view this material at this time.
Much like with Louie, we're in uncharted territory with Rectify. Each episode offers up wondrous new surprises, whether it's a dream sequence, a stunning revelation from a new character, or a sly moment of levity from an unexpected source.

It's a fantastic return to the story, if you're in no hurry for action and can admire show creator Ray McKinnon's quietly fraught set pieces.

If it's action you seek, Rectify is a poor choice. But for fine cinematography, great acting and probing character development, you'll want to tune in.

It's hard not to be moved by Rectify's unique approach to a redemption story, with an aching tenderness cloaked in a suffocating sadness.

There's mystery, because the murder case is unresolved, but the drama lies in discovering what prison has made of Daniel and in seeing how he and those around him deal with the walls that still keep them apart.

The new episodes make Daniel less complicated, not more.... Compared with Daniel, the other characters on the show are flawed, vivacious, and far more fun to watch.
Great casting production and costume design highlight this well told story. His innocence, or lack thereof, is just the beginning of the depth

Great casting production and costume design highlight this well told story. His innocence, or lack thereof, is just the beginning of the depth of this passionate story.

…

Expand

There is a humanity to this series that is both compelling and revelatory. Rarely does one come across a television series that delves into

There is a humanity to this series that is both compelling and revelatory. Rarely does one come across a television series that delves into the human condition as beautifully and tenderly as Rectify does. I have completely fallen into the stunning character development, eagerly anticipating how each episode will provide me with another layer to peel back and analyze. The writing is incredible. The acting is as good as it gets. There is absolutely no filler in each sentence that is spoken. I'm utterly hooked. Simply stunning. An absolute equal in quality with the Wire, Sopranos and Breaking Bad.

…

Expand

Sadly underappreciated show. This new season of Rectify starts strong as I hoped it would be. Even though Daniel is not quite present in the

Sadly underappreciated show. This new season of Rectify starts strong as I hoped it would be. Even though Daniel is not quite present in the first 2 episodes, other characters such as Tawney, Amantha, Janet and Teddy takes center stage and everyone gets to shine. How many dramas are able to do this? to alienate its central character for a few episodes and remain utterly brilliant? Rectify is unique. Give this show a try and I'm sure you'll not be disappointed. Loved it so far.

…

Expand

I love how this show goes in such unexpected directions and how each scene and every character is dealt with so much subtlety. The writing is

I love how this show goes in such unexpected directions and how each scene and every character is dealt with so much subtlety. The writing is superb, the storytelling is as life: things unfold slowly, people are complex, their past experiences color their current behavior, there are many secrets in every person's life. The story and characters can be understood universally . But, in my opinion, this is the most accurate representation of Southerners that I have seen since To Kill a Mockingbird.

…

Expand

I was hooked episode one and it's continued throughout the series. There's only ONE downside to this series as it's brilliantly written, cast,

I was hooked episode one and it's continued throughout the series. There's only ONE downside to this series as it's brilliantly written, cast, and the cinematography is movie quality... it's that there's only 6 episodes per season. The season runs June, July and first couple of weeks in August. It's painful to wait all year, and even more painful when it ends. If you haven't seen Rectify YOU NEED TO!!! Smart, intelligent, witty, and an emotional ride that keeps you engaged the entire hour!

…

Expand

great acting great writing love this show - really fantastic.... the story lines are unexpected.. and quite dark - really powerful stuff.

great acting great writing love this show - really fantastic.... the story lines are unexpected.. and quite dark - really powerful stuff. Highly recommend

…

Expand

The first season was great. A new and unique show with interesting characters and a story that hadn't been done before. Season two, however,

The first season was great. A new and unique show with interesting characters and a story that hadn't been done before. Season two, however, was incredibly slow and there wasn't much in the way of a plot or coherent story line. It was more like a soap opera than a drama series with almost every scene trying for an oscar worthy speech which came off as pretentious, and more than a little boring. Hint to writers: Not every scene has to be some profound revelation of feelings and emotions, sometimes they should just be entertaining while remaining relevant to the plot. But you'll need a plot. A central plot, not the hodgepodge of several subplots that don't amount to anything.

…

Expand