Network:

FX

Series Premiere Date:

Jul 16, 2015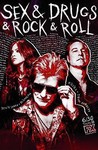 Starring:

John Corbett

,

Elaine Hendrix

,

Denis Leary

Summary:

25 years after New York rock band The Heathens broke up due to sex and drugs, lead singer Johnny Rock (Denis Leary) wants to stage a comeback with the help of lead guitarist Flash (John Corbett) and a 22-year singer named Gigi (Elizabeth Gillies) in this comedy created by Leary.

Genre(s):

Comedy

,

Drama

,

Music
Season 1 premiere date:

Jul 16, 2015

Episode Length:

25
Leary, one of the sharpest comic writers in television, has a feast on this stuff, lampooning the infirmities of his geezer characters even as he lashes out at the current rock generation with the fury of a scorned old hippie.

For those who appreciate a good joke about Bon Jovi's guitarist, or other arcane music trivia, Sex&Drugs&Rock&Roll delivers. Those who enjoy Leary's particular talent for spitting out great dialogue like it tastes bad will also find this one easy to watch.

The first five episodes of the series are somewhat hit and miss, but Leary fans who miss either his stand-up or hit show "Rescue Me," should be satisfied, and I can easily see the program working out its writing kinks and getting stronger as the cast gels.

The pluses of the show include watching Leary have a good time and seeing the way the cast gels around him.... Other TV series set in the music business--"Nashville," "Empire"--have a lot more genre awareness and seem to make the characters' enthusiasm believable enough. But on Sex&Drugs, even the costumes appear generic and unrealized.

There's potential here for a sharp sitcom about a man who's kept aging but stopped growing. But too often Sex&Drugs shares Johnny's arrested development, at the expense of both relevance and comedy.

Sex&Drugs&Rock&Roll merely has the dramatic backdrop of loud guitars and middling lyrics. The show is so abrasive I had to stop watching partway through the second episode; even though I individually appreciate Corbett, Leary, Gillies, and rock music, the combination in the show offered nothing for me.
I can say I am absolutely in love with this show. I love how the series is a hilarious, cynical comedy about the music industry, but also a

I can say I am absolutely in love with this show. I love how the series is a hilarious, cynical comedy about the music industry, but also a funny and heart warming family comedy.

On top of that there's this great music that makes this show extra special. I have had Liz Gillies' songs from this show, like 'Animal' and 'New York 2015' on repeat for days.

The cast is excellent. Everyone has great chemistry together. The fact that they had lots of room for improv gave them the chance to show just how talented they all are.

The shows mix of comedy, drama and music is a perfect fit for Liz Gillies. She has an amazing talent for all and for me is the star of SDRR.

The only downside I can find is that the episodes are so short. I would love to see longer episodes so we can enjoy more of this great show.

…

Expand

Spectacular!! The characters are well written, the plot is good and the music is amazing. Every episode has at least one great song. The humor

Spectacular!! The characters are well written, the plot is good and the music is amazing. Every episode has at least one great song. The humor is really good also. I really hope they make at least another season.

…

Expand

Pues a mi la verdad me gusto y como el gusto de las personas suele diferir, entiendo que no estén de acuerdo con este comentario. encuentro la

Pues a mi la verdad me gusto y como el gusto de las personas suele diferir, entiendo que no estén de acuerdo con este comentario. encuentro la serie divertida y como mucho rock. me encanto

…

Expand

Love this series! It looks like the second season will be even better than the first. Liz Gillies is my all time favorite, a very talented

Love this series! It looks like the second season will be even better than the first. Liz Gillies is my all time favorite, a very talented actress and a fantastic singer/songwriter. She's going to be a big star one day.

…

Expand

Sex&Drugs&Rock&Roll is the passion project of comedian and actor, Dennis Leary. Holding back all infomation, you'd expect if Leary wrote the

Sex&Drugs&Rock&Roll is the passion project of comedian and actor, Dennis Leary. Holding back all infomation, you'd expect if Leary wrote the show, acted in the show and directed a few episodes, that he'd be the main star right? Wrong. The main star is young and talented, Elizabeth Gillies who's fresh off a kids TV show and into an adult FX comedy about an ageing rock star and his daughter.

I would argue that Gillies in the role as Gigi, could be her breakout role. Her character is written hilariously and her quick chemistry with the rest of the cast shows as the show evolves.

The sad truth to the show is that it gets more interesting and funny as it goes on, with the final two episodes being terrific, but the audience is slowly leaving begging the question, will we see a Second Season especially after the small cliffhanger in the final episode?

…

Expand

Dennis Leary is a talented comedian with a specific viewpoint. This sometimes works well, and creates memorable and engrossing projects.

Dennis Leary is a talented comedian with a specific viewpoint. This sometimes works well, and creates memorable and engrossing projects. Sometimes it doesn't. Sex&Drugs&Rock&Roll falls into the latter category. The pilot was coarse, uneven, and lacking in compelling characters and a compelling narrative. And for a comedy, it was hard to find laughs.

…

Expand

Episode 1 was bad, episode 2 was worse. Poor example of family tv, very forced, very unoriginal. This show really doesn't deserve any more

Episode 1 was bad, episode 2 was worse. Poor example of family tv, very forced, very unoriginal. This show really doesn't deserve any more explanation.

…

Expand