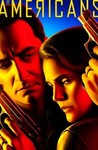 Starring:

Lev Gorn

,

Keri Russell

,

Susan Misner

Summary:

Elizabeth (Keri Russell) and Philip Jennings (Matthew Rhys) are KGB agents posing as married Americans just outside of Washington D.C. during the 1980s.

Genre(s):

Drama
Creator:

Joe Weisberg

Season 1 premiere date:

Jan 30, 2013

Episode Length:

60
Please enter your birth date to watch this video:
You are not allowed to view this material at this time.
Based on the admittedly small sample size of two episodes, The Americans feels like it could very comfortably slot in with the upper tier of FX dramas. That's about as good as it gets.

The Americans unfolds a thoroughly seductive tale of sleeper KGB agents.

It's a subtle, complex portrait of a relationship etched into an engaging espionage thriller set in 1981.

By episode 2, though, after the crammed (and super-sized) premiere, [creator] Weisberg reveals a sure sense of detail that bodes well for the future of the series.

[An] exciting but frustrating spy thriller from former CIA employee and writer-executive producer Joe Weisberg, skillfully captures the anxiety of the age.

The Americans at the moment seems to fall uneasily between the methodical and the campy.
This show is fantastic. Keri Russell is just amazing and the writing and plot lines are great. As someone that remembers the cold war and the

This show is fantastic. Keri Russell is just amazing and the writing and plot lines are great. As someone that remembers the cold war and the USSR, it also seems fairly historically accurate. I mean it is a television show, but Casper Weinberger and Alexander Haig actually had those roles, so it is a little walk down memory lane. This is such a recent piece of history and I work with people in their 30's (I am in my late 40's) that do not remember this at all, nor did they learn of it in school. Considering the enemy today, it is almost a "remember the good old days" feeling when you knew exactly who your enemy was and the reason you were fighting. They also reference Afghanistan and the war with Russia and our part in that little piece of history as well. Anyway, very excellent show. I hope it stays on for years to come.

…

Expand

Hands down, one of the best TV shows of all time. This is a show where clever people outsmart each other, unlike Breaking Bad, where you can

Hands down, one of the best TV shows of all time. This is a show where clever people outsmart each other, unlike Breaking Bad, where you can mostly bet the characters to do the wrong thing.

…

Expand

Great pilot! To begin, what's not to like about a spy thriller set in the 80's with a huge twist. It actually had me, a patriotic military

Great pilot! To begin, what's not to like about a spy thriller set in the 80's with a huge twist. It actually had me, a patriotic military member, routing for the Ruskies. The character relationships are off to a great start and will no doubt become more in depth as well as a huge part of the show. I can't wait for the next episode! I still don't know if I should be routing for the FBI or the sleeper agents!

…

Expand

I've started watching this show somewhat by chance, reading some reviews on Metacritic.
Well, I really get enthusiastic for doing it! II've started watching this show somewhat by chance, reading some reviews on Metacritic.
Well, I really get enthusiastic for doing it! I don't want to speak about the storyline because, you know, it'll take too much time; but I just want to give you a tip: watch it and you won't regret it!

…

Expand

Overall a good show so far. It is an episode one so we will have to see where it goes from here. Not quite as strong as the Shield, Sons of

Overall a good show so far. It is an episode one so we will have to see where it goes from here. Not quite as strong as the Shield, Sons of Anarchy or Justified. But still pretty good.

…

Expand

Really cool show. The acting is really good and the plot is interesting. The most successful part of this show, however, is how they make you

Really cool show. The acting is really good and the plot is interesting. The most successful part of this show, however, is how they make you root for the people who should be the "villains" and against the FBI. Very interesting thus far and I will continue to watch it with interest as it progresses.

…

Expand

I loved the first few seasons, but this new one is getting ridiculous. I hate Elizabeth now, she is so selfish. Also why would her daughter

I loved the first few seasons, but this new one is getting ridiculous. I hate Elizabeth now, she is so selfish. Also why would her daughter have such an affinity for Russia when she never grew up there. She was raised with american children. Why is Elizabeth farming her out already, she is so young and stupid. Are you trying to set up a situation where elizabeth is going to have to KILL STAN, her neighbor??? Im done. The only 2 likable characters left are Phillip and the son, who dont have anything much to do with espionage.....anymore. I would like to see more story like with Stan, Sonja(?) and her son, & husband...

…

Expand