Network:

CBS

Series Premiere Date:

Sep 22, 2009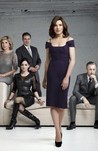 Please enter your birth date to watch this video:
You are not allowed to view this material at this time.
It's getting difficult to keep coming up with superlatives for this sophomore-season drama, especially with a thrilling and tantalizing episode like tonight's.

As season two begins, creators/executive producers Robert and Michelle King show no signs of standing pat. They're allowing the series and its characters to evolve while reminding viewers of the show's original premise.

Like "Mad Men," Wife has an obsessive attention to detail; it's a hurricane of detail, in the visual touches, legal patter and the actors' unspoken flourishes. Nothing seems extraneous or out of place. Also like "Men," this show cares as much about silence as words, or that which isn't said (also a form of eloquence).

In its first couple of Season 2 episodes, The Good Wife stirs up a delectable stew of political, legal, romantic and interpersonal complications. It manages to be both escapist and intelligent, and that is an unbeatable combination.

Tuesday night by plunging its characters deeper into a web of crisscrossing dramas that suggest the law and politics ultimately come down to soap operas. Whether it's true or not, The Good Wife makes the theory entertaining to explore.

While it will no doubt settle back into its normal pattern, the first two episodes have been a bit busy--and a little light on the courtroom drama side of things.
The second season of the Good Wife delivers an even more cynical (and real) look at life and politics than the first season. The acting is

The second season of the Good Wife delivers an even more cynical (and real) look at life and politics than the first season. The acting is fantastic and while not every case is the most interesting, the interactions between the characters and the mystery of their motivations more than makes up for any run-of-the-mill trial.

…

Expand

The appearances of Michael J. Fox, along with the cunning Patty Nyholm (Martha Plimpton) really help the show to upgrade itself. Julianna

The appearances of Michael J. Fox, along with the cunning Patty Nyholm (Martha Plimpton) really help the show to upgrade itself. Julianna Margulies and Christine Baranski are definitely among my favorite female TV characters. However, I gotta admit that Archie Panjabi is the real scene-stealer throughout the show.

…

Expand

Season 2 of the Good Wife is a hugely unwieldy beast that starts and ends well. The middle is more hit-and-miss, but the huge pay-off in

Season 2 of the Good Wife is a hugely unwieldy beast that starts and ends well. The middle is more hit-and-miss, but the huge pay-off in episodes 16-17 and 20-23 more than makes up for it. Despite the hype you may have heard, this show is still vastly underrated.

…

Expand

Over the course of 6 seasons, with its unique blend of serial and
procedural storytelling, /The Good Wife/ expands the clichéd "good
wife,"Over the course of 6 seasons, with its unique blend of serial and
procedural storytelling, /The Good Wife/ expands the clichéd "good
wife," or melodrama's martyred "coping woman," with a contradictory and
mercurial characterization of a woman whose liberation and corruption
are increasingly intertwined.

…

Expand

Building on an already very good first season The Good Wife continues to go from strength to strength in its sophomore year. I rarely watch

Building on an already very good first season The Good Wife continues to go from strength to strength in its sophomore year. I rarely watch network television these days, particularly ones with procedural elements, as the large number of episodes produced each year often affects the shows quality. The consistency of the writing throughout the twenty-three episodes on offer here is exceptional however and both the main cast, and recurring characters, are superbly portrayed by the cast (Julianne Margulies is particularly great).

If The Good Wife can keep up these high standards for the rest of its run, and I've been told it does, it could very well one of my favourite shows of all time!

…

Expand

I'm not a big fan of lawyer shows, but this is one of my favorite shows. Juliana Margulies is outstanding as is the entire support cast. Each

I'm not a big fan of lawyer shows, but this is one of my favorite shows. Juliana Margulies is outstanding as is the entire support cast. Each episode is an excellent story and I look forward to each one.

…

Expand

I never actually volunteered to comment so my rating(which was zero according to Metacritic) is completely undeserved, especially because I am

I never actually volunteered to comment so my rating(which was zero according to Metacritic) is completely undeserved, especially because I am a huge fan of the show. While no one can argue with the quality of such programs as Law&Order, The Practice, Murder One, et al, few shows are able to capture the various issues Alicia has deal with in addition to the standard legal gymnastics as well as this show(I.e. infidelity, politics, familial strife, etc.). On top of everything, the show has a tantalizing sexiness that I personally have never experienced in a show of this type or caliber. Alors, bravo.

…

Expand