Please enter your birth date to watch this video:

You are not allowed to view this material at this time.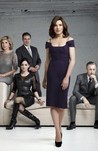 Episode Details & Credits
CBS |
Air Date:
April 27, 2014
Starring:
Matt Czuchry, Christine Baranski, Julianna Margulies, Chris Noth, Zach Grenier, Alan Cumming, Josh Charles, Makenzie Vega, Archie Panjabi, Graham Phillips, Matthew Goode
Summary:
Alicia becomes a reluctant witness when a body is discovered in Colin Sweeney's home while she is there. Meanwhile, an unfortunate picture of Zach threatens to become a public relations nightmare for Peter.
Seasons & Episodes
Season 7

Season 6

Season 5

Season 5 Overview

Air Date: September 29, 2013

S5:E22. A Weird Year

Air Date: May 18, 2014

S5:E21. The One Percent

Air Date: May 11, 2014

S5:E20. The Deep Web

Air Date: May 4, 2014

S5:E19. Tying the Knot

Air Date: April 27, 2014

S5:E18. All Tapped Out

Air Date: April 20, 2014

S5:E17. A Material World

Air Date: April 13, 2014

S5:E16. The Last Call

Air Date: March 30, 2014

S5:E15. Dramatics, Your Honor

Air Date: March 23, 2014

S5:E14. A Few Words

Air Date: March 16, 2014

S5:E13. Parallel Construction, Bitches

Air Date: March 9, 2014

S5:E12. We, the Juries

Air Date: January 12, 2014

S5:E11. Goliath and David

Air Date: January 5, 2014

S5:E10. The Decision Tree

Air Date: December 1, 2013

S5:E9. Whack-a-Mole

Air Date: November 24, 2013

S5:E8. The Next Month

Air Date: November 17, 2013

S5:E5. Hitting the Fan

Air Date: October 27, 2013

S5:E4. Outside the Bubble

Air Date: October 20, 2013

S5:E3. A Precious Commodity

Air Date: October 13, 2013

S5:E2. The Bit Bucket

Air Date: October 6, 2013

S5:E1. Everything is Ending

Air Date: September 29, 2013

Season 4

Season 3

Season 2

Season 1