Network:

Netflix

Series Premiere Date:

May 19, 2017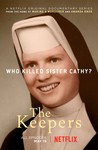 Summary:

Ryan White's seven-part true crime documentary focuses on the investigations by Abbie Schaub and Gemma Hoskins into the 1969 murder of Sister Cathy Cesnik, a young English teacher at a Catholic high school in Baltimore.

Genre(s):

News/Documentary

,

Suspense

,

Documentary
Season 1 premiere date:

May 19, 2017
The Keepers is addictive serial made for the post-Serial market. ... White's narrative is a nesting doll of colorful characters giving way to more colorful characters--stories inside stories, mysteries within mysteries.

The heartbreaking The Keepers [is] a fascinating (but overlong) piece about the murder of a Baltimore nun in 1969 and the revelations that would emerge over the next five decades.

The Keepers is much more sophisticated and well-researched [than "Making a Murderer"], offering several different probabilities throughout its seven episodes as to what happened to Sister Cathy. It also aims to solve a murder rather than set a convicted murderer free. It's executed with empathy, but not to the point where The Keepers lets a foregone conclusion drive the narrative.

What makes that bigger picture so maddeningly compelling is the way The Keepers explores a pathology of abuse and its effect on victims, chronicles the strange inescapability of trauma, reflects on how society treats the word of women, and reveals the shattering reality that justice can feel so empty.

Mostly these are jaw-dropping tales about horrific things that happened a long time ago, limiting the urgency of the narrative. ... In that way, The Keepers is more of a meditation on memory and truth than a murder mystery, and the telling of the tale is a resolution in itself.

White's devotion to the case is apparent, but The Keepers seems like an instance where a less-expansive canvas -- and the concentrated approach that would have required -- would have been more beneficial than the latitude to venture down every corridor, even when they might lead to a dead end.
Truly extraordinary. The journey of these women who were profoundly abused by several priests and their struggle with remembering is

Truly extraordinary. The journey of these women who were profoundly abused by several priests and their struggle with remembering is heartbreaking. There is another piece, the young nun who was determined to end the abuse and the abusers, but before she could, she was murdered, but who was the murderer? Worth every minute of watching. Don't let the "boy" trolls who are giving this such low scores dissuade you. Incredibly powerful.

…

Expand

Haunting, important, an incredible journey through pain and horror. The 'Making a Murderer' follow-up we needed to finally understand how

Haunting, important, an incredible journey through pain and horror. The 'Making a Murderer' follow-up we needed to finally understand how religion is still used as an excuse for bad behavior.

…

Expand

Two eps in and loving it. So much has already happened and in only 2 episodes. Can't wait to see what happens next. Addictive, highly

Two eps in and loving it. So much has already happened and in only 2 episodes. Can't wait to see what happens next. Addictive, highly recommended. Told in a similar vein to Making a Murderer.

…

Expand

Excellent series, i am furious over the cover-up that has gone one for all these years. Thanks to the ladies and other investigators that

Excellent series, i am furious over the cover-up that has gone one for all these years. Thanks to the ladies and other investigators that started digging into who killed Sister Kathy otherwise non of this would have come out to the public. The priests treated that catholic high school as a whore house to themselves and policemen andbother officials. I hope all of them that have dued are rotting in hell

…

Expand

The Keepers underscores what I felt about "Spotlight" - documentaries on the Catholic Church sexual misconduct cover ups are far more

The Keepers underscores what I felt about "Spotlight" - documentaries on the Catholic Church sexual misconduct cover ups are far more interesting than a dramatic portrayal. It is in large part because you are hearing things straight from those involved. I always find them frightening and mesmerizing. And who doesn't love a good murder mystery? With The Keepers you get both. Yes, it is a bit long, but it allows you to really get to know everyone - both those directly involved as well as those directly affected - as they join forces to seek justice for all. Many things to admire in how this miniseries was crafted, most notably the editing.

…

Expand

I thought this series was really great. There is a lot to hate about 'the story' though. In most detective style docs the story gets

I thought this series was really great. There is a lot to hate about 'the story' though. In most detective style docs the story gets explained well enough that you can come to a conclusion.
In this series, they REALLY drag some names through the mud. Some names that they have ZERO proof are guilty of ANYTHING. Except for hearsay.

By the end of the 7 hour+ documentary, I was almost 100% sure there was just some sorta mad man that had been in the area and the crime was chance. Mainly because of the second woman who was murdered also, yet the second woman had absolutely no relation to the 1st.
It is most likely 'based on all the evidence' that a random maniac killer (on the move) did this.
AS far as why the killer would have moved the body though is strange, and then where the Nun's car ended up is odd also. But, there just isn't any proof. The whole body of proof is 100% hearsay.

…

Expand

In spite of my low rating, the first two episodes of this series were well-done and compelling. Episode three devolved into

In spite of my low rating, the first two episodes of this series were well-done and compelling. Episode three devolved into self-justification, rationalization, and apology. And episodes three to eight could have, and should have, been handled in one or, at the most, two episodes. The series which, again, started well, became mired in equivalencies, spending as much time discussing statues of limitation reform and fatal lawsuits as it did church sexual abuse and whistleblower murder. It should have stuck with what it did best: the crime.

…

Expand