Network:

A&E

Series Premiere Date:

Mar 9, 2015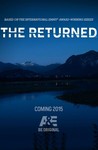 Starring:

Jeremy Sisto

,

Mary Elizabeth Winstead

,

Agnes Bruckner

Summary:

Carlton Cuse's American adaption of the French drama Les Revenants (shown on Sundance as The Returned) is also set in a small town where the dead reappear. The returned include Simon (Mat Vairo), a musician who died ten years ago and twin sisters (Sophie Lowe and India Ennenga) who died in a

Carlton Cuse's American adaption of the French drama Les Revenants (shown on Sundance as The Returned) is also set in a small town where the dead reappear. The returned include Simon (Mat Vairo), a musician who died ten years ago and twin sisters (Sophie Lowe and India Ennenga) who died in a bus accident four years ago. Sheriff Tommy Moran (Kevin Alejandro) and psychologist Peter (Jeremy Sisto) try to help the families including Simon's girlfriend (Mary Elizabeth Winstead) and the twins estranged parents (Mark Pelligrino and Tandi Wright).

…

Expand

Genre(s):

Drama

,

Horror
Season 1 premiere date:

Mar 9, 2015

Episode Length:

60
Please enter your birth date to watch this video:
You are not allowed to view this material at this time.
It's not a talky show; there's as much to be gleaned here in what is not said as what is. The moodiness of the production also goes a long way in helping us suspend our disbelief.

An artfully engrossing remake. [9-16 Mar 2015, p.13]

Though his [Carlton Cuse's] version is not quite as eerie and enigmatic as the French version, it's still pretty dang eerie and enigmatic, particularly for those watching the story unfold for the first time.

Cuse and Tucker (the latter also worked on True Blood) do a good job of translating the deeply unsettling miracle at the heart of this show.

Slow and mournful, The Returned is interesting but not, in the early going, enormously compelling.

This version has a brisker pace than the fine French original, though it wouldn't be called action-packed. With its ominous and dark undertone, call it cerebral sci-fi.

[A] vastly inferior product, which lacks spark and purpose.
its not often I watch a show back to back, but 1 watched this over 2 nights. The cinematography, the creepy Twin peaks-esq locations, and

its not often I watch a show back to back, but 1 watched this over 2 nights. The cinematography, the creepy Twin peaks-esq locations, and cooky characters and mild horror moments, had me hooked. Hope Season 2 gets made!

…

Expand

The U.S. version of the returned is amazing. One of the best new series in a long time and someone needs to make season 2!!!! If it wasn't for

The U.S. version of the returned is amazing. One of the best new series in a long time and someone needs to make season 2!!!! If it wasn't for netflix I wouldn't have known about it....PLEASE MAKE SEASON 2 AMERICAN!!!! I prefer American shows much more since that's where I live.

…

Expand

Me ,my husband and a bunch of friends who came over watched The returned for the first time and we LOVE it. That creepy little kid (victor)

Me ,my husband and a bunch of friends who came over watched The returned for the first time and we LOVE it. That creepy little kid (victor) makes us wonder for each episodes that will come. We can't wait for the next one. Also love the fact that every dead has their own story. love love love.

…

Expand

I simply L-O-V-E-D the French version (known as "Les Revenants") and am anxiously awaiting season 2 (should it ever arrive). I even voted it

I simply L-O-V-E-D the French version (known as "Les Revenants") and am anxiously awaiting season 2 (should it ever arrive). I even voted it my favorite TV show of 2013. Unfortunately I dont have as warm a feeling for the A&E version. Dont get me wrong. It's not horrible. If I hadnt seen the French version first I'm sure I would like the American more. Without giving any of the plot away, here's some of the main differences between the two versions:

Episodes: Season 1 of French version has 8 episodes. The American version has 10.
Location: The French version takes place in a small resort town in the French Alps. The American version is in the town of Caldwell in Washington state.
Atmosphere: The cinematography in the French version is much darker and spookier. It's way too bright and sunny in the American version. Little known fact--the French version only filmed between 4 and 9 PM in order to maintain it's eerie appearance.
Actors: As a whole I enjoyed the French actors much more than their American counterparts. The exceptions are Simon and Helen. The actors playing Simon in both versions are very similar. I liked them both. Helen is one of the best parts of the American version. Michelle Forbes really brings the character to life. The French Victor seriously outcreeps his counterpart.

In summation, skip the American version and watch the French version instead. Or if you're like me, watch both and then complain about the American one.

…

Expand

It's just a copy almost frame by frame of the french show. Surprisingly, Camille is played by an adult actress instead of a teenager (just

It's just a copy almost frame by frame of the french show. Surprisingly, Camille is played by an adult actress instead of a teenager (just because of the sex scene?). I didn't feel anything watching the 1st episode, while I was amazed by the entire original series. This remake is totally unnecessary.

…

Expand

Today there are more networks and streaming services offering original programming than ever before. It is an amazing time for TV lovers and

Today there are more networks and streaming services offering original programming than ever before. It is an amazing time for TV lovers and it seems that anyone can get pretty much anything on the air. With all these new shows debuting all over the place, this does unfortunately leave the networks at somewhat of a disadvantage when it comes to original ideas. Out of desperation, many networks have turned to re-booting old shows, bringing back cancelled ideas that didin't work, and even Americanizing overseas television shows, The Returned is an example of the later.

I understand why A&E chose to take a show from overseas, Americanize it, and market it as their next big hit, but why the Returned? This idea has been done to death, both in movies and on TV, and while the show is critically acclaimed, the ratings for the overseas version were terrible, the show was cancelled after it's second season. If no one is watching it over there, why did they think anyone would watch it over here?

The returned takes place in a small Northwestern town, where one day, out of the blue, people who have been dead, some for decades, start showing up back at home with no memory of being gone at all. Each episode is broken up into sections that follow specific individuals and their interactions with their loved ones and society. There is also of course the police and investigative angle to the whole thing, and an unsolved crime thrown into the mix, in order to try and keep viewers coming back each week.

Funny thing is, I wasn't all that crazy about this episode of the Twilight Zone. It was a little better when The X-Files did it. The 4400 added beings from the future and turned it into a series that quickly ran out of storyline and fizzled out, and now we have The Returned. This isn't an original idea, far from it, and the fact that it takes place in the same location as the 4400 is completely laughable.

The cast has a few standouts that made the show a bit less tiresome, Mark Pellegrino is always fun to watch, as you never can figure out if he's a good guy or a bad one. We're also introduced to a new young actor in the form of Dylan Kingwell. He doesn't say much, but his character is honestly one of the most fascinating mysteries of the whole show.

The bottom line is that this show is a complete rip off of other ideas and there is really very little here to keep the viewers interested. The boys story turned out to be really cool, The murder investigation was interesting but under utilized, and there were a few cast members I enjoyed. Otherwise the writing was terrible and parts of this show were just painfully slow. There are some terrific overseas shows that no one has even mentioned bringing over here, why they chose this one, I'll never know.

…

Expand

The Returned remake is the worse show. I do not like the new series the French version is much better. I dislike how they changed the entire

The Returned remake is the worse show. I do not like the new series the French version is much better. I dislike how they changed the entire premises of the american version.

…

Expand