Please enter your birth date to watch this video:

You are not allowed to view this material at this time.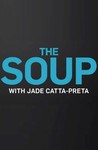 E! |
Season Premiere Date:
January 1, 2014
Summary:
With this new satirical series, the E! Entertainment Network returns to a format they helped create with the popular '90s show Talk Soup. Only this time instead of just poking fun at talk shows, they're setting their sights on all things in entertainment, reality TV, pop culture, and politics.
Genre(s):
Comedy

,

Talk & Interview
By Metascore
By User Score
Seasons & Episodes
Season 13

Season 12

Season 11

Season 11 Overview

Air Date: January 1, 2014

S11:E52. Clipdown Part 1

Air Date: December 26, 2014

S11:E51. Billy Eichner

Air Date: December 19, 2014

S11:E50. The Soup Awards

Air Date: December 12, 2014

S11:E49. The Soup 12/3

Air Date: December 3, 2014

S11:E48. Eric Andre

Air Date: November 26, 2014

S11:E47. John Mulaney & Steve Rannazzisi

Air Date: November 19, 2014

S11:E46. Rob Riggle

Air Date: November 12, 2014

S11:E45. Will Arnett

Air Date: November 5, 2014

S11:E44. Steve Rannazzisi

Air Date: October 29, 2014

S11:E43. Jack Black & Kyle Gass

Air Date: October 22, 2014

S11:E42. Rob Corddry

Air Date: October 15, 2014

S11:E41. Martin Starr & Grace Helbig

Air Date: October 8, 2014

S11:E40. Wendi McLendon-Covey

Air Date: October 1, 2014

S11:E39. Elizabeth Henstridge

Air Date: September 24, 2014

S11:E38. Larry King

Air Date: September 17, 2014

S11:E37. Adam Devine

Air Date: September 10, 2014

S11:E36. Scott Aukerman

Air Date: September 3, 2014

S11:E35. Seth Green, Patrick Warburton

Air Date: August 27, 2014

S11:E34. Brett Gelman

Air Date: August 20, 2014

S11:E33. Garfunkle & Oates, Eddie George

Air Date: August 13, 2014

S11:E32. Sharon Osbourne

Air Date: August 6, 2014

S11:E31. Dax Shepard

Air Date: July 30, 2014

S11:E30. Julie Benz

Air Date: July 23, 2014

S11:E29. Joel's Picks

Air Date: July 16, 2014

S11:E28. Cast of Hemlock Grove

Air Date: July 9, 2014

S11:E27. Mary Lynn Rajskub

Air Date: July 2, 2014

S11:E26. Questlove

Air Date: June 25, 2014

S11:E25. Andy Daly

Air Date: June 18, 2014

S11:E24. T.J. Miller, Rob Riggle

Air Date: June 11, 2014

S11:E23. Busy Philipps, J.B. Smoove

Air Date: June 4, 2014

S11:E22. Marc Maron

Air Date: May 28, 2014

S11:E21. Jessica St. Clair & Lennon Parham

Air Date: May 21, 2014

S11:E20. The Soup From NYC

Air Date: May 14, 2014

S11:E19. Jim Rash

Air Date: May 7, 2014

S11:E18. The Soup Goes to Washington, D.C.

Air Date: April 30, 2014

S11:E17. Jillian Rose Reed

Air Date: April 23, 2014

S11:E16. Zachary Levi

Air Date: April 16, 2014

S11:E15. The Soup Salutes WWE Again Piledriving More Clips in You...

Air Date: April 9, 2014

S11:E14. Patton Oswalt & Adam Devine

Air Date: April 11, 2014

S11:E13. Nathan Fillion & Tony Hale

Air Date: March 26, 2014

S11:E12. Rob Huebel, Capital Citites

Air Date: March 19, 2014

S11:E11. Tim Gunn, Nick Kroll, "Soup of the Walking Dead 3"

Air Date: March 12, 2014

S11:E10. Ross Mathews

Air Date: March 5, 2014

S11:E9. Rich Eisen, Michaela Watkins

Air Date: February 26, 2014

S11:E8. Richard Marx

Air Date: February 19, 2014

S11:E7. Patrick Warburton, Wendi McLendon-Covey

Air Date: February 14, 2014

S11:E6. Dr. Oz & Tyler Posey

Air Date: February 5, 2014

S11:E5. Tom Papa

Air Date: January 29, 2014

S11:E4. Tricia Helfer

Air Date: January 22, 2014

S11:E3. Liam McIntyre

Air Date: January 15, 2014

S11:E2. January 8, 2014

Air Date: January 8, 2014

S11:E1. The Soup Clipdown '13, Part 2

Air Date: January 1, 2014

Season 10

Season 9

Season 9

Season 8

Season 7

Season 6

Season 5

Season 4

Season 3

Season 2

Season 1