Please enter your birth date to watch this video:

You are not allowed to view this material at this time.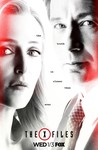 Episode Details & Credits
FOX |
Air Date:
February 9, 1997
Summary:
Scully's recent failing health is revealed to be inoperable brain cancer which is common among abductees. She meets with other abductees with the same condition and forms a special bond with a dying woman, while Mulder tries to save her from a doctor who may be connected with the abductions.
Genre(s):
Drama

,

Action & Adventure

,

Horror

,

Suspense

,

Science Fiction
Seasons & Episodes
Season 11

Season 10

Season 9

Season 8

Season 7

Season 6

Season 5

Season 4

Season 4 Overview

Air Date: October 4, 1996

S4:E24. Gethsemane (1)

Air Date: May 18, 1997

S4:E23. Demons

Air Date: May 11, 1997

S4:E22. Elegy

Air Date: May 4, 1997

S4:E21. Zero Sum

Air Date: April 27, 1997

S4:E20. Small Potatoes

Air Date: April 20, 1997

S4:E19. Synchrony

Air Date: April 13, 1997

S4:E18. Max (2)

Air Date: March 23, 1997

S4:E17. Tempus Fugit (1)

Air Date: March 16, 1997

S4:E16. Unrequited

Air Date: February 23, 1997

S4:E15. Kaddish

Air Date: February 16, 1997

S4:E14. Memento Mori

Air Date: February 9, 1997

S4:E13. Never Again

Air Date: February 2, 1997

S4:E12. Leonard Betts

Air Date: January 26, 1997

S4:E11. El Mundo Gira

Air Date: January 12, 1997

S4:E10. Paper Hearts

Air Date: December 15, 1996

S4:E9. Terma (2)

Air Date: December 1, 1996

S4:E8. Tunguska (1)

Air Date: November 24, 1996

S4:E7. Musings of a Cigarette-Smoking Man

Air Date: November 17, 1996

S4:E6. Sanguinarium

Air Date: November 10, 1996

S4:E5. The Field Where I Died

Air Date: November 3, 1996

S4:E4. Unruhe

Air Date: October 27, 1996

S4:E3. Teliko

Air Date: October 18, 1996

S4:E2. Home

Air Date: October 11, 1996

S4:E1. Herrenvolk (2)

Air Date: October 4, 1996

Season 3

Season 2

Season 1