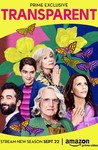 Summary:

Mort Pfefferman's (Jeffrey Tambor) announcement to his family causes more secrets to come out from his ex-wife Shelly (Judith Light) and their three grown children--Ali (Gaby Hoffmann), Josh (Jay Duplass), and Sarah (Amy Landecker) in this Jill Soloway dark comedy.

Genre(s):

Comedy

,

Drama
Season 1 premiere date:

Sep 26, 2014

Episode Length:

30
Please enter your birth date to watch this video:
You are not allowed to view this material at this time.
Centered on a career-redefining performance by Jeffrey Tambor as a retired professor finally allowing himself to live his true life as a woman, the half-hour, 10-episode series is, quite simply, astonishing to watch.

Transparent's major achievement is putting itself on the map.

The show creator Jill Soloway's deeply empathetic filmmaking style and her writers' penchant for fine, funny details give the series soul and prevent the characters from tipping over into full monstrousness. The performances are more precise than ever, naturalistically portraying people who are neither wholly good nor wholly bad. Most impressive is how Soloway's team keeps finding fresh angles on the same characters navigating the same big existential questions.

Transparent is the best streaming-network pilot since Netflix's "Orange Is the New Black."

Right in the first episode, the relationships are well lived-in, the writing is honest and bound up with the actors, the tone effortlessly embodies drama, comedy, and life's absurdities, the contemporary homes and locations click, and the ensemble acting is filled with little moments and jewels.

Transparent is either the best new series most people are unlikely to see or the best excuse Amazon can give you for signing up for a month's free trial.

Tambor, a good actor, gets whipsawed by some of what he's asked to do, and the show sometimes has the same feeling. It too often ends up finding neither the comedy nor the pathos in these tortured lives.
Transparent's characters are as selfish, I-orientated and hypocritical as the Seinfeld characters. The hypocrisy is brilliantly brought to our

Transparent's characters are as selfish, I-orientated and hypocritical as the Seinfeld characters. The hypocrisy is brilliantly brought to our attention several times. The subtext of the story I firstly understood to be a fight for the right to express who one is. You cheer the underdogs on. Of course. However, that subtext may be reviewed, when the most needy and demanding among them is condemning an unexpected guest who wants to express his love for the teachings of someone this family does not recognize. The guest is condemned very clearly with two words. It is fun and could make you laugh. However those two words show that this underdog is just as a bigot as the next person. Being a liberal and a crossdresser does not automatically exempt him from being one.

…

Expand

PERFECT, the acting, the writing, the directing. Everything in it is awesome, I can't describe how cool and touching it is, I really love it.

PERFECT, the acting, the writing, the directing. Everything in it is awesome, I can't describe how cool and touching it is, I really love it. I recommend it.

…

Expand

This is simply the best show "on television". A story about the complexity of family, life, and much more is woven together with an

This is simply the best show "on television". A story about the complexity of family, life, and much more is woven together with an authenticity that is so hard to come by.

The acting is ridiculously good, from top to bottom (as incredible as Tambor and Hoffman are, I actually think Judith Light steals the show). Just watch it, you'll be happy you did. Its miles ahead of the rest of the crap on television.

…

Expand

It's the best trans-gender dramedy on Amazon or television, even if it is the only one. Strong cast and writing create some sympathetic

It's the best trans-gender dramedy on Amazon or television, even if it is the only one. Strong cast and writing create some sympathetic characters that are interesting and deep.

…

Expand

I really like this show. I've known crazy families like this one, that talk over each other, argue all of the time, and generally act pretty

I really like this show. I've known crazy families like this one, that talk over each other, argue all of the time, and generally act pretty selfishly. But in between all of that there is also a large amount of love and emotional honesty that ties them all together. So this show reminds me of that. It's written very well, and each actor plays their part incredibly well. The exploration of gender and transgender is done in a very delicate and nuanced way. Changing gender is still taboo for many people - we need shows like this to explore what it's like. In episode 7 I thought perhaps the writers were getting a bit too heavy-handed with sex - it seemed too monotonous, but after that episode the show turned a corner and saved itself, and episode 10 was a stand out. Looking forward to season 2.

…

Expand

Season 1 started out strong, more than deserving of the praise and accolades it won. Characters followed a progressive and, more importantly,

Season 1 started out strong, more than deserving of the praise and accolades it won. Characters followed a progressive and, more importantly, realistic development through the overall arch, with each characters reactions to the main pivot in the series being tasteful and well executed. Season 1 won praise for its originality, and its heavy-handed approach to dealing with "hot pocket" topics of the media elite. This was never a show made for "you or me", and more a show made for "them", a self-reflection on the difficulties and tribulations that a small and largely ignored sub-section of the upper echelons of American society. This however was not a problem; with strong writing, simple arch progression and a raft of likeable characters (that all left your routing for them, even when they came into conflict with one and other), Transparent seemed to hit the ground running and by the tenth episode of season 10 was definitely breaking a sweat as it sprinted across the finish line...

And then season 2 happened.

In one fell swoop, it seems, the writers - at the behest of the "ongoing series" desires of their Amazon paymasters - took every character almost 100 steps backwards. Forgotten was the initial excitement of discovering "transparency" in the show's chosen context. Gone were the likeable characters, their difficulties and trials that inspired empathy and understanding from the audience. In their place previously engaging and morish characters became mundane and boorish, as the show switched pivot from "modern masterpiece" to "modern drama guff". To offset this mundane practice in media creation comes a torrent of unrealistic settings, characters and story archs that simply lead the viewer on a journey from the potent exploration of the people and topics at the heart of the show to something more resembling a depressing light-scifi fantasy drama set in an alternate reality to the first season.

Coming in for particularly potent criticism is the character of Josh, who simply seems to meander from revelation to revelation with the ignorance of a boy. Just when you think the character cannot sink any further, cannot make a worse decision, or speak words so far removed from any of the lessons he had learned through season 1, he lets us all down bit by bit. And whilst I personally reserve particular scorn for this aborted child of a man, the rest of the cast hardly comes out smelling of roses. The ensemble works not to engage you in the family drama at the heart of the show but to almost entirely remove you from the family drama and vogue issues at the core of the series. This can be seen in the acting from the stars as well, with season 2 offering performances far and away from the award-winning outings in season 1.

Quite simply, Transparent was a superb single run outing... and it should have been left there. With the impetus to keep the story going, the show has lost much of what gave it merit, and as it has removed itself further from the strong themes at the heart of season 1 it has blindly meandered into the dull world of boring family drama, its only saving grace being a man in a dress.

…

Expand

Um.. OK, THIS is the highest rated show on this site?! haha It's some kind of joke, right? This must be one of if not the most shallow

Um.. OK, THIS is the highest rated show on this site?! haha It's some kind of joke, right? This must be one of if not the most shallow shock-for-ratings shows ever made. #1.. what a joke!

…

Expand