Network:

Showtime

Series Premiere Date:

Oct 15, 2017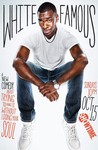 Summary:

Up and coming comedian Floyd Mooney (Jay Pharoah) tries to keep his integrity as he gains mainstream success in this comedy from Jamie Foxx and Tom Kapinos.

Genre(s):

Comedy
Season 1 premiere date:

Oct 15, 2017

Episode Length:

30
The writing of White Famous is light and scathingly funny, a remarkable trait in what may be the most comfortable uncomfortable portrayal of fame and racism on television this season. Pharaoh, who famously departed "Saturday Night Live" to take this role, exercises a dramatic flexibility that shines through in Floyd.

It's not particularly original, but with lively guests such as Foxx, Tobolowsky, and, beginning in episode two, Michael Rapaport and Natalie Zea (as a soulless agent named Amy Von Getz; Kapinos clearly likes to play with names), the material is nonetheless twisted fun. It's Pharoah, though, best known for his six-season stint on "Saturday Night Live," who carries the action.

Consistently watchable due to a versatile and charismatic lead performance by Jay Pharoah, White Famous still feels like an impersonal relic of television past.

One suspects star power had plenty to do with Showtime giving the go-ahead to this once-over-lightly version of making it in Hollywood -- the kind of material that, in comedy terms, feels more like open-mic night than a headliner.

The problem with White Famous is its lack of problems. Every potential conflict resolves itself without consequence or development.

White Famous is so corrosive that it ends up fighting itself. The self-loathing here is the type that's common to so many Hollywood satires, filled with the requisite pythons and soul crushers who keep the sausage factory conveyor belt moving. But much of this goes beyond loathing to self-lacerating. ... Awful.
The most brilliant performances are by the visiting players: Tobolowsky, Foxx &, funniest of all, Jack Davenport. I agree with the NYTimes

The most brilliant performances are by the visiting players: Tobolowsky, Foxx &, funniest of all, Jack Davenport. I agree with the NYTimes reviewer with regard to the facile plot resolution. The star doesnt have the chops to keep up with his supporting cast. The child is not directed effectively, and his role comes off as false. Likewise the idealized parents. Fantastic soundtrack.

…

Expand

tried to watch this show it is just not funny like most comedians trying to do a comedy they try way to hard. I don't know if this guy has

tried to watch this show it is just not funny like most comedians trying to do a comedy they try way to hard. I don't know if this guy has funny stand up or what but his acting skills are terrible. I see why this show got canceled after 1 season. how is Jamie Foxx in this and it still sucks? I think this guy is on Saturday night live. a show that just sucks badly and needs to be put out to pasture.

…

Expand