Publisher:

SCEA

Release Date:

Mar 16, 2005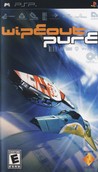 Summary:

The latest and the greatest in the seminal WipEout series, "Pure" distils the essence of anti-gravity racing and futuristic adrenaline-fuelled combat. Hi-tech weapons, hi-octane speed and a high-tempo dance soundtrack combine to deliver an explosive taste of the future directly into your

hands. Features all-new environments and race craft plus a pumping soundtrack specially created for the game by a range of top artists. Post launch downloads give you access to extra circuits, new craft, personalized skins and additional music. Go head-to-head full-screen in 8-player tournaments via WiFi. [SCEA]

…

Expand

Developer:

Studio Liverpool

Genre(s):

Futuristic

# of players:

1-8

Cheats:

On GameFAQs

Rating:

E
Offering a perfectly balanced mix of features, gameplay, and style, Wipeout Pure is one of those rare gems that fires on all cylinders.

I have never played a racing game on a portable system that had as much creativity and longevity as Wipeout Pure. Its addictiveness is indescribable.

As a super secret, not explained bonus Wipeout Pure can also be used as a web browser for the PSP.

Studio Liverpool has come up with a near-perfect equation for this sort of game, layering everything up in a manner that keeps you coming back hour after hour, with enough tracks to beat under subtly but crucially different circumstances that you never find yourself tiring of a well-beaten track.

A handful of new gameplay tweaks, new hovercraft racing classes and a PSP-worthy visual overhaul make WipeOut Pure the best installment in the series since 1996â??s "WipeOut XL."

Reaching the end of Wipeout Pure is certainly a challenge, but once the higher ground has been breached (without PSP owning friends) there is little reason to return to the game.
I'm a bit of a white-knuckler flyer, so handheld gaming is a must. I bought my PSP for this game (and bought 3 more copies for my friends so

we could play it in ad-hoc multiplayer). Great fun - good for smack talk. Still play it. In my mind, it's far superior to its successor Pulse. I have no idea how to finish this game, it's so tough in the faster classes, but I've had a great time trying. This game and Lumines were a promising start for the system.

…

Expand

Wipeout Pure is honestly one of the best racing games made especially for a portable, this is truly a console experience on a portable that is

worth getting. You'll love the sheer difficulty, the amount of content there is available, the unique style gameplay and design and of course the music which matches quite nicely with the overall design of the Wipeout Pure experience.

…

Expand

A fun and frantic racer that has great visuals and art direction. Controls are smooth, tracks are sufficiently bendy and the soundtrack

perfectly suits the action. A larger choice of vehicles and tracks would have made this game even better.

…

Expand

I never got into Mario Kart so I'm not exactly the right person to review this but there's not much else to see here. It's basically Mario

Kart with futuristic cars. Very beautiful game with an awesome soundtrack but overall, not much different from similar games.

…

Expand