Publisher:

SCEA

Release Date:

Mar 16, 2005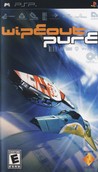 Summary:

The latest and the greatest in the seminal WipEout series, "Pure" distils the essence of anti-gravity racing and futuristic adrenaline-fuelled combat. Hi-tech weapons, hi-octane speed and a high-tempo dance soundtrack combine to deliver an explosive taste of the future directly into your han

ds. Features all-new environments and race craft plus a pumping soundtrack specially created for the game by a range of top artists. Post launch downloads give you access to extra circuits, new craft, personalized skins and additional music. Go head-to-head full-screen in 8-player tournaments via WiFi. [SCEA]

…

Expand
Developer:

Studio Liverpool

Genre(s):

Racing

# of players:

1-8

Cheats:

On GameFAQs

Rating:

E
Offering a perfectly balanced mix of features, gameplay, and style, Wipeout Pure is one of those rare gems that fires on all cylinders.

Well, I'm flabbergasted. What more can I say? Wipeout Pure has it all; edge of your seat racing, big explosions, challenging tracks, aggressive competitors, superb graphics, exemplary cutting edge sound and is altogether one of the most well thought out and brilliantly conceived titles that it has ever been my joy to come across.

It's a great game to pass around so "everyone can play" and offers a real nice long term gaming experience with all the levels and future downloadable content.

Itâ??s a great launch title, but generally speaking a mediocre game. I just couldnâ??t get over the terrible third-person view, which forces players to deal with clunky and wholly frustrating gameplay due to poor design.
I'm a bit of a white-knuckler flyer, so handheld gaming is a must. I bought my PSP for this game (and bought 3 more copies for my friends so w

e could play it in ad-hoc multiplayer). Great fun - good for smack talk. Still play it. In my mind, it's far superior to its successor Pulse. I have no idea how to finish this game, it's so tough in the faster classes, but I've had a great time trying. This game and Lumines were a promising start for the system.

…

Expand

A fun and frantic racer that has great visuals and art direction. Controls are smooth, tracks are sufficiently bendy and the soundtrack perfec

tly suits the action. A larger choice of vehicles and tracks would have made this game even better.

…

Expand

I never got into Mario Kart so I'm not exactly the right person to review this but there's not much else to see here. It's basically Mario Kar

t with futuristic cars. Very beautiful game with an awesome soundtrack but overall, not much different from similar games.

…

Expand

I did notlike this game it is a total copy of star wars i think it should not be a psp game.