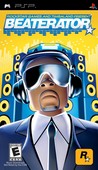 Summary:

Beaterator for the PSP system is both a powerful music mixer with robust beatmaking features, as well as a collection of original music and rhythm games and challenge modes - all available in the palm of your hand. [Rockstar]
Developer:

Rockstar Leeds

Genre(s):

Miscellaneous

,

Music Maker

,

Music Maker

,

Application

# of players:

No Online Multiplayer

Cheats:

On GameFAQs

Rating:

E
For our money, it's the best portable eight-track available and one of the best reasons to put your PSP in your bag before the commute to work.

This is what I like about the gaming industry: there's always a surprise waiting for you around the corner. Although the offering has obvious technical limitations and does come with a solid learning curve, Beaterator is very interesting and packs enough punch to please and intrigue any kind of gamer. Beaterator is worth checking out!

I wouldn't say you're ready to start your own label with a PSP and a pocket full of dreams or anything, but certainly your start in the world of commercial hip-hop and electronic music making has never had a more accessible leg up, or been so much fun.

Beaterator is a surprisingly powerful music creation tool for mixmasters on the move.

Beaterator brings an excellent music application to the PSP which makes it possible to create some slamming tunes. It has an accessible and entertaining Live Play mode for newcomers, but if you want to create a track from the ground up, an extensive knowledge of production software or perseverance is required. Although Beaterator can't compete with professional software on PC or MAC, the low price and ability to create a mix everywhere you go makes this something worth buying. Even for seasoned professionals.

You can make a great beat with a bunch of simple functions through the Live Play-mode, but you can also make great tracks in de Studio mode. The program offers a variety of possibilities to go very deep in the game, but seeks out the competition with the computer-software at that point. And if I have to choose between a PSP game or a computer program I choose to make my tracks on a computer for that use.

Beaterator could've been a little more consumer-friendly, with a better hands-on tutorial and some minor sequences. Not everyone will get it, but would-be music maestros and DJs should definitely give it a look.
Beaterator is an awesome music app which makes it very easy to make tracks that sound professional. It really akes you feel like a great

Beaterator is an awesome music app which makes it very easy to make tracks that sound professional. It really akes you feel like a great musician like Timbaland.

…

Expand

Since you can't really beat this game, but rather improve your beats, I'll state my first impression and the impression after fully

Since you can't really beat this game, but rather improve your beats, I'll state my first impression and the impression after fully understanding the controls. First of all, I had doubts about the "legitness" of this music creating tool for the PSP. A lot of lame things get hyped these days, but this PSP title by "Rockstar" once again shows that "Rockstar" cares about decent products. My first impression was "normal". I have some knowledge about music software for PC, therefore seeing this and that tool was nothing that confused me, ergo reading the manual or watching the tutorial videos, which are decent, wasn't necessary. I'd recommend to read the manual and watch the tutorial videos if you are new to this though, else you might be frustrated and that will affect your opinion about this "game". Also patience is key and the reward is great! After checking all tools and options, my first impression was good. And after getting comfy to use the knobs of the PSP to make music, my impression was quite great. You can import your own sound, record your own sound (only if your PSP has a mic), create your own unique synth sounds, ergo you are not limited to the in-game library, alter samples/sounds, put together your own drum kit, you can add several tracks and create a huge song and the library has a good selection as well - basically enough to have some fun. If you want to become a music producer, you better save some money for some real studio hardware and software. After all this is a "game", but Rockstar and Timbaland really tried to give us something, that is rather serious and not toyish. Again, serious producers won't agree, but I'm saying this from a PSP player's perspective. With enough time on your hands or enough dedication, you can create some pretty nice tunes, which are good enough to represent on video streaming plattforms. If you don't have the money for a real studio, but want to relax while making some music or if you always wanted to something to create beats for your lyrics to work on your rapping, this might be a good alternative or start. If this game is your cup of tea, you'll definitely spend hours and days with this - theoretically this could be your all-time PSP game.

…

Expand

Had this for a couple of days now and love it. I have Cubase etc on my PC and this does a very similar job on a handheld. I don't use

Had this for a couple of days now and love it. I have Cubase etc on my PC and this does a very similar job on a handheld. I don't use timbaland's loops at all - everything I've done I've started from scratch - it gives you options for chords, there's a separate drum synth tool, you can add effects (reverb etc) on the synths, seriously, it's awesome - it's all you need to make your own music now

…

Expand

Played with it for a while, but ultimatelly i lost interest, with some homebrews doing about the same stuff in a more likeable manner. Still,

Played with it for a while, but ultimatelly i lost interest, with some homebrews doing about the same stuff in a more likeable manner. Still, this "game" deserves it's respect for being unique, for being Rockstar and, to be objective, is not bad in itself, just not everyone's kind of thing.

…

Expand

I felt let down by this after all the hype preceding its release. Essentially you can use someone else's loops to build a song, which in

I felt let down by this after all the hype preceding its release. Essentially you can use someone else's loops to build a song, which in retrospect is all Timbaland is capable of, so maybe the program is true to form.

…

Expand
| | |
| --- | --- |
| 17 | |
| 27 | #27 Most Discussed PSP Game of 2009 |
| 38 | #38 Most Shared PSP Game of 2009 |