Publisher:

Konami

Release Date:

Sep 18, 2007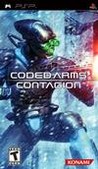 Summary:

Coded Arms: Contagion thrusts players into a new cybernetic crisis where they must use their hacking abilities and an arsenal of high-powered weaponry to survive. As a lone security agent players will return to A.I.D.A., a virtual reality military training program, to prevent

Coded Arms: Contagion thrusts players into a new cybernetic crisis where they must use their hacking abilities and an arsenal of high-powered weaponry to survive. As a lone security agent players will return to A.I.D.A., a virtual reality military training program, to prevent cyber-terrorists from taking control of the program and gaining access to classified military information. The hackers believe that AIDA shouldn't be restricted for only government use. The agent must use his abilities and combat skills to disinfect AIDA from the hacker-introduced virus so he can escape the system. Across a variety of enclosed and open-air levels, players will take on original enemies with an all-new selection of firearms and explosives that lets them counter the terrorist menace with more firepower than ever before. Up to eight players can go head-to-head in the game's new online multiplayer modes. [Konami]

…

Expand
Developer:

Creat Studios

Genre(s):

Action

,

Adventure

,

Shooter

,

3D

,

First-Person

,

Sci-Fi

,

Sci-Fi

,

Arcade

# of players:

8 Online

Cheats:

On GameFAQs

Rating:

T
Please enter your birth date to watch this video:
You are not allowed to view this material at this time.
Coded Arms: Contagion Official Trailer 1
It seems that the developers at Creat have gotten the balance just right with Contagion and served up a slice of fun pie. It may be a small slice, but it's a tasty one nonetheless.

If you can appreciate old-school first person shooters, where enemies weren't expected to have the best survival instincts, then the single player mode is still worth the time it takes to play through it. [May 2007, p.66]

Official Playstation 2 Magazine UK

Simple, repetitive gaming, that offers immediate fun, but little real substance. [June 2008, p.91]

Coded Arms: Contagion just doesn't do enough from its predecessors to really stand out. From the awkward control scheme to the lack of diversity among stages and adversaries, there isn't really anything extraordinary to take out of the experience.

The dull gameplay and generic storyline is not enough to save this falling franchise.

Do your part to stop the spread of Coded Arms Contagion and its uninspired strain of first-person action. Crippled controls and multiplayer malaise prove far too potent against its beautiful looks.

Coded Arms: Contagion might stave off boredom for a while with its relatively attractive engine, recycled hacking mechanics and obsessive upgrading, but its virtually pointless encounters and drab, forgettable air conspire to make it little more than fodder for buyer's remorse.
I am playing this in 2019. The reviews on this game were far too harsh. I had low expectations but this is an extremely worthwhile FPS on the

I am playing this in 2019. The reviews on this game were far too harsh. I had low expectations but this is an extremely worthwhile FPS on the PSP (a device that was very short on FPS). The controls are sound and intuitive, the story is limited but engaging, and the game play is solid. The environments do get a touch repetitive, but it has a very good difficulty level and does not hold your hand. It gets to a point where you have to be strategic with ammo and cannot just liberally blast your way through.

The AI is admittedly not brilliant, but this hardly detracts from the game. Anyone revisiting or looking for quality PSP titles (especially FPS), will not go wrong with this. It is a fun and engaging game. Overall highly recommended and significantly underrated.

…

Expand

The 1st Coded Arms was merely meh. For Contagion, new developer Creat Stuido definately improved on it, but its still not as good as they

The 1st Coded Arms was merely meh. For Contagion, new developer Creat Stuido definately improved on it, but its still not as good as they hoped it would be. I know that FPS's are very difficult to pull off on the psp because of the limited control scheme but in that aspect, i think Creat Studio did an admirabal job. Out of the FPS's that i've played on psp Contagion has a decent control set-up. The game also runs on a pretty good engine, the graphics while not great, are cool. I would say the main problem with the game would be gameplay. Mind you, its DEFINATELY not great, but it ISNT horrible either, it's just servicable. If ur a FPS fan and are looking for a great FPS for the psp then Contagion is not it. But if ur looking for AT LEAST a decent/passable FPS then u can do worse than Contagion.

…

Expand

Same Same Same Same,then again Same Same Same Same. Coded Arms Contagion still didn`t make their promises to make a good game And Entirely

Same Same Same Same,then again Same Same Same Same. Coded Arms Contagion still didn`t make their promises to make a good game And Entirely Forgettable Map because of randomly generated map.

…

Expand

It is really just the same.. Nothing initiative or new done here... Not wanting a refund as it's not THAT bad but I mean come on.. What was

It is really just the same.. Nothing initiative or new done here... Not wanting a refund as it's not THAT bad but I mean come on.. What was they thinking?

…

Expand
| | |
| --- | --- |
| 83 | |
| 56 | #56 Most Discussed PSP Game of 2007 |