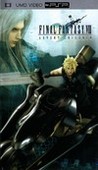 Summary:

(Note: This is not a video game) Final Fantasy VII: Advent Children is a 3D-rendered movie for the PSP. Set in the world of Square Enix's Final Fantasy VII, the movie follows Cloud as he unravels the mystery of the "geostigma" that he has become infected with by being exposed to the

(Note: This is not a video game) Final Fantasy VII: Advent Children is a 3D-rendered movie for the PSP. Set in the world of Square Enix's Final Fantasy VII, the movie follows Cloud as he unravels the mystery of the "geostigma" that he has become infected with by being exposed to the planet's lifestream energy. He and the other Final Fantasy VII characters have to lash back at the planet to save themselves from destruction.

…

Expand
Developer:

Square Enix

Genre(s):

Miscellaneous

,

Videos

,

Application

# of players:

1 Player

Cheats:

On GameFAQs
Please enter your birth date to watch this video:
You are not allowed to view this material at this time.
Final Fantasy VII: Advent Children Official Trailer 1
The Making of Advent Children, is easily the best of all the features. In lieu of a commentary track, this is the only bridge between fans and the creation of this beautiful work.

If you're a fan of Final Fantasy VII, then this is the next best thing to a full-fledged sequel. If you aren't a fan, you'll still probably agree that it's an amazing visual experience.

It's an amazing technical feat that Nomura's team have pulled off here, and an impressive first foray into the alien world of movie making. Coming from a team that's used to making CG cinemas less than five minutes long, Advent Children is a surprisingly auspicious debut. Here's hoping they do it again.

The quintessential gaming flick it is not, but Advent Children still satisfies, both to fans and casual viewers.

A must-see for fans who want a glimpse at what happens when the game ends. However, I suggest it as a rental.
Action Packed. Beautiful Artwork. Love the Continuation on the Story line. Amazing. In my Top Three movies of all time, should be in yours too.

This is really a great movie, there is so much to love about it, must watch for sure!

This movie was AMAZING! if you listen and actually took athoghut about what was happening you would undersytand what is going on(Chris H. and

This movie was AMAZING! if you listen and actually took athoghut about what was happening you would undersytand what is going on(Chris H. and Mike C.)! It had an awesome storyline, great characters good acting, unlike spirits within, (Chris H.) and I thought overall it was infact a good movie!

…

Expand

A film that requires a heap of context to understand or enjoy and is not for the casual viewer. For those who played through the game (Final

A film that requires a heap of context to understand or enjoy and is not for the casual viewer. For those who played through the game (Final Fantasy VII), Advent Children is as evocative and engaging as anything, seeing beloved characters fully visualised in photo-realistic CGI was worth the price of admission alone for many. Yes, fan-service, yes, fans only.

…

Expand

The movie is decent, but it really butchers the story of Final Fantasy 7 and has many things which upset me. I didn't want to list them here,

The movie is decent, but it really butchers the story of Final Fantasy 7 and has many things which upset me. I didn't want to list them here, since most people reading these reviews have not seen the movie, but if you're a Final Fantasy 7 fan this may not be worth watching. The visuals are great, but the story is hard to follow and many other things, but the revised version released in 2009 is much better (still not great though).

…

Expand

Everyone has a favorite videogame and I'm sure most people would want that videogame turned into a movie. That happened to my all-time

Everyone has a favorite videogame and I'm sure most people would want that videogame turned into a movie. That happened to my all-time favorite game: Final Fantasy VII. The game came out in 1997, so when I played the game I was only seven years old. Over the years I had played the three-disc game enough times to memorize it by heart. So when I found out in 2004 they were making a movie about it, my heart leapt with joy. When it came out on September 14, 2005 I had already ordered it so I could watch it as soon as possible. (It was only available in Japanese for a long time, so I had to get it from Japan).
The first great thing that comes to my mind with this movie is the music. Nobuo Uematsu, the film's composer, never fails to create magnificent music. The game music (which he also did) was already incredible, and he was able to recreate it again to give you an eargasm. You know game music is good when you have it on your iPod like I do.
The movie was beautifully directed. Every scene was uniquely created with different types of shots that I had never seen before. The breathtaking graphics help reveal the creativeness that the director used. As someone who grew up loving most of the characters, it was quite thrilling to see them as if they were real. Although I can't complain about the funny, stubby way the characters looked in the original game, I loved seeing them in a whole new light. The fight scenes in the movie were fantastic--especially the final fight with Sephiroth, the main villain of the series.
When I watched this movie as a 15-year-old, I thought it was perfect. Oh, how I was naïve. Over the years, after seeing the movie many times, I've realized they could have done better with the movie. For one, everyone who grew up playing the game was able to experience all the characters thoroughly by using them in the party and being able to see their backstories. It is disappointing to not see all of these characters as much in the movie.
Of course, we get to see a lot of Cloud (the main character) and Tifa (one of the playable characters). All the other playable characters such as Barret, Cid, Red XIII, etc., who we got to know intimately in the game, we don't see at all. It would have been more enjoyable if all the other characters had more screen time. One thing I did like was the subtle, beautiful scenes we got to see with Aerith (Heroine of the game). The way Square Enix hides her face until the very end shows how important she is and how they knew we wanted to see her the most.
Being of a lover of the summon Bahamut (a magical entity that you could use in battle), I thought they made him way too different from his game appearance. He looked artificial and not like a dragon at all. When one of the party members summons Bahamut in the game, he always looked evil, intimidating, and badass. When he was summoned in the movie, he looked like he was made of plastic. What the hell, Square Enix?
One plot point that I didn't understand was Cloud taking care of Marlene (even though her dad is Barret) and Denzel, an orphan. He went from mercenary-saving-the-world to a distraught, depressed man that, for some reason, needs to take care of kids that aren't even his. The story makes it feel like Cloud is being forced to do things he doesn't want to do. I'm not saying he doesn't care about them. I know he does. But why does he have to do what everyone else is telling him to do? I really feel like the whole story could have been altered and been so much better. What happened to your skills, Enix?
With every movie come good and bad things. As a diehard Final Fantasy VII fan, I can't help but get touchy on the subject. I only wish I could go and talk to Square Enix and Tetsuya Nomura (one of the main creators). I shouldn't complain too much though. They are the reason my favorite game and character exists, and those stories helped shape who I am as a child.

…

Expand