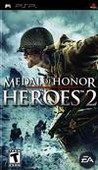 Summary:

It's June 6th, 1944, and the war is in your hands. Step into the boots of OSS Operative John Berg and infiltrate Normandy from behind enemy lines to undermine the Nazi regime. For the PSP, Medal of Honor Heroes 2 will deliver the most comprehensive shooter experience to date on the PSP, with

It's June 6th, 1944, and the war is in your hands. Step into the boots of OSS Operative John Berg and infiltrate Normandy from behind enemy lines to undermine the Nazi regime. For the PSP, Medal of Honor Heroes 2 will deliver the most comprehensive shooter experience to date on the PSP, with robust single player campaign and on-the-go 32-player multiplayer capability that allows you to battle it out, anytime and anywhere. [Electronic Arts]

…

Expand
Developer:

EA LA

Genre(s):

Action

,

Shooter

,

Shooter

,

First-Person

,

Historic

,

Historic

,

Arcade

# of players:

32 Online

Cheats:

On GameFAQs

Rating:

T
Please enter your birth date to watch this video:
You are not allowed to view this material at this time.
Medal of Honor Heroes 2 Official Trailer 1
Medal of Honor Heroes 2 is already a better overall effort than last year, though it adds in a ton of event gameplay and diversity in exchange for a relatively short single player campaign, and relies heavily on its online offerings.

Short but satisfying, Medal of Honor Heroes 2 is an action-packed first-person shooter that handles it's well enough on the PSP. Its few shortcomings are very noticeable but easily forgivable thanks to the solid controls, good campaign and excellent online multiplayer.

Medal of Honor 2: Heroes doesn't really bring anything new to the table. However, like any good sequel it keeps what worked in the original and improves on much of what was wrong.

If you want to take on the Germans once again on your PSP then Medal of Honor: Heroes 2 is a good choice.

In the unlikely case that you're a complete newcomer to WWII shooters, Medal of Honor Heroes 2 is well worth a look. However, it doesn't add anything to the series besides another reliably decent episode and a generous multiplayer game.

Playing an FPS on the PSP for the first time was a mix of fun action and occasional frustration, not only because of the controls, but because Medal of Honor: Heroes 2 offers a remarkably basic experience that hearkens back to the early days of shooters.

We suppose if you're really into your WW2 shooters and unlike everyone else in the world has yet to tire of the setting then it's possible that you'll get some joy out of it. Everyone else need not apply.
Sweet sweet FPS on PSP with gorgeous graphics and tons of germans to shoot - do you want more????

Heroes are back! This time with true singleplayer campaigne! Long story short - AMAZING FIRST PERSON SHOOTER!

Lo provato sul emulatore della PSP e decente come gioco niente da aggiungere altro.

this game has a wonderful 1st person shooter but i'm concerned about the length of the campaign mode

First off let me say that this is definetely the best fps on the psp. It is an improvement from the first one. The graphics are pretty good.

First off let me say that this is definetely the best fps on the psp. It is an improvement from the first one. The graphics are pretty good. Also the sound is awesome. You can hear every clink as your grenade hits the ground. I have not tried out multiplayer yet but from wut i hear it is really good. The only dissapointment i had from this game is that there is no skirmish. Also i was hoping for some new guns. Another thing was that the enviroments were a little bit bland and could use a little bit of more detail. Other than that this game is pretty good and a descent follow up to heroes.

…

Expand

This review contains spoilers

, click expand to view

.

Disclaimer: I played this game on a PS Vita and a PSTV, meaning I had a second analog stick, so my experience with the game would be quite different than someone who played it on a PSP using the face buttons. With that said, the controls are identical to the first MoH game and that's a good thing. The ability to sprint, quick-look around, and lean around corners or a defilade to shoot are welcome features and impressively done considering the limitations of being on a handheld. The graphics are a highlight of this game and are a noticeable step-up from the first game, and, it could be argued, MoH: H2 is one of the best-looking games on the PSP. With that said, the game, for me, was a letdown. I was expecting more of the first game but with a boost in graphics, but it's pretty much an entirely different game. Where the first game was more of an open-world, choose-you- own-path- to-the-objectives type of experience, this game was more of an on-rails, walk-in-a-straight line affair. Speaking of objectives, the first game had the primary and secondary objectives shown on your map, so you could choose which ones to go after and when but this game had the secondary objectives completely hidden. You weren't told what they were during the briefing nor during the gameplay; you just had to stumble upon them as you went. I thought that was a dumb and unsatisfying decision. This game also felt more like a stealth game at times, and I'm not really looking for that experience if I'm playing a FPS World War 2 game. Also, the developers dropped the highly-enjoyable Skirmish mode, a highlight of the first game. Spoilers follow: My biggest issue with Medal of Honor: Heroes 2 was the ending. It just felt like a cheat and that the developers were intentionally being annoying and making it unnecessarily difficult. You are given a 5-minute time limit to escape the base you just spent the whole mission in. It would make sense to put a time limit on the game if you were trying to get out before a bomb you just set was about to go off or there was an inbound air strike or something like that, but there isn't…you're just given a random 5-minute limit for no reason. In your way are a series of unnecessarily slow-moving blast doors you have to activate and then wait for them to go down before you continue on. While you're waiting, you're treated to swarms of seemingly endless spawning Nazis that attack you from different angles. You will have to do the blast door wait and be attacked nonsense numerous times over as you continue to get killed or have the mission fail due to time running out. Once you get the patterns down and increase your swiftness and pass the last blast door, you have to make your way up a corridor out of the base where even more Nazis spawn and swarm at you. There is cover you can hide behind, but it's not a good strategy as the clock is still running! You have to make it up that corridor and outside the boundaries of the base itself before the timer part goes away. But the game's not over. Now you're in a fenced-in courtyard with a couple of guard towers and more spawning Nazis to contend with. To beat the game, you have to go up one of the guard towers and then walk across a board to get you on the other side of the fence where you meet up with a squad of American soldiers who, for some reason, were there the whole time just watching you get shot at while you tried to make your way to the other side of the fence. That last ending part just made no sense. All the Nazis are focused on stopping you and are paying no mind to the Americans on the other side of the fence who are assaulting their base. The whole experience at the end of the game just frustrated me, from the unnecessary timer to the unexplainable boost in difficulty to having to try dozens of times to successfully escape to the fact it just didn't make any sense…it just left a bad taste in my mouth and left me wondering why the developers deviated so far from the first game. The game looks great…but looks aren't everything and Medal of Honor: Heroes 2 is the perfect embodiment of that.

…

Expand

Guns feel alright, controls are standard PSP shooter affair, and that's about it. Level design is dull, visuals are bland and somehow worse

Guns feel alright, controls are standard PSP shooter affair, and that's about it. Level design is dull, visuals are bland and somehow worse than it's predecessor, probably because the colour palette. The game has random difficulty curb in the middle of levels, and is generally just all over the place with difficulty, enemy placement, and the sorts. It's very boring, tedious, and ugly. I would not recommend this to anyone, it's the worst PSP FPS I've played. Yes, Call of Duty and the Coded Arms games are very much better than this hot garbage. The game is barely even possible to complete, you are SWARMED with enemies on the last level, being shot form literally everywhere.

You have been warned.

Jo

…

Expand
| | |
| --- | --- |
| 44 | |
| 16 | #16 Most Discussed PSP Game of 2007 |
| 41 | #41 Most Shared PSP Game of 2007 |