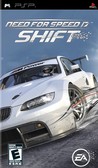 Summary:

Need for Speed SHIFT brings a true driver's experience to some of the world's most iconic racing tracks, including the storied Brand's Hatch in the UK. The game also features the largest roster of high-performance cars in Need for Speed history including race cars such as the Pagani Zonda F,

Need for Speed SHIFT brings a true driver's experience to some of the world's most iconic racing tracks, including the storied Brand's Hatch in the UK. The game also features the largest roster of high-performance cars in Need for Speed history including race cars such as the Pagani Zonda F, Porsche 911 GT2 and Lotus Elise. Players are thrust into the loud, intense, and athletic experience of racing a car from the driver's perspective through the combination of perception based G-forces, the hyper reality of the cockpit view, and the all-new brutally disorienting crash dynamic. Need for Speed SHIFT features an accurate, accessible physics-based driving model that allows you to feel every impact, every change of track surface and every last bit of grip as you push yourself to the edge. [Electronic Arts]

…

Expand
Developer:

EA Bright Light

Genre(s):

Driving

,

Racing

,

Simulation

,

GT / Street

,

GT / Street

,

Automobile

Cheats:

On GameFAQs

Rating:

E
If it's fast-paced racing you crave, and you don't care about adjusting every nut and bolt on your car, then Shift is an excellent game that exceeds expectations in all areas.

An amazing game that is as the other games of the Need for Speed series well established. There is always something new you can discover and there are always new cars, which are waiting to be driven.

Although the game carries the name SHIFT, don't expect a faithful simulation replica of the console version. While it's not your perfect racer, it packs enough punch to entertain you at a reasonable price. Now, if you have played Gran Turismo, you might see it as a huge backward step but let's be reasonable here…EA Bright Light didn't took five years to develop this one.

An arcade racing with an incredible number of game modes.

Need for Speed Shift for PSP is a different game compared with the other versions. This time the game offers a full arcade style. The long career mode is a little restrictive but it has a great variety in races. It has some problems issues in the gameplay, with only 15 circuits a little repetitive. A little better than the last NFS: Undercover version on PSP but still so far of the best games in this genre like Gran Turismo or Midnight Club L.A Remix.

Playstation Official Magazine UK

Just not very good. [Christmas 2009, p.116]

It also runs really well, which is always a plus. However, the bottlenecked career mode is way too restrictive, and since you can't really control what cars you earn, it just feels like you're going through the paces after a short while.
Longest lasing fun i've had with a PSP racer since my first play-through of Burnout Dominator.

The game has great graphics, lots ofLongest lasing fun i've had with a PSP racer since my first play-through of Burnout Dominator.

The game has great graphics, lots of detailed tracks and real-life locations (I mean really impressive for PSP), lots of cool cars and there's always something new happening after every race -- PLUS, there can be 7 opponents on track at once, just an awesome fun game.

…

Expand

I love this game!Mostly for the exotic cars.This game aslo have great graphics and the cars in this game are really fast.and easy to drive.i

I love this game!Mostly for the exotic cars.This game aslo have great graphics and the cars in this game are really fast.and easy to drive.i learned from playing Gran Turismo 5 Prolouge

…

Expand

It´s a different version for the home consoles but i don´t think i had this amount of fun with any racing game.

This game is much more better than what I expected. I have been playing the NFS titles for about 4-5 years, and I've seen some up and

This game is much more better than what I expected. I have been playing the NFS titles for about 4-5 years, and I've seen some up and downs. Hot Pursuit 2 was amazing, Most Wanted was okay, Porsche Unleashed was not so good, and Carbon: Own the City was fine by all means. Still if I had to rate this game of what position it is all time in the NFS category, it would be #2 behind Hot Pursuit 2. These games are the best on Playstation. Shift shows you a new type of racing game that I haven't seen. And it includes cars from the Dodge Viper to the BMW M3 to the Koenigsegg CCX. I was dissapointed that there was no cops in this game. All there was really to do with getting away is to get away from the other racers. Get this game if you're a NFS fan. But if your a new racer, go with Carbon: Own the City or Hot Pursuit 2. I happily give this game a 8 out of 10.

…

Expand

Solid porting with lot of cars and almost every song from the original OST. But graphics are terrible (even for PSP) and the top 10 drivers

Solid porting with lot of cars and almost every song from the original OST. But graphics are terrible (even for PSP) and the top 10 drivers are a fake mix between Pro Street racers and others.
The game is saved by a good variety of tracks and challenging other 7 cars in the same race.

…

Expand

Cool fast-paced game, this PSP game is actually cool (don't let the negative ratings fool you, this game is actually cool as hell.).

NeedCool fast-paced game, this PSP game is actually cool (don't let the negative ratings fool you, this game is actually cool as hell.).

Need for Speed: Shift is a great game where you can have fun for a few minutes if you're waiting for something or if you just want to sit back, relax and play Need for Speed: Shift.

…

Expand

I am quoting right from the PSP game's description:

"Players are thrust into the loud, intense, and athletic experience of racing aI am quoting right from the PSP game's description:

"Players are thrust into the loud, intense, and athletic experience of racing a car from the driver's perspective through the combination of perception based G-forces, the hyper reality of the cockpit view, and the all-new brutally disorienting crash dynamic."

There is NO COCKPIT VIEW on the PSP. We have all played this game before. There is nothing new.

…

Expand
| | |
| --- | --- |
| 39 | |
| 13 | #13 Most Discussed PSP Game of 2009 |
| 39 | #39 Most Shared PSP Game of 2009 |