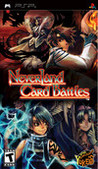 Summary:

The war between humans and demons is tearing Neverland apart, and the ensuing chaos threatens to free the evil god Hellgaia from his tomb. Now, the future rests solely in the hands of the Dominators, those who can wield the otherworldly power found within the land's Spectral Cards. As

The war between humans and demons is tearing Neverland apart, and the ensuing chaos threatens to free the evil god Hellgaia from his tomb. Now, the future rests solely in the hands of the Dominators, those who can wield the otherworldly power found within the land's Spectral Cards. As Galahad, a young and brash Dominator, set forth on a quest to banish Hellgaia back to his shrine forever and save Neverland from judgment day. [Yuke's]

…

Expand
Developer:

Idea Factory

Genre(s):

Role-Playing

,

Strategy

,

Turn-Based

,

General

,

General

,

Fantasy

# of players:

No Online Multiplayer

Cheats:

On GameFAQs

Rating:

T
Neverland incorporates enough gameplay variety to recommend it. Those that may not be interested in the card game genre are urged to get on deck.

Since the in-game graphics are weak, and the music is bland, the only chance this game has to win fans is its gameplay.

It definitely worked for me, so if you're into virtual card battles or traditional CCG/TCG models, then give this one a try.

The game's difficulty, weak graphics, annoying voice-work and sound does very little to attract either Trading Card or Strategy fans. If you're looking for a card-based game for your PSP, I would suggest going back and playing the Metal Gear Acid games. Your other option is to go to your local comic or card shop, buying a starter deck of Magic or World of Warcraft Cards and making some new friends; you'll have a lot more fun than playing this.

Often ends up as a clunky, constantly-loading, low-detail, straight up boring experience.

Neverland Card Battles is indeed unique and the first game to accurately combine a CCG with a TRPG; however, although it is not bad, the execution has just enough holes in it to keep the game from being fun.

If this is where the series is going, Neverland Card Battles is going to be a tough sell in the future. I'd really like to find something nice to say about it, but the game is so boring, cliche (there's that word again) and badly designed I'd be lying through my teeth.
Rated a 10 if you like collectible card games and enjoy the metagame of building decks to face different foes. Some cards are much more

Rated a 10 if you like collectible card games and enjoy the metagame of building decks to face different foes. Some cards are much more powerful than others, but overall it's the on CCG style game on the PSP that really worked for me. I've played hundreds of battles and find myself still coming back to this game.

…

Expand

I enjoyed this game as a kid, its difficulty intrigued me and had me keep on trying and having powerful cards are fun too

Definitely not a game for everyone with its stiff difficulty and high level of strategy, but for those like myself tired of mindless grind

Definitely not a game for everyone with its stiff difficulty and high level of strategy, but for those like myself tired of mindless grind games this was an exhilirating and brillant mix of Collectible Card Game and Go/Chess like elements. Closest comparison is Culdcept, but I enjoyed this game MUCH more as luck plays MUCH less of a roll.

…

Expand

A great TCG for the PSP at last! Has a fantastic and deep territory system which really adds to the strategy level. The story takes itself a

A great TCG for the PSP at last! Has a fantastic and deep territory system which really adds to the strategy level. The story takes itself a bit too seriously and the graphics are not so great but the gameplay really delivers and that's what's most important. If you like Trading Card games or Japanese Strategy RPG's definitely pick this game up.

…

Expand

Don't get this game if: you feel good graphics are required to have fun; you haven't played a card based battle system before; you

Don't get this game if: you feel good graphics are required to have fun; you haven't played a card based battle system before; you aren't into turn-based games.

If the above hasn't turned you off, then look past the common reviews of this game. I myself did, and was pleasantly surprised what was under the hood.
A good tactical strategy game that merges traditional card based dueling (i.e. Magic the Gathering) with an interesting twist. The twist lies within how you collect mana. You move your 'hero' across a grid based battleboard. As you walk over a grid it turns your side's colour which gives you 1 mana next turn. The more grids you claim, the more mana you have to cast your spell arsenal. Of course, enemies can claim your grids by moving atop yours. To further this mana harvest, units you summon also can move around and take grids accordingly. So while the game sports traditional card dueling, an interesting strategic sidegame emerges for land control as well.

To boot, units offer radius effects. Like all adjacent allies get +1 defence. You can also place 'bases' which cannot move but provide a wider aura of bonus. Troops also get lots of other abilities, like first strike, fierce strike, mutal fight, etc..

To add another layer, the game has 5 types of land, which all grids are one of. The most common are just regular grids with no bonus. But there is also fire, earth, wind, etc.. Some units have a land affinity which gives them bonuses to attack and defence while combating on their corresponding land type. Units of land affinity can also be summoned to any related grid square, as opposed to the normal rule where all summons must be in an adjacent grid of your hero or one of your units.

The game has some challenging moments which may turn off people who don't like a good difficult encounter (but fear not - even if you lose a round you get new cards and always get stronger eventually getting the upperhand to offset the handicap).

There is also a technical flaw worth pointing out. The game has a lag when selecting units on the board. Maybe a 1/2 second. Something is borked with the load time perhaps. To me, as I'm a patient turn-based fan, this is nothing game breaking. But it may be of issue to some.

Sound and music are decent. Repetitive and you can't turn it off, so if you don't like it you'll have to mute all sound.

There are over 200 cards and you can edit your deck between battles for your 30 card deck.

The campaign story is ok, nothing to write home about.
Haven't tried multiplayer - so no comments there.

The total sum of these parts has made for some excellent battles. I do wish the game was nicer to look at, but it is on my top five psp games irregardless.

…

Expand

First, if you have even a miniscule (even just a teeny-tiny amount) knowledge of card games, ignore the My Gamer review. That reviewer (from

First, if you have even a miniscule (even just a teeny-tiny amount) knowledge of card games, ignore the My Gamer review. That reviewer (from his gripes) CLEARLY does not know how card games and their mechanics work. This reviews also missed that the tutorial states that you CAN recycle your deck once depleted (for 5 life). With that aside, what matters most in card game is...the card game. And, this is where NCB shines. I thoroughly enjoy the cards and game mechanics. The downside of NCB, the graphics. The "map" view is tolerable...the battle sequences are GBA-ish. I have picked up every PSP strategy game (some I wish I never had) and plenty of GBA/DS titles and can definitely give a recommendation to NCB to any strategy gamer out there. I score this a solid 7.5, worth the $30, not for everyone, but is for most semi- to serious gamers.

…

Expand

As a big fan of card games, I was disappointed. The worst part of the game, is that the cards do not test you on how well you can manage

As a big fan of card games, I was disappointed. The worst part of the game, is that the cards do not test you on how well you can manage luck. I see this game as a role-playing game with your attack choices restricted by the luck of the draw.

…

Expand
| | |
| --- | --- |
| 41 | |
| 8 | #8 Most Discussed PSP Game of 2008 |
| 20 | #20 Most Shared PSP Game of 2008 |