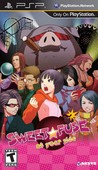 Summary:

Saki Inafune, niece to legendary game developer Keiji Inafune, can't wait to visit her uncle's new theme park. She's been invited to the opening day ceremonies, and is looking forward to a day of fun and excitement when suddenly Count Hogstein - a villain as corpulent and cliche as he is

Saki Inafune, niece to legendary game developer Keiji Inafune, can't wait to visit her uncle's new theme park. She's been invited to the opening day ceremonies, and is looking forward to a day of fun and excitement when suddenly Count Hogstein - a villain as corpulent and cliche as he is evil - blows up the Ferris wheel, takes the park management hostage, and declares the beginning of a deadly series of games. Desperate to save her uncle, Saki volunteers to be one of the participants in Hogstein's games, and finds herself thrust into the midst of excitement very different from what she'd expected when she woke up that morning. She'll need all of her cunning, determination, and exceptional insight to get herself and her fellow participants - all available bachelors - out alive and maybe, with a little luck, find love along the way.

…

Expand
Developer:

Idea Factory

Genre(s):

General

,

Adventure

,

General

,

Visual Novel

# of players:

No Online Multiplayer

Cheats:

On GameFAQs

Rating:

T
Sweet Fuse is not the most emotionally arresting visual novel I've played, but it executes on everything it promises to deliver.

At the end of the day, Sweet Fuse: At Your Side is downright fun.

By turns humorous, dramatic, touching and tragic, Sweet Fuse is a great example of how visual novels are an excellent fit for Sony's portables -- and how even the most ridiculous of premises can make for a surprisingly compelling interactive story.
So, for anyone that picked up this game and DIDN'T know from the start it was aimed completely at a female audience - I don't know where you

So, for anyone that picked up this game and DIDN'T know from the start it was aimed completely at a female audience - I don't know where you would think otherwise. Otomate is a branch of Idea Factory that specifically focuses on (gasp) Otome content.

That said, the gameplay is pretty dang fun, what with the puzzle-solving and whether or not to just be "friends" with one of the fellas, or go for the gold and nab yourself a relationship. Either route you take with any of the men in this game, unfolds new story content which makes you crave knowing what happens next - or what happened in the past. It has a subtle Saw-like feel, where Hogstein is pretty much a less horror-like version of Jigsaw, meaning no - you don't have to saw your limbs off to get out of a sticky situation, but you might get literally bombed if you don't.

Now, normally I'd be giving this a 10/10, if it weren't for one thing that bugged me every time I played it (with fourteen endings, I am still going, actually). The translation is a bit off at times, with typos and words that just don't make sense, but it's easy enough to read past anyway. Really, it's not a huge issue, I am just happy we got the dang game localized in the first place. A little more attention to detail in the translation would have been nice, but meh. I can deal with every few bits of dialogue being a bit...off.

…

Expand

At first, I didn't think I would like it as much as I did. I just thought 'It's only $10 and even if I don't like it I'll be supporting the

At first, I didn't think I would like it as much as I did. I just thought 'It's only $10 and even if I don't like it I'll be supporting the English visual novel industry' but honestly? I don't regret buying this one bit~! The story is really interesting, the cast is very diverse in both appearance, personality, profession and even age. The voice actors did a wonderful job, and although I needed a little time to get use to the style of the artwork , after I did it got even better.

Saki (Or whatever you name her), is by far one of the best otome protags I've played, she's kind, curious, brave and one of the really good parts of the gameplay is her instinct, being able to think of answer that not even the older guys can. Also, the "Get mad" feature is one of the best parts of it too~! Most heroine are rather docile and typically don't stand up for themselves, Saki on the other hand will outright rant at the guy (even the villain too!) if you so wish her too. It's just so satisfying~! :D

…

Expand

Absolutely fantastic. The plot and characters are all fairly enjoyable, and the art is beautiful. While the puzzles may not be overly complex,

Absolutely fantastic. The plot and characters are all fairly enjoyable, and the art is beautiful. While the puzzles may not be overly complex, they are fun and add to the experience of the game.The voice acting is fairly spot on, and the writing is well done. The best part though is that the men are, for the most part, attractive and masculine tee hee

…

Expand

It's not without its flaws, but with cute characters, dynamic plot and dialogues, Sweet Fuse succeeds where so many games fail nowadays :

It's not without its flaws, but with cute characters, dynamic plot and dialogues, Sweet Fuse succeeds where so many games fail nowadays : actually being entertaining.

…

Expand

A good puzzle game but it's so specifically tailor-made for young teen girls that if you are not ,then you'll get very uncomfortable at some

A good puzzle game but it's so specifically tailor-made for young teen girls that if you are not ,then you'll get very uncomfortable at some point. *Sigh* even my review is laughable.:( Sweet Fuse: At your side depicts the history of a young girl and six stud male guys: A young boys band singer, an escort [See what I'm trying to say in my description?] a journalist, a fortune teller, a cop and a unemployed guy addicted to videogames. [Better for me take descriptions more seriously next time] Her Uncle is about to open an amusement park. Then suddenly an act of sabotage and hostage situation is at hand by Count Hogstein's. An evil pig whose laugh is not even worst than his person itself.
Count Hogstein's desing a living game with puzzle guessing with setup bombs to detonate at failure.
Then our female character and her future boyfriends are volunteers to Hogstein's evil game risking their lives and hoping for victory.
I'm so into puzzle games that I can't overlook at this game knowing about it. The game is about guessing some written puzzles with 3 options of several more and if you don't know the answer, or the logic of it, with a little of luck you can even got them by fluke. Since the beginning you'll notice the so girly type of game, even though the script boxes are in purple color. Well not much of a issue, but later when you are deeper into the game things begin to get more uncomfy. This videogame remembers me like Dead or Alive Xtreme but in a more simplified and scarce formula. Plus meanwhile DOA Xtreme was intended for male audiences, this game by the other hand is specifically intended for young teen girls like already mentioned before. Even at some point your female character get a heart icon, just like DOAX, by dating or choosing from a couple of options for certain male character. The videogame is good indeed, is like some graphic novel humor soup opera teen girl stuff with very little graphic detail have to mention. But the videogame it's so specifically aimed for the way like a young female thinks, reacts and develops that actually a male gamer could be soo embarrassed to say that actually played the game. Is like saying that you have bought a Hello Kitty makeup by accident and suddenly noticed that, saying to yourself: What tha heck was I thinking? In fact this is a disappointment, the game would have a wider audience if were intended for a male or general audience, and considering that the PSP is almost dead then this supposed to be more like a social experiment than a profitable deal. Certainly have to say that videogames and all entertainment media are created for certain specific groups and mainstream popular stuff is definitively a myth.
Well...errr ...Actually this is what I was been told from a friend of a friend of this videogame,...actually I didn't even tried it!
Seriously!...Oh gosh! So embarrassing.*Sigh*

…

Expand