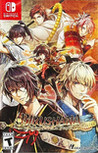 Summary:

Fifteen years after the Heiji Rebellion, the Heike clan has reached the height of its power, while the Genji clan remains devastated by defeat. Hidden deep within the mountains of Kurama lives Shanao, the youngest surviving male heir to the Genji name. However, Shanao harbors a deep secret

Fifteen years after the Heiji Rebellion, the Heike clan has reached the height of its power, while the Genji clan remains devastated by defeat. Hidden deep within the mountains of Kurama lives Shanao, the youngest surviving male heir to the Genji name. However, Shanao harbors a deep secret known by very few.

The youngest heir to the Genji name is no man.

Torn between her duty to live up to the Genji family name and her desire to live a peaceful life, Shanao sets off in hopes to take down the Heike stronghold and finally bring peace in the country. Her adventure leads her to find new cherished relationships, as well as something deeper than the feud between the rivaling clans.

…

Expand
Developer:

Otomate

Genre(s):

Adventure

,

Visual Novel

# of players:

No Online Multiplayer

Cheats:

On GameFAQs

Rating:

T
Birushana: Rising Flower of Genpei is a truly wonderful example of the visual novel genre, and I'm glad it god localised. It's aesthetically beautiful (and not just because Shanao and Benkei can get hot-and-sweaty together). It's also written with a deft touch and genuinely works as a piece of historical fiction. As someone who has actually asked Koei Tecmo about a Nioh or Samurai Warriors set during this conflict, just to give us a break from all the Sengoku era games, I'm over the moon that Idea Factory decided to weave their magic during this vibrant and exciting period of Japan's history.

It's a testament to Birushana's quality that one of the few gripes I have is that I want more of it. Although the game has a few hiccups, they're safely surface-level, and don't remarkably hinder the story or its compelling cast of characters. Although it's appreciated when an otome title tries to add complexity to the progression through the use of stats or other features, the main reason why one plays otome games isn't for their mechanics but for their love interests and the world they inhabit—and Birushana delivers both with flying colors. While it's already a must-play for fans of historical fantasy and samurai warfare, Birushana will no doubt appeal to anyone interested in exciting battles, intriguing mysteries, memorable characters, and a few unique twists on the usual otome tropes.

Birushana is an outstanding otome game with a very interesting story based on real events that is complemented by many routes of good length and great visuals. Thus, it is only weighed down by action scenes that extend for too long and not enough romance compared to other games of the genre.

I'm genuinely impressed with Birushana: Rising Flower of Genpei. It presents an intriguing take on historical events in an easily digestible way. It presents players with love interests who are interesting both due to their backgrounds and nature as warriors, as well as romantic partners. Shanao is a strong heroine. It looks great. Not to mention with the "if" routes, it ends up feeling even fuller. It's another great Switch otome game.

All in all, playing Birushana: Rising Flower of Genpei was a real treat. It has its moments where the story can feel like it's dragging, as well as a few grammatical errors here and there, but if like me you have aged out of cutesy, under-developed romance games and prefer more mature themes and realistic (albeit still animeish) characters, I recommend you pick this up.

This is a otome romance novel through and through – and what's more, it's a good enough otome that even if the setting doesn't sound all that romantic, it still achieves its goal.

As an excuse to hit up the sources on Wikipedia to read about the actual war that formed Japan's political system for more than half a millennium, Birushana: Rising Flower of Genpei does a really good job. As a romance… four out of five isn't bad, I guess? But the presence of that fifth one made me bail out far faster than normal for one of these games.