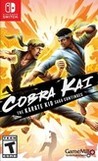 Summary:

CHOOSE A SIDE. EMBRACE YOUR DESTINY. THE FIGHT IS IN YOUR HANDS NOW.
Choose a side, master your moves, and embrace your destiny in an epic beat 'em up adventure inspired by the hit show. Take control of 8 playable characters with co-op multiplayer, deep move sets, combos, progression,CHOOSE A SIDE. EMBRACE YOUR DESTINY. THE FIGHT IS IN YOUR HANDS NOW.
Choose a side, master your moves, and embrace your destiny in an epic beat 'em up adventure inspired by the hit show. Take control of 8 playable characters with co-op multiplayer, deep move sets, combos, progression, real-time character swaps, ultimate attacks, and much more! 34 years after the events of the 1984 All Valley Karate Tournament, the rivalry of Daniel LaRusso and Johnny Lawrence continues. The fight is in your hands now!

Two-Fold Storyline
Featuring an all-new storyline filled with unique cutscenes and dialog choose to take control of Daniel and his students at Miyagi-Do Karate through a storyline campaign. Or select their rivals, Johnny Lawrence and his disciples at Cobra Kai to play their side of the story. Completing both sides of the campaign unveils an ultimate ending.

Live the Cobra Kai Universe
Explore Los Angeles in the Cobra Kai universe across 28 missions filled with characters and enemies from the show.

Character Swap System
Choose your Dojo then seamlessly swap between your favorite characters from the story.

RPG-Like Dojo Progression
Master 40 unique skills and upgrade your characters' stats as you karate your way through enemies.

…

Expand
Developer:

GameMill Entertainment, Flux Game Studio

Genre(s):

Action

,

Beat-'Em-Up

,

2D

# of players:

No Online Multiplayer

Cheats:

On GameFAQs

Rating:

T
Forget review scores. The bottom line is that Cobra Kai: The Karate Kid Saga Continues is a terrific beat 'em up with a distinct Cobra Kai flavor and a completely ridiculous sense of humor. You just have to be willing to look past several technical issues to appreciate it.

Cobra Kai: The Karate Kid Saga Continues is a sharp beat'em-up experience that's especially aimed at fans of the series, who will find countless content and references to appeal to their knowledge of the franchise. While visually some of its choices are questionable and it has some flaws in this regard, the overall gameplay experience is fun and fits perfectly with players who keenly follow the original series.

Cobra Kai: The Karate Kid Saga Continues might look like a lazy cash-in, but in reality, it's a strong effort that breezes through the cheesiness of its license by making said honking gorgonzola work for it with its brilliantly evocative '80s soundtrack paired with a cheeky, silly style to match its cheeky, silly gameplay. With no shortage of levels, plenty of playable characters and respective upgrades, Cobra Kai: The Karate Kid Saga Continues goes above and beyond the standards set by licensed games. Grab a friend and wax on, wax off. (Actually, that sounds a bit rude.)

This videogame spin off isn't quite as intricate as its inspiration, but still offers a far more interesting experience than anyone should rightly expect. And, most importantly of all, it's fun.

It is difficult to objectively rate this Cobra-Kai in an industry where this type of game has completely disappeared from the shelves. The idea of honoring the series in a beat'em up tribute to the 80s was good; unfortunately, the developers did not take advantage of the many generations that followed to bring the wind of freshness and novelty necessary to the quality of the title. We end up with a game that could very well have been released many years ago despite some undeniable qualities that provide a certain playing pleasure. For this result, it is difficult to want to spend forty euros on it. Cobra Kai remains a far from unpleasant vent that might suit fans of the genre or series. It's up to you to see if you want to pay the price.

It has been a while since we saw such a weak adaptation: if you are passionate about the genre it is better to focus on other products; Fortunately, there has recently been no shortage of much more valid proposals than Cobra Kai.

Cobra Kai: The Saga Continues is a slavish love letter to the TV show it's based on, but movie call backs and fan-favourite moments only goes so far. There are far more competent and creative brawlers on Switch.