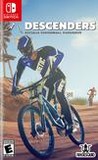 Summary:

Descenders is extreme downhill freeriding for the modern era, with procedurally generated worlds, and where mistakes have real consequences. Will you lead your team to glory and become the next legendary Descender? In Descenders, your team is your life. When you pick a side - Enemy, Arboreal

Descenders is extreme downhill freeriding for the modern era, with procedurally generated worlds, and where mistakes have real consequences. Will you lead your team to glory and become the next legendary Descender? In Descenders, your team is your life. When you pick a side - Enemy, Arboreal or Kinetic - you'll be bound together with other players who choose the same side as you.

Grab your bike, pick your team, and attempt to live up to the legend of your Descender. Will you join the die-hard, trick-frenzy ranks of Team Enemy, the proficient, off-road stylings of Team Arboreal, or the high-octane, speed-is-everything Team Kinetic?

…

Expand
Developer:

RageSquid

Genre(s):

Racing

,

Arcade

,

Automobile

# of players:

No Online Multiplayer

Cheats:

On GameFAQs

Rating:

E
Descenders ended up being a really fun, challenging game. Even if you're not great at sports games, or you have young children that might not understand the goal, this is one that the whole family can enjoy.

Descenders is a top tier extreme sports game, translating the feeling of riding a bike down a hill with incredible precision. So many small design details pull the package together to provide a wonderfully kinetic experience.

Descenders offers almost endless fun thanks to fantastic arcade action and infinite procedurally generated levels to play with. Though the move to Switch does come with some graphical concessions, this is a fantastic way to play this sort of game.

While Descenders offers a fun downhill mountain-biking romp, it's constantly held back by the Switch's lackluster hardware.

On Switch, the downhill biking is reduced in every aspect: visually, mechanically and in terms of content.

If Descenders teases you, don't worry too much about giving it a chance. Maybe on other gaming platforms.

Descenders joins the reawakening of the skateboarding and cycling genres by offering a unique take on a specific form of cycling we haven't seen in a long time. While the gameplay is thrilling and does its best to stay interesting, mechanics that are at odds with each other mean you will be forced to choose between having that exciting arcade experience or maintaining the roguelite run through the sometimes intense difficulty. Whether taken seriously or just for fun, Descenders isn't consistent, and considering this specific port has some rough edges graphically, you may just want to focus on using it for its multiplayer.
Blazing fast downhill speeds,with an ability to land exciting tricks,and tight controls make for a great freestyle bicycle game! (did i

Blazing fast downhill speeds,with an ability to land exciting tricks,and tight controls make for a great freestyle bicycle game! (did i mention it's a rogue-lite with some open world aspects?) the graphics are good,but the draw distance is lacking(hopefully they will patch this in the future). tons of customization options, while not diverting away from the games solid gameplay! it has a campaign and online multiplayer mode,so thats a bonus!!! this is a welcome breath of fresh for the switch.

…

Expand

The game is not bad. Switch needed such game. The physics is great and same as on a PC. Loading times are surprisingly short (far better than

The game is not bad. Switch needed such game. The physics is great and same as on a PC. Loading times are surprisingly short (far better than on a PC!). And the experience is basically good. Nevertheless, this is not the exact same game as on a PC. There were some compromises. Highlands and the woods are totally different now (worse). The canyon seems similar and I haven't got further yet. Environments are poorer and less attractive now in general, the woods has only a few trees what changes the gameplay a lot here, highlands used to provide fantastic views from the top, now you're always surrounded by hills (not too pretty hills). So yeah, I'm surprised they were able to port it at all, but I'm still pretty sure that if they redesigned some of the game engine, they could have actually kept the experience unchanged or at least not changed this much. Also, I don't really understand that popping-in shadows issue. Why do they keep doing that? This is so annoying... Look at WRC 8! It is possible to load shadows not-annoying-way on Switch. Just use your brains... I realise that the Switch is a bit limited, but Nintendo have proven already on a few occasions that if you work hard (or smart) enough, you can do anything (BotW, Mario Odyssey etc.). So yeah, I recommend it, just keep in mind that you're not buying an alternative, but rather a poorer version of the game. But you can ride a bike in a handheld mode here, so still worth it.

…

Expand